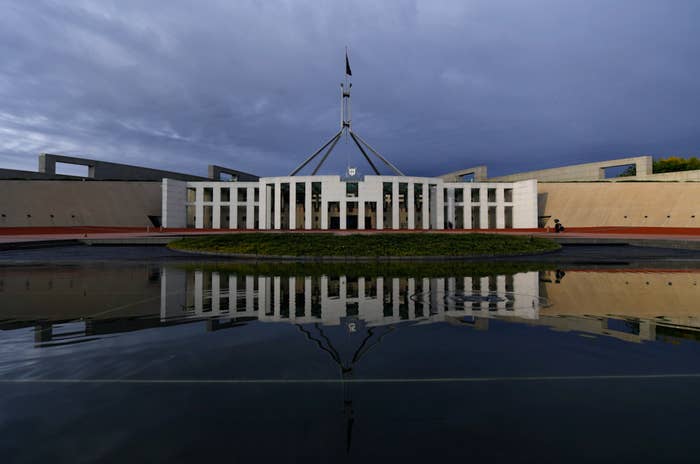 Sources say that the Department of Parliamentary Services is intimidating whistleblower staff for speaking to BuzzFeed News, following our story last week that revealed officers were not trained and not equipped to do their jobs.

BuzzFeed News revealed last Wednesday that security officers in Parliament House recently performed a test on a white powder delivered in an envelope to prime minister Malcolm Turnbull's office while wearing $6.94 disposable painting overalls from Bunnings Warehouse.
Instead of following the Parliament House security manual's "response to white powder detection" procedure and calling the ACT Fire Brigade Hazardous Material team, officers from the Parliament House loading dock were sent to test the powder.
Security officers, speaking on the condition of anonymity, said they haven't been formally trained in how to operate the mobile testing device used to determine whether powder is hazardous. They say they're underequipped and not trained to do their jobs, despite a $126 million security upgrade currently underway in Parliament House.
Following BuzzFeed News' story, sources say senior figures in the security branch of the department are scrambling to find the whistleblowers who spoke out about their safety concerns and punish them.
Officers have been told that anyone responsible for providing information to the media will face criminal charges for speaking out.
One officer said the department is "persecuting" staff for publicly airing their safety concerns. "They've completely mishandled the situation, and could have an effect on people's lives."
Officers are frightened and consoling each other, afraid supervisors could use the story as an excuse to fire staff they don't like.
The department has also been spreading false rumours about the author of the stories, telling officers that BuzzFeed News staff have been interviewed by authorities about our sources. This is untrue.

"People telling lies from the beginning and the lies just get bigger and bigger to cover it up" is how one officer explained the department's reaction.
"They're covering it up. It's frustrating. What's happened since the media has gotten wind of the story... [the department] has shit themselves and gone from one extreme to another."
Officers are frustrated that the department is trying to silence them over what they believe to be life-threatening safety concerns.
"There's a lot of people in security who are just really disappointed that no one gives a rat's arse about this," another said. "No one in [the department] cares. It's really quite concerning that no one takes it seriously."
A security expert has praised officers for voicing their safety concerns, saying the lives of Australian politicians, staff, and the general public could be in danger if Parliament House does not upgrade its "exposed" procedures.
Labor senator Kimberley Kitching told BuzzFeed News: "Several whistleblowers have come forward to report about intimidation tactics being employed by more senior officers in the Department of Parliamentary Services.
"They are bravely speaking out on behalf of other employees and the health and safety of those who work in or visit Parliament House.
"I would have thought it was far more important for the Department to focus on recent security failings – including the loss of a security manual relating to Parliament House, the tasting of an unidentified white powder contrary to the security protocol, and the general failing to follow security protocols – rather than hunting down people who have spoken out about these very grave matters."
UPDATE
The secretary of the Department of Parliamentary Services, Rob Stefanic, has accused the whistleblower staff of leaking "security classified information" and said he is in the process of hunting down the officers who have spoken out.
"These leaks by certain DPS officers certainly represent spills of security classified information," he said.
Stefanic told Senate Estimates he has consulted with Andrew Colvin, the commissioner of the Australian Federal Police, and plans to write to all DPS staff on Monday afternoon, warning them about the investigation.
He said he thought the leaks were a "deliberate attempt to mislead and misinform... calculated to generate publicity and create the false impression of the security operation that may undermine public confidence in the security of Parliament House".
Stefanic did not deny allegations made by staff to BuzzFeed News, but said if officers were concerned about safety procedures or lack of training they should have spoken to him and not aired them publicly.
DPS assistant secretary Graeme Anderson was also asked whether he threatened to "to burn the security division to the ground and start again" in front of staff. Anderson said he couldn't recall saying it but it "sounds like something I might have said".