A Labor politician or staffer has unintentionally leaked confidential opposition briefing notes, after leaving them behind in a bathroom in Parliament House.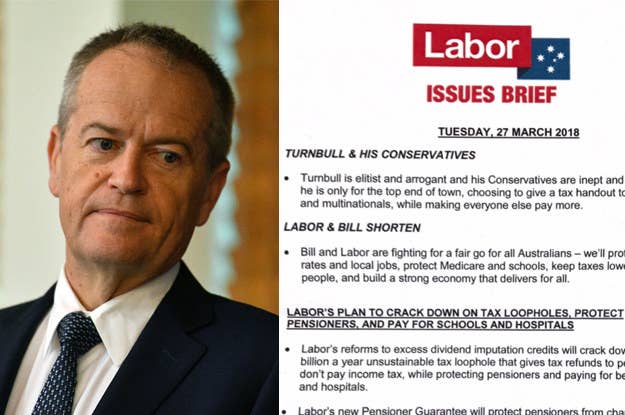 The sensitive Labor party talking points for Tuesday's sitting day – circulated by opposition leader Bill Shorten's office to Labor politicians – were discovered by BuzzFeed News in a bathroom outside the Senate chamber.
The four page "Issues Brief" instructs Labor politicians on how to answer media questions on topics of the day, from its proposed tax reforms and company tax cuts to the Australian cricket team's ball-tampering scandal.

The female bathroom the notes were left in is located below the press gallery, outside the entrance to the Upper House. It's an area heavily trafficked by politicians, staff, journalists and anyone with a Parliament House security pass, but is not accessible to members of the public.
The main focus of Tuesday's talking points is the new "Pensioner Guarantee" to "protect pensioners" that Labor has added to appease retirees over its bungled crackdown on dividend imputation credits.
"Labor's new Pensioner Guarantee will protect pensioners from changes to excess dividend imputation credits," it says.
"Labor's new Pensioner Guarantee will protect pensioners who may otherwise be affected by this important reform."
The talking points encourage politicians to spin questions about Labor's tax reform to outline the party's commitment to spending the $8 billion a year in savings on schools and hospitals.
"Labor is cracking down on this tax loophole because it will soon cost the budget $8 billion a year," it says. "Much of this goes to high-wealth individuals, with 80% of the benefit accruing to the wealthiest 20% of retirees. The top one per cent of self-managed superannuation funds received an average cash refund of more than $80,000 in 2014-15.
"Labor does not think it is fair to spend $8 billion a year on a tax loophole that mainly benefits millionaires who don't pay income tax — not when school standards are falling and hospital waiting lists are growing longer."
There is also a list of examples for MPs of how Malcolm Turnbull has been "the worst prime minister for Australia's pensioners in living memory" including:
- cutting the pension for 277,000 retirees;
- kicking 92,300 retirees off the pension;
- cutting pension concessions that help pensioners with costs including rates and registration;
- trying to cut the $365-a-year energy supplement for 400,000 pensioners;
- promising to raise the retirement age to 70 — the highest in the world.
These talking points were rolled out by Shorten when he addressed the Labor caucus room on Tuesday morning and repeated ad nauseam in media appearances by Labor politicians.
The briefing directs MPs to deflect any questions on repealing company tax cuts if Labor wins government by pivoting the conversation to the ongoing negotiations with the crossbench.

"We haven't given up fighting this unfair tax handout — it hasn't passed the parliament yet," it says. "Our position is clear — multinational corporations and big banks should not be getting a $65 billion tax handout."
The notes specifically target One Nation leader Pauline Hanson, saying she has sold out Queensland by "teaming up with Turnbull [to] give a massive tax handout to multinational corporations and the big banks".
"The government has conned One Nation — there are 140,000 fewer apprentices under the Liberals, and they have bought One Nation off with an empty promise of replacing 0.7% of the apprenticeships that have been lost under this government."
There are also lines provided in case Labor MPs are asked about immigration minister Peter Dutton's decision to use his ministerial discretion powers to grant visas to two foreign tourists working as au pairs.
"It's up to Peter Dutton to explain his use of ministerial discretion," it says. "His explanation yesterday didn't explain anything."

The briefing notes also contain lines for MPs about the cricket ball-tampering scandal that has rocked Australian sports, emphasising that cheating is "unacceptable".
"Like all Australian sports fans, I was very disappointed to hear the news from South Africa," the talking points say.
"Australians expect sportspeople to represent our country with integrity and in the spirit of fair play, and to set a good example.
"I understand Steven Smith and David Warner have agreed to step down as captain and vice-captain for the rest of this Test match and Cricket Australia has made it clear it is taking the matter seriously and will conduct an investigation.
"Cheating is unacceptable and, for the sake of our international sporting reputation and Australians' confidence in the integrity of sport, must not be tolerated."
Curiously, the talking points also contain references to "saving Medicare" and Labor delivering funding to "protect Medicare", in a throwback to the controversial "Mediscare" campaign during the last federal election.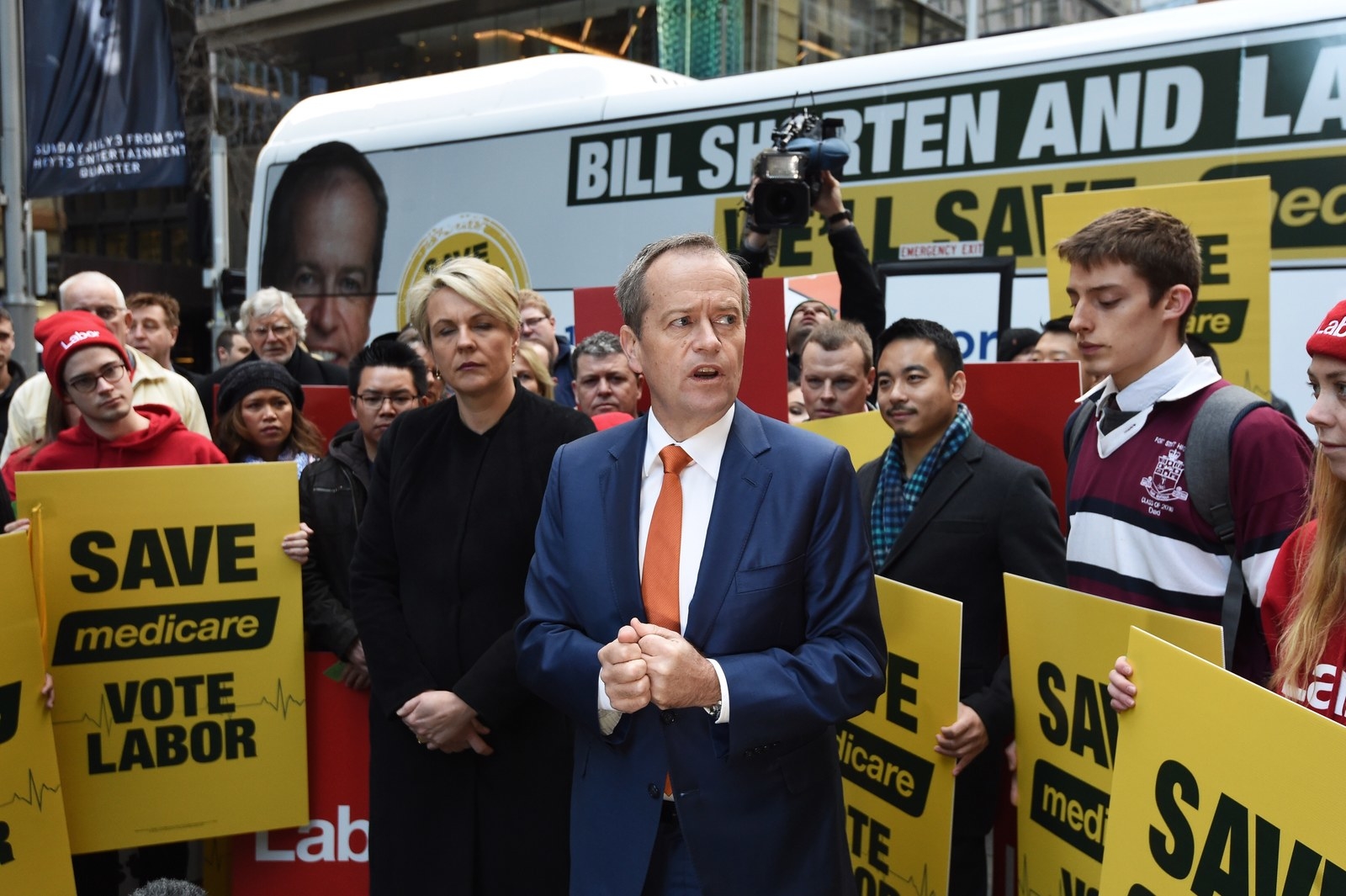 The briefing notes provide specific attack points to position Turnbull as "out of touch" in comparison to Labor's working man appeal.

"Turnbull is elitist and arrogant and his conservatives are inept and out of touch — he is only for the top end of town, choosing to give a tax handout to millionaires and multinationals, while making everyone else pay more," it reads.
On the government's 29th Newspoll loss in a row, it tells Labor politicians to say that Malcolm Turnbull and Tony Abbott "are the only people obsessed with Newspoll".
"By Turnbull's own measure, he's only got one more to go before he stands down," it says. "You don't need a poll to know that Malcolm Turnbull is overseeing the most out of touch government in Australian history.
"While the Liberal and Nationals are in Canberra consumed by internal squabbled and proxy leadership battles, Labor is talking about issues that matter to Australians. We're focused on what actually matters to people — making the tax system fairer, lowering private health insurance premiums, tackling out of control power prices, properly funding our schools, protecting penalty rates and saving Medicare."
The incident is reminiscent of the time former Labor frontbencher David Feeney left Labor briefing notes in the Sky News TV studio after a car crash interview during the 2016 federal election campaign.
You can read the talking points in full here:
Bill Shorten's office declined to comment when approached by BuzzFeed News.