Max Key — the son of former New Zealand prime minister John Key — has issued a challenge to Labour leader Jacinda Ardern.
Not a leadership challenge. A musical challenge.

"I want to challenge you, Jacinda Ardern, to a DJ battle," he told BuzzFeed News. "Anytime, anywhere. Name the place, I'm there."
Key, who splits his time between music producing, DJ-ing, vlogging and working in an office, said he hopes the Labour leader would be down for spinning some vinyl, especially if she wins Saturday's national election.
"It's what the people want," he joked.
Key's quietly confident he'd win against the recently appointed Labour leader, despite her being the face of the so-called "youthquake" across the country.
The 22-year-old thinks a DJ battle is more likely to get young Kiwis interested in politics than the current neck-and-neck campaign between National and Labour.
"I think, though, that no-one really cares about politics," he said.
"People that are affected by stuff really care, but kids my age when it's not election time no-one's like, 'Oh, did you check that policy out?'.
"They're just like — oh do you like National, do you like Labour."
However NZ's former first son is more engaged with politics than he likes to let on. He just thinks that it should be more entertaining. Hence the DJ challenge.
Ardern is no stranger to the decks. She cringes at the moniker "amateur DJ", but has a number of DJ sets on her musical CV, including the 2014 Laneway Festival in Auckland.
During a live interview with BuzzFeed News on Twitter Ardern said her favourite track to fill a dance floor was The Louvre by Lorde; she's previously joked that if she becomes prime minister she'll get roots band Fat Freddy's Drop to perform at her swearing in ceremony in NZ Parliament.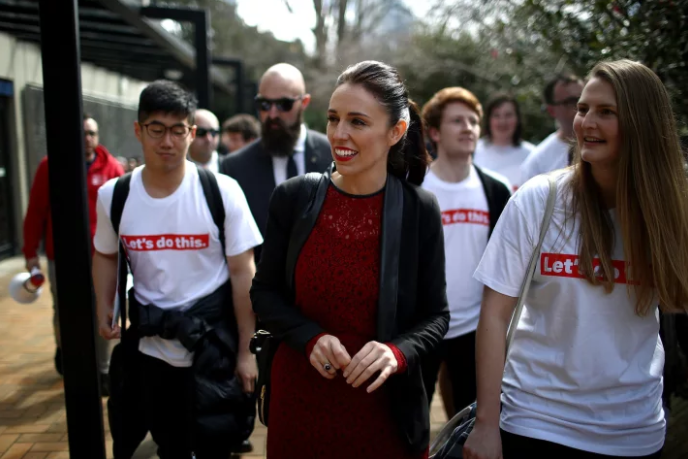 While Ardern may be preparing for victory in a few days time, Key says he hasn't seen the last of the Beehive (aka Parliament House).

"I'm already starting my campaign — prime minister 2044," he said.

His platforms would include a "banger hour" every Tuesday at midday, in which everyone gets an hour off to enjoy some tunes.
"We could probably spice up the national anthem, maybe do a remix, a little dub step remix. But who knows 2044, we could be into opera remixes. The world is our oyster."
And the first track he'd spin if Ardern agreed to a DJ battle?
"Fantasy by Max Key, out now", he says with a grin. Always plugging.
BuzzFeed has contacted Ardern's office to see if she's up for it.