Michaelia Cash Just Threatened To Name Young Labor Women She's Heard Rumours About
Until two months ago she was the minister for women.
Employment minister Michaelia Cash has threatened to name "every single young woman" from Labor leader Bill Shorten's office that she's heard rumours about, during a fiery Senate estimates exchange.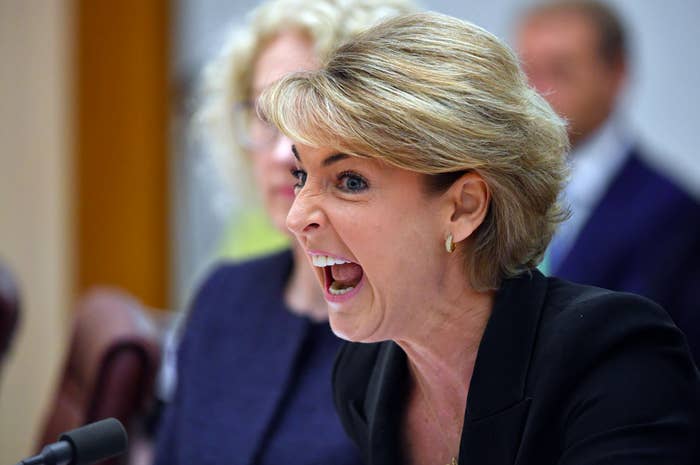 Cash was being interrogated by Labor senator Doug Cameron on Wednesday morning about the background of her new chief of staff, who has yet to commence work in her office.

As revealed by BuzzFeed News last month, four people, including her former chief of staff, have left the employment minister's office following the scandal over Cash's office leaking information to the media about police raids on union offices.
Cameron asked whether Cash's new chief of staff had previously been employed in another Liberal office.
Cash fired back that if he wanted to start discussing staff – who conventionally are not named in estimates – then she would thrown down.
"I am happy to sit here and name every young woman in Mr Shorten's office over which rumours in this place abound," Cash threatened.
Until December, Cash was the Turnbull government's minister for women.
Cameron described the comments as "absolutely unacceptable".
The minister's comments come just weeks after the prime minister declared there was a cultural problem in parliament house and in the wake of the #MeToo movement he was updating the ministerial code of conduct.
Here's exactly how it went down:
CAMERON: Did this person, your new chief of staff, will he or she come from some other Liberal political office?
CASH: Well, Senator Cameron, again this person is well qualified and has been taken on board because of their skill set that they will bring to my office.
CAMERON: It's a simple question, I am simple asking did they come from another Liberal office? He or she?
CASH: Again, Senator Cameron, it is not, you would normally not discuss staff matters for very obvious reasons. I mean, if you want to start discussing staff matters be very, very careful. Because I am happy to sit here and name every young woman in Mr Shorten's office over which rumours in this place abound. If you want to go down that path today, I will do it.
CAMERON: That's a nonsense.
CASH: Do you want to start naming them? Do you want to start naming them? For Mr Shorten to come out and deny of the rumours that have been circulating this building now for many, many years. Dangerous path to go down and you know it.
CAMERON: Just settle down and answer the questions, that's what you should do. Take what the young people call a 'chill pill' and you might be ok.

Cash then repeated her threat later in the committee meeting as Labor continued to ask questions about her current, former, and future staffing arrangement.

Watch the full exchange here:
Labor senator Penny Wong later marched into estimates and demanded an apology for what she described as "outrageous slurs".
"We have the prime minister a week ago giving us a fairly moralising speech saying we need to make this a better workplace for women and the minister representing the minister for women comes in here making, what can only be described as outrageous slurs about the character of female staff working for the leader of the opposition," she said.
"It can't be allowed to stand, I think it is disgraceful and sexist and it is impugning of the character of various staff. I would ask the minister to withdraw."
Eventually Cash relented, after Wong threatened to deal with it on the floor of the Senate.
"If anyone has been offended by my remarks, I withdraw them," Cash said.