Construction on the controversial 2.6 metre tall security fence being installed around the perimeter of Australia's Parliament House is about to commence, with site sheds delivered on Wednesday.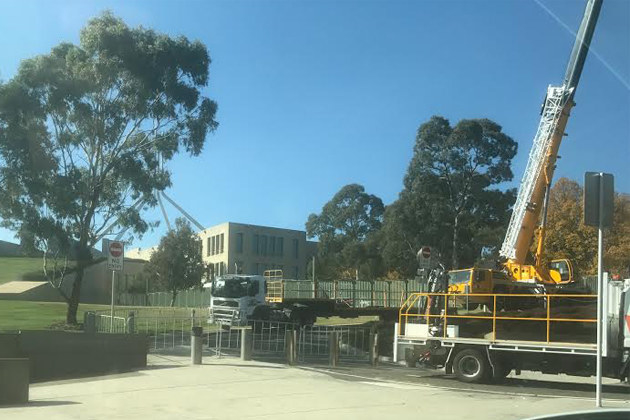 Work on the steel barrier, which will quarantine the public from the top two thirds of the famous sloping grass lawns, was meant to commence over the summer months.
But on Wednesday BuzzFeed News spotted the first sign of progress being made on the fence when material was craned over the existing fences into the ministerial wing of Parliament House.
"Site sheds were delivered to Australian Parliament House this morning in preparation for the commencement of the building's planned security upgrades, which are due to commence in the coming weeks," a Department of Parliamentary Services (DPS) spokesperson told BuzzFeed News.
Politicians agreed to the $60 million in upgrades in December after security agencies advised the lawns left the building vulnerable to a terrorist attack.
Independent senator Derryn Hinch and the Greens were the only politicians to oppose the fence.
The construction of the fence, building fortifications, new entries and CCTV cameras is expected to take a number of months.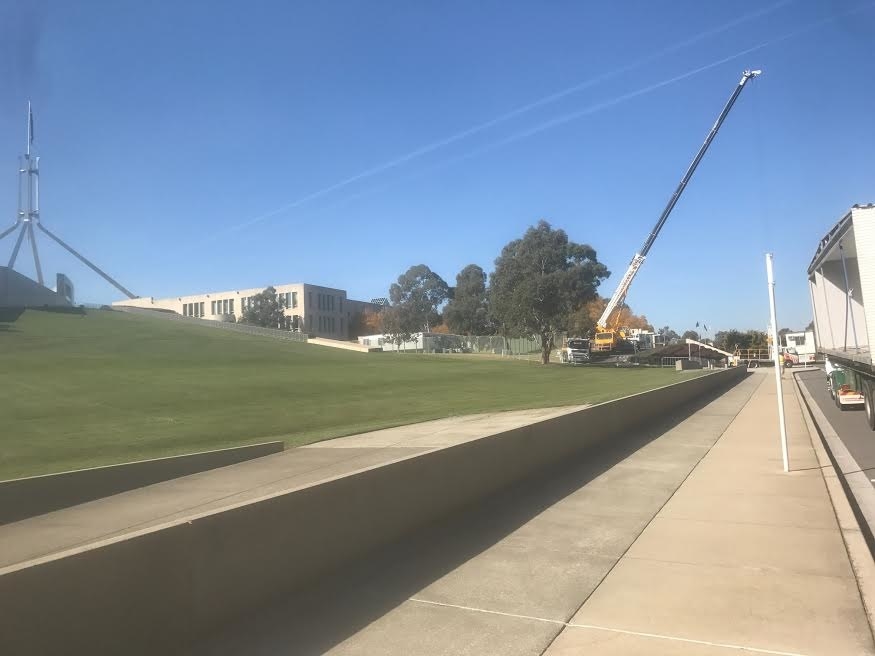 The Department of Parliamentary Services (DPS) told Senate estimates in February that the fence is expected to be covered with foliage to lessen the impact on architect Romaldo Giurgola's original design of the building.
The structure will be built one third of the way up the sloping grass lawns from street level, and will run the entire length of the building.
Giurgola conceived the grass lawns as a way to allow members of the public to walk over the heads of their elected representatives. It was meant as a symbol of true democracy.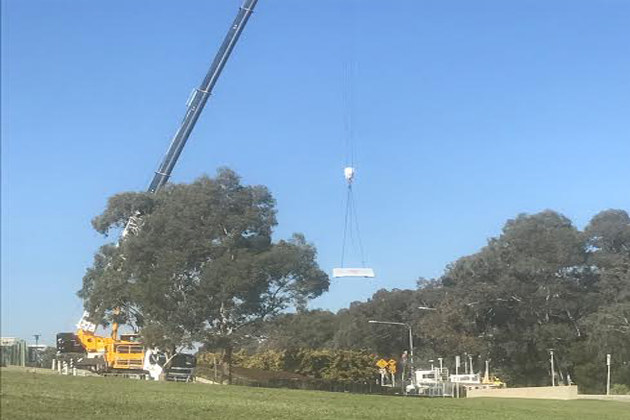 Speaker of the House of Representatives Tony Smith and president of the Senate Stephen Parry have refused to release any further information about the fence, citing security concerns.

""One of the issues we have is... if we start breaking down too much of the financial costs, and what's being spent on what, people who might want to do us harm can use that information in different ways," Parry told Senate estimates.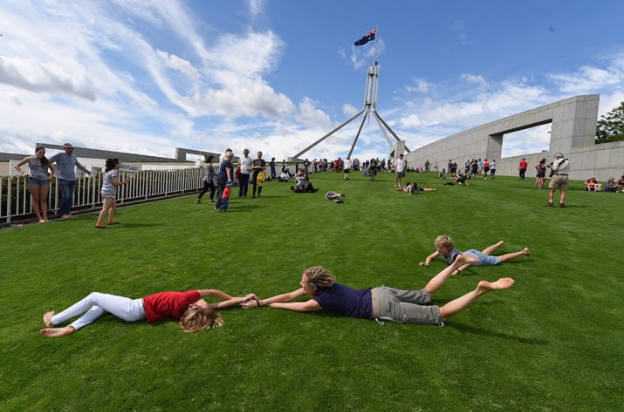 The DPS maintains the public will continue to be able to access a "significant amount" of the grassed area at the front of the building.

"The ongoing commentary that people will be no longer able to roll down the grass ramps is therefore misleading," a DPS spokesperson told BuzzFeed News.
"The public has not been able to walk up the grass ramps and right over the top of Parliament House for 11 years, since the existing fences were erected on security grounds in 2005.
"The public will continue to access the roof of this building in precisely the same way – passing through screening and going up to the roof internally via the elevators."
Justice Party senator Derryn Hinch likened the fence to "putting barbed wire around the Opera House".