George Brandis Taps More Liberals For High Paying, Independent Tribunal Jobs
26% of the senior full-time members on the AAT have identified Liberal links.
Three former senators, two Howard government senior staffers, a director-general to former QLD premier Campbell Newman and a columnist for The Australian are among people tapped for high paying jobs by attorney-general George Brandis.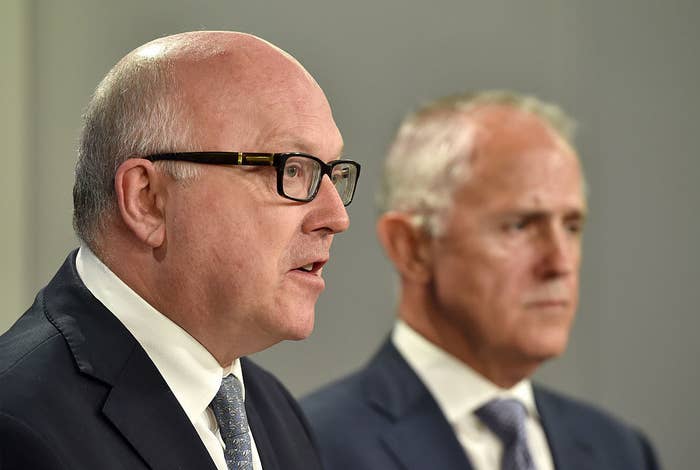 The names of the 9 new appointments and 23 re-appointments to seven year terms on the powerful Administrative Appeals Tribunal (AAT) was released on Friday at 4:35pm, when most of Australia had already knocked off work for the football grand final weekend.

Late last year BuzzFeed News revealed some of the Liberal party connections to those on the AAT — the independent body of review for important government decisions around freedom of information requests, disability and veterans' appeals, child support arrangements and refugee applications.
Six out of 23 of the senior full-time members on the AAT, that is more than 26 per cent, have identified Liberal links.

In June, after news broke that several members of the tribunal would not have their contracts renewed, Brandis purged the AAT and hand picked a series of new appointments, including a failed Liberal candidate and a lifetime member of the Sydney University Liberal Club.
Some of the jobs are full-time, others part-time, with tribunal members paid up to $360,000 a year. Both Labor and Liberal governments have attracted controversy in the past for appointing political allies to the tribunal.
Former Queensland justice department director-general for the Newman government John Sosso has been promoted to part-time deputy president, a position worth $1,800 day.
Before the 2016 election Sosso was appointed as a senior member, just before the Turnbull government went into caretaker period.
Sosso has a long history with the Coalition as well as working for the Newman government he served as deputy director general of the Queensland premier's department under Nationals premier Rob Borbidge from 1996-1998. His LinkedIn account says he also works as a consultant and mediator in stakeholder relations. Sosso will take start his role as deputy president from 1 November.
Among the new part-time AAT members are former federal Liberal senators Helen Kroger and Grant Chapman.
Kroger was the president of the Victorian Liberal Party from 2003 to 2006 and is the ex-wife of Michael Kroger, who is currently serving his second term as Liberal state president in Victoria. Currently working as a lawyer, amongst the accomplishments listed on Kroger's LinkedIn account is "scrutinising the Greens and defending the Australian flag".

Chapman (born Hedley Chapman) served for 33 years as a Liberal MP and then Senator for South Australian. While in parliament he chaired the corporations and financial services committee and oversaw the Australian Securities and Investments Commission. The 68-year-old was also state president of the South Australian Liberal party for a number of years.
As a part-time members both will be earning up to $1,000 a day.

Two Howard government advisers have been appointed as full time board members, Simone Burford and Colin Edwardes.
Burford has a long history working as a Liberal party staffer. She was a senior communications, national security and legal adviser to John Howard when he was prime minister, chief of staff to Howard's attorney-general Daryl Williams and communications minister Richard Alston. According to her LinkedIn she also served as a board member for the Dorris Eaton private school's parents association.

Colin Edwardes served as chief of staff to the Howard government in portfolios of treasury, territories, roads, environment and heritage. He also served as an adviser for former WA Liberal premier Colin Barnett and was the chief of staff to the WA Liberal minister for mining and petroleum Bill Marmion. He was blamed for the axing of the former chairman of the Mid West Ports and replacing him with a "Libs man".
His wife is the former WA Liberal attorney-general and environment Cheryl Edwardes, who previously served as one of Gina Rinehart's trusted aides.
Ian Hanger QC, the commissioner of the Abbott government's royal commission into the home insulation program, commonly referred to as the pink batts scandal, is also on the list.
Hanger is an expert mediator and has chaired a number of inquiring including the 1998 Inquiry into the Industrial Relations system in Queensland and 2013 Queensland in the Child Protection Commission of Inquiry.

There are also some Labor party connections in the long list of part-time members, including CEO of the early learning association of Australia Shane Lucas, who served as a staffer under the Bracks, Brumby and current Andrews Victorian Labor governments, as well as working as an officer in the Financial Sector Union.
Columnist for The Australia and former Labor senator John Black, and wife of Melbourne Ports Labor MP Michael Danby, Melbourne barrister Amanda Mendes Da Costa, were also appointed.