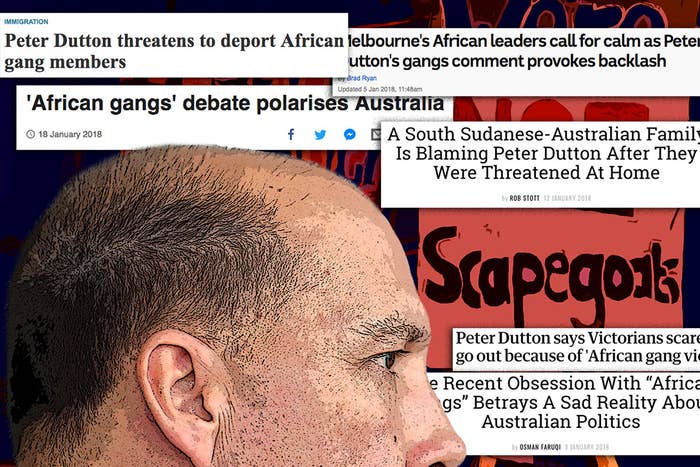 African community leaders in Australia have accused politicians and media organisations of encouraging racial taunts and violence against African-Australians, following reports suggesting there is an African gang crisis in Melbourne.

Representatives from the South Sudanese Community Association, Pan African Australasian Diaspora Network, the Goulburn Valley African Communities Association, Africa Day Australia, Oz African TV and the African Music Cultural Festival have signed an open letter to all Australians calling for an end to racial vilification.
"Recently, crime reporting has focused disproportionately on African-Australians, while positive coverage has leached away," the letter reads.
"When this is the only story being told about any single group of people, it has negative impacts. African-Australians are being targeted on the streets and online with racial taunts and sometimes violence. It affects our ability to feel that we too, belong."
Lawyer Kot Monoah, the outgoing chairman of the South Sudanese Community Association in Victoria, said the letter was released on Wednesday in conjunction with national Harmony Day to encourage all Australians to stand with the African community against racism and discrimination.

Tensions have flared since January when immigration minister Peter Dutton claimed Melbournians were afraid to go out for dinner at night because of street crime and prime minister Malcolm Turnbull said the government was concerned about "growing gang violence and lawlessness" in Melbourne.
While not mentioning any names, the letter asks all politicians not to use racist slurs or discriminatory language for political gain.
"We call on all Australian politicians to cease racial targeting," it says. "We call on every party to recognise the affects their words have on the everyday lives of people in our communities."
The African community leaders also target the media organisations behind the "racist" coverage of violence and crime by the so called "African street gangs".
Hyperbolic hysteria has resulted in stories incorrectly blaming the African community. In one case the Daily Mail accused six African youths of being behind a Melbourne assault, despite police saying there were only three suspects, one of which was of African heritage.
Another incident of supposed "gang violence" was also falsely reported, with Victorian police blaming aggressive behaviour by a newspaper photographer for provoking a group of teenagers innocently socialising at a shopping centre.
For Monoah and other African community leaders, that's not good enough.
"Australian media outlets must no longer make racist connections between any person's race, colour or ethnicity and their likelihood to commit a crime," the letter says.
"We call on journalists, editors and commentators not to reinforce black-crime stereotypes and anti-immigrant prejudice. We ask that you broaden your narrative to the full contribution of African-Australians and all migrants."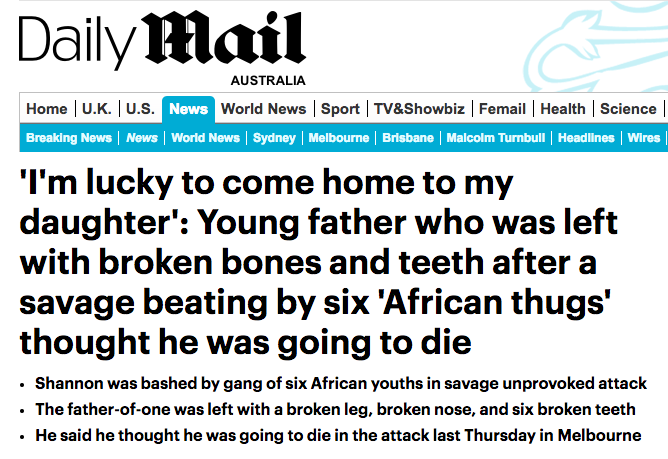 Victorian police have created an ­African-Australian Community Taskforce to help tackle youth street gangs and the community's growing concerns about the issue.

Natalina Andrew, the co-founder of the #AfricanGangs campaign, says coverage of crime connected to people of African descent has been one-sided and akin to "media terrorism".
At a forum on the so-called "African gang crisis" at the Immigration Museum in Melbourne on Monday, she accused the media of trying to terrorise her community.
The #AfricanGangs campaign has seen Australian Africans clapping back against sensationalist media coverage, sharing achievements, images of their family and work life and graduation pictures on social media.