Pauline Hanson has challenged Australians to name a single thing she has said that is racist, while also claiming it is human nature to be a bigot.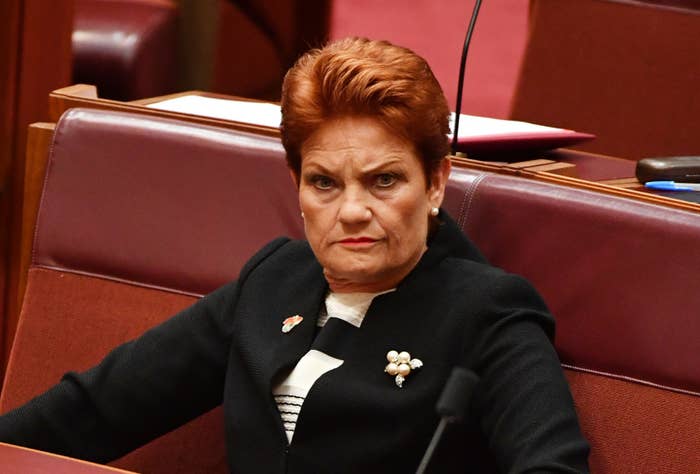 "The word racist means to believe your race is superior to another," Hanson told the Senate on Wednesday. "I have never ever said that.
"I challenge anyone to actually show me anything that I have said that has been racist."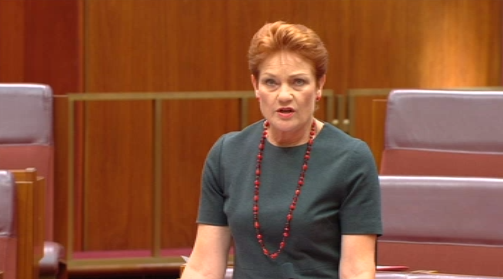 Speaking in favour of the government's plan to water down the Racial Discrimination Act, the One Nation leader said she's been a victim of "reverse racism".
"A lot of people think that because you're white and you're a white Australian you're not having racist comments directed at you," Hanson said.

Hanson said she's been called a racist so many times over the years it has become "boring".

"There is reverse racism in Australia, and I think that's why Australians are feeling the brunt of this and they're fed up."
Hanson said she's been called "white trash" and a "pig in mud", but denies ever uttering a single racist comment.
"It's not about what you want to say, it's the right of being able to have an opinion. Because I can look at someone of another culture... and I might say I don't particularly like your cultural dance, or I don't particularly like your cultural dress... but they may be offended by it."
Hanson also said: "I'm sure everyone in this chamber is a bigot in their own way because you can be intolerant of another person's culture or their religious beliefs. That is human race, that's who we are, because we're proud of our cultural background. It's about having respect."
The Queensland senator blames political correctness and the "thought police" for her opinions being described as racist.
"Racist means to believe your race to be superior to another," she said. "To make a comment on an issue doesn't necessarily mean you are racist, but they use that word because it's supposed to shut down a debate."
Hanson has previously declared that Australia is in danger of being swamped by Asians and Muslims.
In the wake of the most recent London terror attack she said that Islam was a "disease" that Australians needed to "vaccinate" themselves against.