University student newspapers from across the country have once again been told by the Turnbull government they won't be allowed in the federal Budget lock-up in Parliament House next month.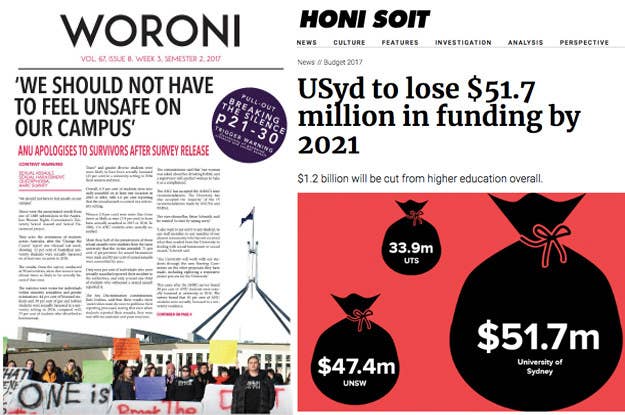 The editors of seven university publications – Farrago (Melbourne), Grapeshot (Macquarie), Honi Soit (Sydney), Pelican (UWA), Tharunka (UNSW), Vertigo (UTS) and Woroni (ANU) – have told BuzzFeed News they're angry and frustrated by the government's decision to deny student journalists accreditation to attend this year's Budget lock-up.
Et Cetera, a new national student media outlet launched this year, was also denied a seat in the lock-up.
"Thank you for your interest in attending the 2018-19 Budget media lock-up," the rejection email to Woroni reads. "Due to space restrictions, the lock-up is limited to professional news publications only.
"Unfortunately we do not have the capacity for the thousands of possible organisations and outlets that might like to attend," it says.
Rejection letters were sent to the student editors on Monday, only days after applications to attend lock-up were closed. Space restrictions is the same reason given by treasurer Scott Morrison's office when they refused students access to last year's Budget.
Instead of attending in person, the Treasury pointed student editors towards a government website, where the Budget papers will be uploaded from 7:30pm on Tuesday 8 May after the lock-up is finished.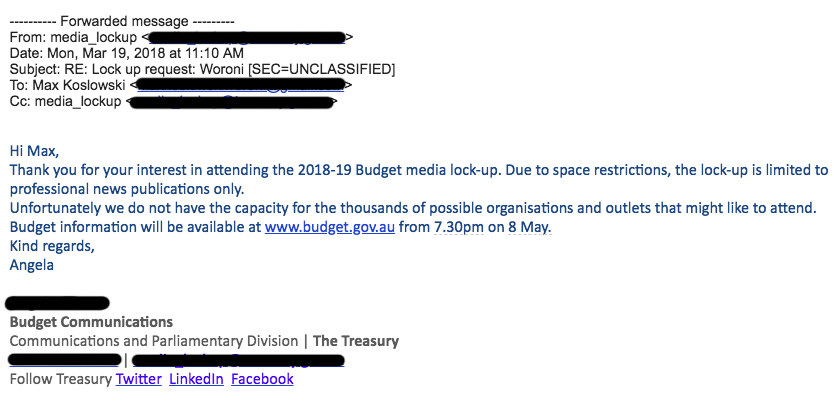 Editors from the rejected newspapers told BuzzFeed News they're suspicious about the government's decision to deny entry for the second year in a row, considering student media were in attendance at the 2014, 2015, and 2016 Budget.
They suspect the government is scared to face the scrutiny of young people who will be directly affected by its policies, including what is likely to be the Coalition's third attempt to increase university fees.
Woroni reported last year that the ANU's entire Diploma of Languages program had been shut down after budget cuts in MYEFO (Mid-year Economic and Fiscal Outlook) and Honi Soit revealed that Sydney University would lose $51.7 million if proposed funding cuts were passed.

Editors say without access to the Budget lock-up they will be unable to publish any stories until the following day, stopping young people from having a voice in the national post-budget conversation that takes place on Tuesday evening.
"After a year of sustained attempts to change higher education policy, we at least deserve the respect to be able to examine the government's policy suggestions," the editors say in an open letter to the government.

"And really, what are you afraid of?
"If you believe your higher education policies are so good, government, why are you scared of 'unprofessional' student media outlets scrutinising them?"
In 2017, 580 individuals were given access to the media's budget lock-up.
The student editors question how they are less "professional" than media organisations who make comedy skits in lock-up or report on the "behind the scenes" action.
"It's a weak excuse for the government to say they can't find enough space for a couple more chairs, when they manage to find enough space for large camera crews to product comedy routines inside the building," they say.
Max Koslowski, an editor of Woroni, said it wasn't a coincidence student newspapers had been denied entry the same year the government is reportedly preparing a baby boomer-friendly Budget, in a bid to woo 4.8 million voters over 60.
"Without student media in the budget lock-up, a huge portion of younger Australians won't get specific, detailed coverage about the issues that affect them," Koslowski told BuzzFeed News.

Koslowki says there's a pattern with the Turnbull government ignoring young people. He says young people at the very least deserve the respect of being given the opportunity to scrutinise the Budget documents along with media groups that represent older Australians.

"The media is pretty much just run by old guys – and that means that often youth issues get sidelined," he said.
Woroni planned on sending two people into lock-up, but said they were happy to pool their requests with the other students if it meant they were allowed in.
"If the Treasury has genuine space concerns, we would have understood if they limited the amount of spots student media takes up...the fact that they just straight up banned all of us from coming makes it seem a little suspicious," Koslowki said.
"Maybe it is about how there's a lack of space, but if that's true, it's a pretty weak excuse – get a bigger room and let just a couple of students look at your Budget."
The Budget has specific ramifications for students that Woroni was hoping to cover.
"The ANU's Diploma of Languages was axed after the MYEFO (Mid-Year Economic and Fiscal Outlook) announcement, which has made it much harder for students to study a language," Koslowki said.
"And when we talk to students about potential changes to the price of their degrees, they tell us that they aren't sure whether they should finish their degree because they feel like they can't repay their HECS."
You can read the student editors' open letter below.
At the time of publishing, treasurer Scott Morrison had not responded to BuzzFeed News' questions.