Charges of offensive language laid against three marriage equality protesters filmed chanting "fuck Fred Nile" have been dropped by NSW police after a judge ruled they were unlawful.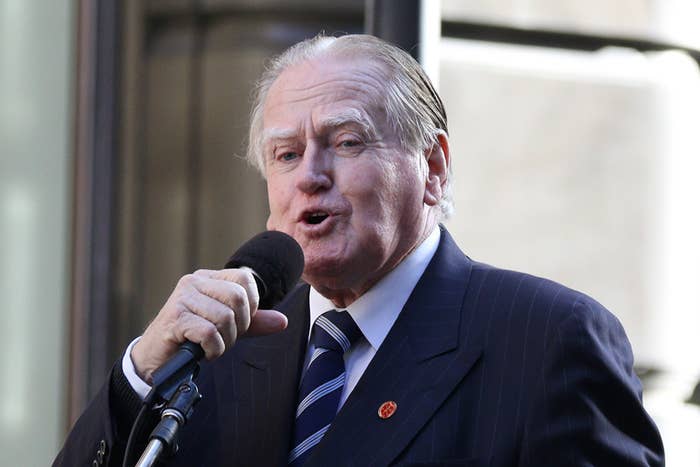 Cat Rose, Patrick Wright, and April Holcombe were captured chanting that bigots should "fuck off" at a Community Action Against Homophobia (CAAH) protest against conservative Christian Democrat politician Fred Nile in September 2015.
Rose and Wright, both co-convenors of CAAH, were given on-the-spot penalty notices and Holcombe was tracked down by police days later from video footage.

"I was called 48 hours after the protest to be told that I had sworn, that this was on police footage, and that my $500 fine was in the mail," said Holcombe, an LGBTI officer for the National Union of Students.

But after a year-long battle in court, all criminal charges and fines against the three were dismissed after a judge ruled that chanting "fuck off" or "fuck Fred Nile" through a loudspeaker does not constitute offensive behaviour.
Swearing was being used by protesters to "dismiss an argument against marriage equality," the judge found.

Common phrases like "you fucking beauty" show the word "fuck" is a part of the everyday Australian vernacular and no longer deemed vulgar or offensive, the judge said.

The three protesters have described the verdict a "big win for free speech" and "the right to protest", and have vowed to continue to protest for LGBTI rights.
"The police have attempted to scare marriage equality activists out of speaking up against bigotry," Wright said. "They have failed."
"We've won the right to say what we think of Fred Nile," added Rose, "but with marriage equality still banned by law, the homophobes haven't been defeated.

"We'll keep protesting until we have our rights, and you can expect a few f-bombs along the way."