In June, the Senate voted to amend Category A of the Therapeutic Goods Administration's (TGA) Special Access Scheme (SAS) and fast-track access to imported medical cannabis for a small group of terminally ill patients who had already been prescribed the treatment by their doctors.

Medicinal cannabis, which was legalised in Australia last year, is the only unregistered therapeutic treatment that patients with life-threatening illnesses are unable to access under Category A.
Currently, in order to get access to local or imported medicinal cannabis patients must move through the complicated and lengthy Category B process, which requires a prescription, TGA approval letter and needs to be illegal in the patient's state or territory. This process can take over six months.
Three days after the vote the government wrote to importers telling them to ignore the Senate's decision and threatening to remove their licenses if they made medicinal cannabis available.
"It is a breach of your permit and licence conditions if you supply any imported medicinal cannabis product to a patient under SAS-A," the Office of Drug Control letter stated.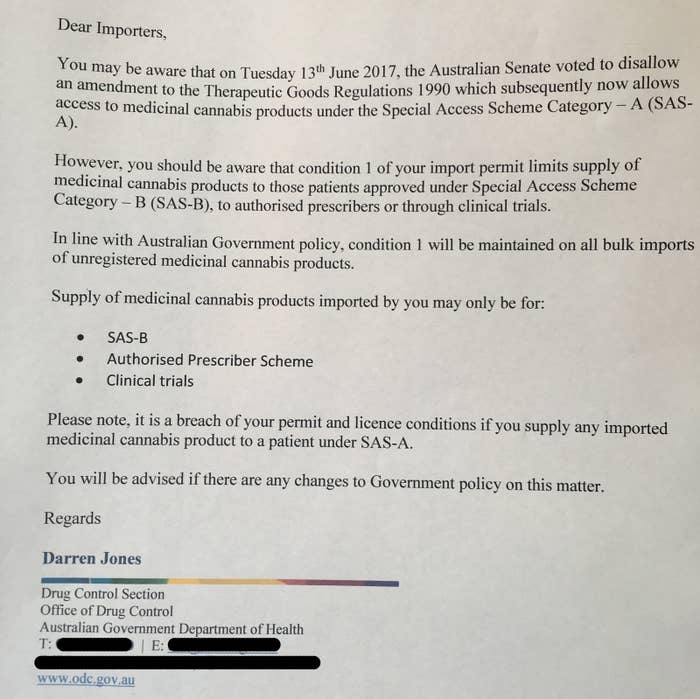 Greens leader Richard Di Natale has accused the government of "defying the will of the Senate" by blocking terminally ill patients from accessing medicinal cannabis imported into Australia.

He told BuzzFeed News the Turnbull government is letting its "ignorance and conservative ideology" get in the way of patient care.

"It is simple cruelty from this government," he said. "These patients are dying and their doctors believe medicinal cannabis may alleviate their suffering."
The Greens will introduce a private members' bill on Tuesday that will stop the government blocking importation of medicinal cannabis, and make sure imported and Australian-made cannabis is available for dying patients under Category A.
"Medicinal cannabis is safer than many prescribed drugs such as opioids, which can be diverted and cause fatal overdose, yet Australian patients needlessly suffer while this government's blind ideology can't see past the word 'cannabis'," Di Natale said.

"[My bill] ensures that emerging Australian medicinal cannabis suppliers are not disadvantaged; it also ensures that when Australian medicinal cannabis treatments become available, terminally patients will be able to access them quickly.
"Why should someone who is dying have to wait for weeks or months on end for treatment that works, that has been prescribed by their doctor?"
Di Natale is confident he will have the numbers to pass the bill through the Senate when parliament sits in mid-October.

Labor, One Nation and independent senators Jacqui Lambie, Derryn Hinch, David Leyonhjelm and Lucy Gichuhi have previously given their support to fast-tracking medicinal cannabis.