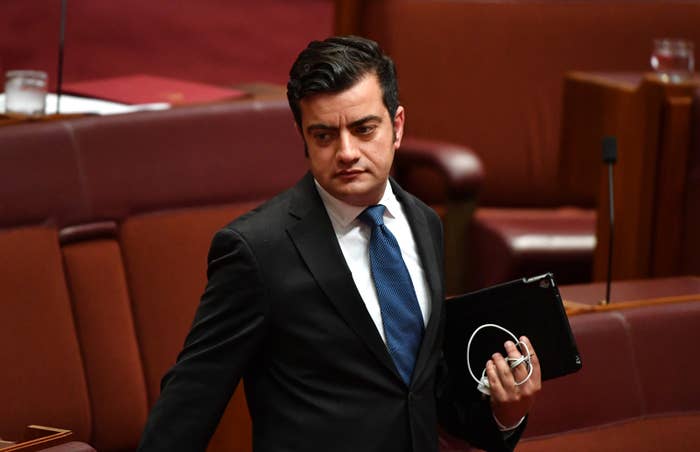 Labor senator Sam Dastyari has confirmed exclusively to BuzzFeed News that he will resign from the Senate next week, now that former NSW premier Kristina Keneally has been determined as his likely successor.

Labor leader Bill Shorten has been hammered with questions about Dastyari, who has continued to collect his salary, worth about $200,000 annually, despite announcing his intention to leave parliament on December 12.
When asked why Dastyari had yet to resign, Shorten told a press conference on Thursday that Dastyari was finishing up "matters that are outstanding" and he had "no doubt that he will resign very soon".
BuzzFeed News understands Dastyari's official resignation was put on hold until a successor from Labor's NSW Right had been decided by the party internally.
Keneally, who last month contested and lost the by-election for the federal seat of Bennelong, confirmed her intention to run for the vacated Senate seat on Wednesday evening.
"Over the coming days I will be speaking with rank and file members of the NSW ALP and affiliated trade unions in the Labor Party to seek their support," she said.
"I am humbled to be considered and look forward to further discussions within the Labor Party."
Shorten didn't hide his pleasure over Keneally's potential move to federal parliament, saying it's "no secret" that he was a big fan.
"I think she ran a very good campaign, an excellent campaign in Bennelong, and I think she has a lot to offer national politics; but I must also stress there is a process that New South Wales Labor will follow and at the conclusion of that process we will have a candidate for senator, and I think Kristina will do a very good job if she is successful," Shorten said.
Keneally has been odds-on favourite to win the preselection contest in NSW Labor since nominations opened on Friday. Two other candidates – Transport Workers' Union boss Tony Sheldon, and Union Voice leader Tara Moriarty – reportedly decided against running.
Expressions of interest in the position officially close at 5pm on Friday.
Dastyari has not revealed what shape his post-parliamentary life will take but says he has "many plans".
The senator resigned late last year over the scandal related to his close ties to Chinese donors, allegedly warning one donor that his phone might have been tapped by spy agencies.
Dastyari was elected to a six-year term in the Senate, meaning if Keneally wins preselection and is approved by the NSW Parliament, she will be in the Senate until 2022 at least.