A union is urging unemployed young people to boycott the Work for the Dole program, as the cause of a teenager's death on a Queensland worksite two years ago remains shrouded in mystery.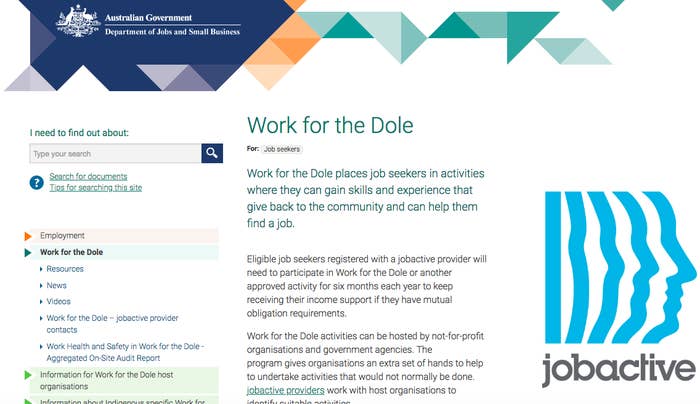 The Australian Unemployed Workers' Union (AUWU), which represents 12,000 members, has launched a "Boycott Work for the Dole" campaign to educate unemployed people on their rights, including the option to avoid participating in what it says is an "unsafe" program.

"Many employment service providers tell job seekers that Work for the Dole is their only option in meeting their mutual obligation requirements; however, this simply isn't true," Jeremy Poxon from the AUWU told BuzzFeed News.
Unemployed people are told by Centrelink they must participate in Work for the Dole programs for six months each year to keep receiving income support.
Work in the $648 million program normally consists of menial tasks such as cleaning or labouring and only increases participants' chances of securing paid work by 2%. Participants are paid at a rate that works out to be half the minimum wage, and are threatened with losing their benefits if they don't perform the activities assigned to them.
But according to Centrelink's Mutual Obligation Requirement Guide, unemployed workers can circumvent the Work for the Dole program if they complete voluntary work, study or accredited training programs.

"We want to make sure that unemployed workers know that when they do sit down with their job agency they have a choice not to work at these sites that we know are incredibly unregulated," Poxon said. "We're still getting calls about people worrying about the safety conditions, worried that they could get injured at any time."
The AUWU says Work for the Dole injuries have increased fivefold under the Coalition's "jobactive" system that makes Work for the Dole notionally compulsory. In 2015-16 there were 500 injuries sustained, out of 106,000 participants in the Work for the Dole program, including one death.

BuzzFeed News asked the Department of Jobs and Small Business for updated figures on Work for the Dole injuries in the past two years, but it refused to provide them.
The union says of all complaints made it its national safety hotline, 30% were to report safety issues on Work for the Dole sites, and a government-commissioned report by Ernst & Young found 64% of Work for the Dole risk assessments in 2016 failed to fully comply with standard workplace health and safety procedures.
"Unemployed workers want this punitive, pointless and dangerous program shut down once and for all," Poxon said. "Job seekers should not be forced into a scheme that is both dangerous and ineffectual."
The union's Boycott Work for the Dole' campaign is being launched on the two-year anniversary of the death of 18-year-old Joshua Park-Fing, who died from head injuries sustained when he fell from a flatbed trailer being towed by a tractor in April 2016. It's suspected the tractor slipped a gear and jolted, causing the teen to fall.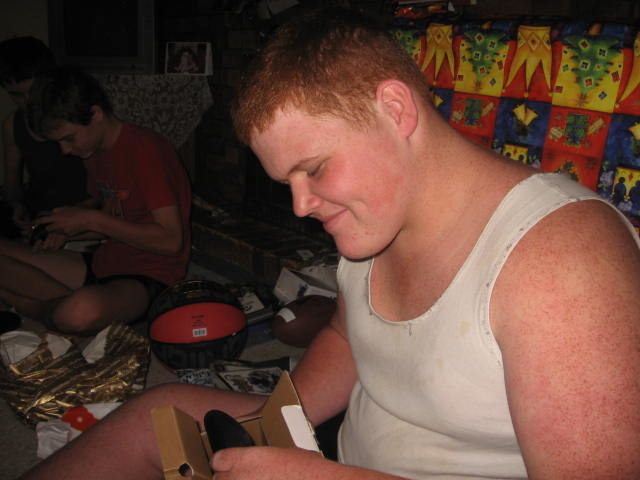 At the time of his death Josh was completing a Work for the Dole program at the Toowoomba Showgrounds arranged by employment contractor NEATO, earning $218.75 per week.

Two years on and his distraught family is still waiting for answers.
Jobs minister Michaelia Cash promised to conduct an investigation and publish a report within a month. Nothing has been released.

Forensic teams from Workplace Health and Safety Queensland investigated the incident but have yet to complete their final report. The Department of Employment (now the Department of Jobs and Small Business) provided an internal report to Cash in September 2016, which she has declined to disclose. She has also failed to answer BuzzFeed News questions about the reasons for the delay.
Cash told Senate Estimates that the interim report has been given to NEATO, and workplace safety practices had been updated to ensure the protection of young people taking part in the program.
But the minister is still refusing to release those measures publicly.
The AUWU has continually been denied access to a copy of the Work for the Dole risk assessment for the Toowoomba worksite where Josh died, because the department says it contains information that could "harm" NEATO.
"Two years on from the tragedy, the government still refuses to release their report into Josh's death," Poxon said. "Two years on, we still have no idea what they've actually done, if anything, to prevent a tragedy like this happening again. Two years on, there's still no evidence to suggest that this government actually cares about the lives of unemployed workers."

Josh's father Iain Park says text messages he exchanged with his son hours before he died, seen by BuzzFeed News, show the teenager was injured, yet made to continue working.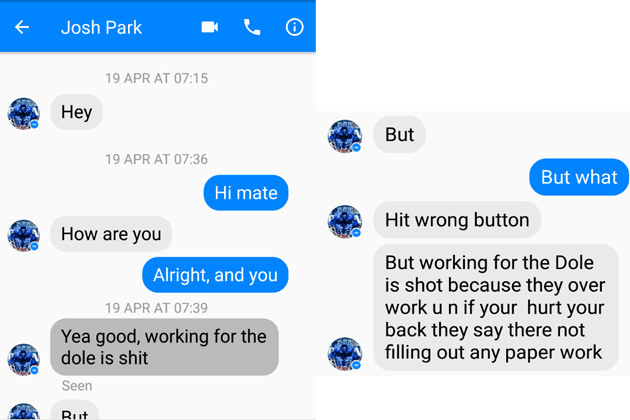 Park claims his son was not allowed to fill out injury paperwork, or take a day off sick after injuring himself. He says Josh was forced to ride on the back of the trailer without a harness or any other safety equipment.
The union hopes its campaign will encourage young people to walk off Work for the Dole job sites when they feel unsafe.
"If Josh knew of his rights not to attend his dangerous, punitive Work for the Dole activity, he might still be alive," Poxon said.
"We want young people to know that they have the right under social security law, not to do work for the dole. If they feel like their Work for the Dole activity is dangerous, they have every right to tell their job agency to organise safe and appropriate voluntary work for them instead."
Josh's father is backing the union's call to boycott Work for the Dole.
"My main concern is someone else's family is going to go through what mine has — Josh's death is not going to be a one-off," Park said. "The program needs to be reformed, they need to cease all activities because we are still getting ... injuries [every month] all over Australia."
"It's not just one spot. No-one can look at it and say it's NEATO's fault, they were a bad employment group that didn't adhere to workplace health and safety laws and their job description. There's a lot of people getting injured."
The AUWU is holding a National Day of Action on Thursday, with "Justice for Josh" events being held in Brisbane, Sydney and Melbourne, where it plans to present a petition to the Queensland industrial relations minister Grace Grace, asking her to investigate the federal government for failing to ensure Josh had a safe Work for the Dole site.