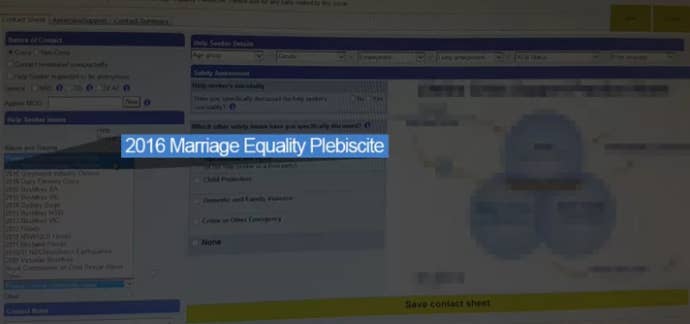 The national suicide hotline has received an influx of calls relating to the government's postal survey on same-sex marriage, according to internal sources.

Last year a leaked screenshot from the database of the national suicide hotline Lifeline showed that a new category, "2016 Marriage Equality Plebiscite", was created when the plebiscite was first proposed. New categories are created when there is an increase in the number of calls relating to a particular subject.
Lifeline staff told BuzzFeed News they are asked to enter the "main reason" for each call they receive into the Lifeline computer system, and that recently there has been a spike in the "2016 Marriage Equality Plebiscite" category.
The category remained dormant after the government lost a vote to hold a compulsory plebiscite, but is being used again after the "yes" and "no" campaigns for the postal survey began.

A number of Lifeline's trained suicide prevention workers told BuzzFeed News that since the government embarked on its postal survey on same-sex marriage, they have been counselling callers affected by the heated debate over same-sex marriage, LGBTI rights, and LGBTI people more broadly.
This debate includes the Neo-Nazi anti-gay poster reportedly spotted in Melbourne and the Coalition for Marriage's "You Can Say No" ad, in which one parent claims her son was told he could wear a dress to school the following year, and that year 7 students were being asked to role play being in a same-sex relationship.
Mothers of transgender children told BuzzFeed News they are scared for their kids after viewing the "You Can Say No" TV ad, which they say wrongly conflates same-sex marriage with gender identity, and exposes their already-vulnerable children to hate.

Lifeline, which receives more than 2,000 a day, would not confirm the exact increase in postal survey related calls.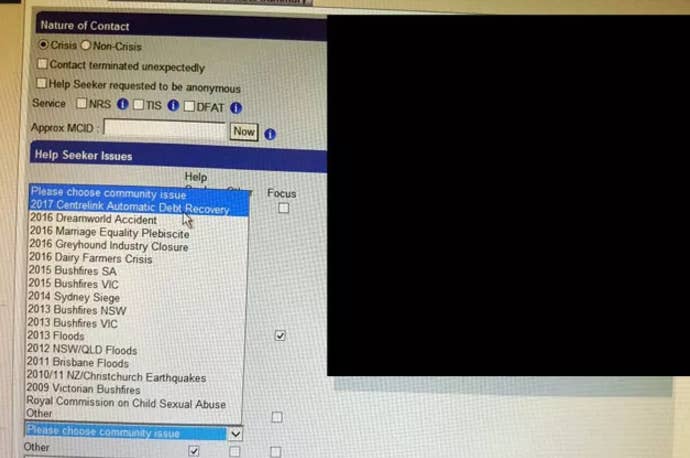 According to the leaked screenshot, other categories added in the last year to the Lifeline system relate to the Centrelink robo-debt crackdown, the dairy farmers' crisis, the NSW greyhound ban, and the royal commission into child sexual abuse.
If you need to talk to someone, you can call Lifeline Australia on 13 11 14 or Beyond Blue Australia on 1300 224 636.