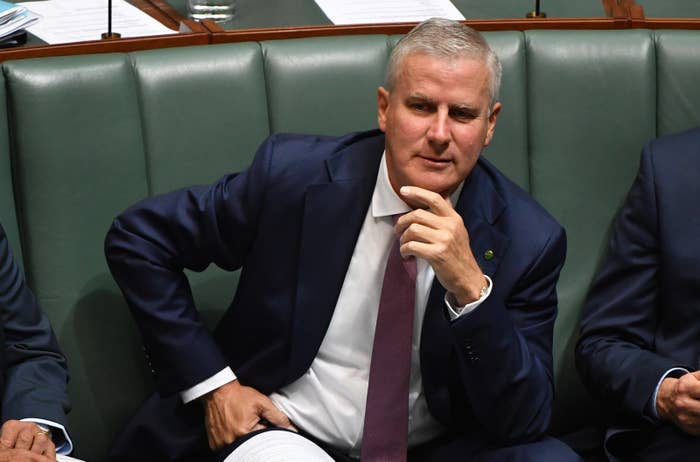 Australia, meet your new deputy prime minister and Nationals leader: Michael McCormack.
"There's a new era now, Michael McCormack is our new leader," chief Nationals whip Michelle Landry announced just before 8:30am on Monday morning.
The New South Wales MP for the Riverina was elected by the 21-strong Nationals party room meeting with a clear majority, after former deputy Barnaby Joyce announced he was standing down on Friday and forced a leadership spill.
"It was a fair dinkum vote," Landry said.

Outspoken National MP for Dawson George Christensen was a last minute surprise candidate, with other contenders withdrawing before the vote. Bridget McKenzie will remain as deputy.
The exact result of the vote is unknown and was not made public to the room after the ballots were counted.
"I want to place on record an acknowledgement for Barnaby Joyce. He has been an outstanding leader," McCormack said on Monday. "His service to our party and to our nation will never be diminished.
"His legacy will endure. And his continued work for and behalf of our nation, for and behalf our party and for and an behalf of regional Australia will also continue.
"I wish him well into the future and I look forward to him being part of our strong National Party going forward."
A question about whether McCormack was a "seat warmer" for Joyce until he can mount a comeback was met with an awkward silence.
McCormack emphasised water and rural mobile black spots as priority issues for him while in the top job.
"I am a team player and I will do it with the very best team for rural and regional Australia to serve the interest of our nation, particularly of those people who live in country, coastal and regional areas."

The 53-year-old was first elected to parliament in 2010 and, despite holding a number of junior ministerial portfolios, has never served in cabinet. He is considered a safe pair of hands to lead the Nationals into the next federal election.
He is probably best known the minister in charge of the first online Census in 2016 that was plagued with technical problems and became known as #CensusFail.
McCormack has also drawn criticism for an editorial he wrote when he ran Wagga Wagga's Daily Advertiser in 1993, in which he called homosexuality "sordid" and blamed the gay community for AIDS. He's apologised for the comments multiple times - most recently in August 2017 - and said he voted "no" in the national same-sex marriage postal survey but yes when marriage equality was voted on in parliament.
The new leader says he will carefully consider portfolio areas with McKenzie before announcing a small reshuffle within the Nationals team.

Prime minister Malcolm Turnbull said he was "delighted" to welcome McCormack as his deputy and looked forward to working closely with him.
"Michael McCormack is a strong advocate for rural Australia," Turnbull said.
"He will continue his party's long tradition of standing up for farmers and all those living in regional Australia."