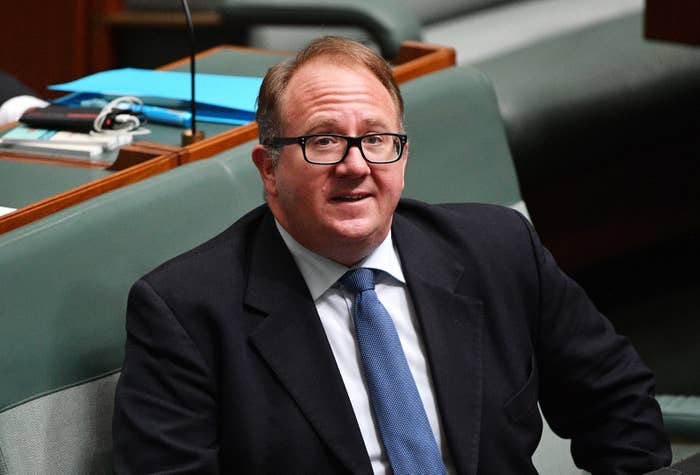 Labor MP David Feeney has resigned from federal parliament today after failing to produce paperwork to prove he was not a British citizen at the time of his election.
"I have today written to the speaker of the House of Representatives resigning as an MP effective immediately," Feeney told a press conference on Thursday afternoon.
"I have spoken to my family and I have decided that I will not be seeking ALP preselection for this by-election. Today I have written to the Victorian ALP state secretary to that effect."
Feeney was referred to the High Court by his own party in December, after being unable to produce documents proving he had renounced his dual British citizenship when he entered parliament 10 years ago.

Feeney's father was born in Northern Ireland, making him eligible for British citizenship. He claims he renounced his dual citizenship in 2007 but has been unable to produce paperwork to prove this.

The High Court gave Feeney until February 1 to produce the documents but he has been unable to do so. His resignation will spark a by-election in his Victorian seat of Batman.
Labor leader Bill Shorten says he was shocked when Feeney raised concerns about his citizenship.
"I asked him to find material that corroborated his explanation," he said in a statement. "As he has explained today, he has been unable to do so."
"This decision is the right one and spares the valuable time and resources of the High Court."
Shorten says Labor will put forward a "strong candidate at the upcoming Batman by-election" but did not say who the candidate would be or when a decision will be made.
Prime Minister Malcolm Turnbull told Sky News that Feeney's resignation is "long overdue".

Feeney is the latest in a long line of federal politicians to come unstuck by dual citizenship.

Section 44 of the Australian Constitution states that a person who "is under any acknowledgement of allegiance, obedience, or adherence to a foreign power, or is a subject or a citizen or entitled to the rights or privileges of a subject or a citizen of a foreign power" is ineligible to sit in, or be elected to, parliament.

Senators Scott Ludlam, Larissa Waters, Fiona Nash, Malcolm Roberts, Jacqui Lambie, Stephen Parry and Skye Kakoschke-Moore were all forced to resign from the Senate after they were found to be ineligible over their dual citizenship.
When Liberal MP John Alexander was faced with similar circumstances to Feeney, he quit parliament and subsequently won a by-election in the Sydney seat of Bennelong in December.
Senior Labor sources told BuzzFeed News that Feeney has wanted out of federal politics and refused to run in a Batman by-election. After a series of high profile blunders, Feeney is keen to leave politics behind him.
During the 2016 election it was revealed that Feeney failed to declare a $2.31 million negatively geared property. He also accidentally leaked confidential opposition policy briefing notes after he left them behind in a TV studio.

Australian Council of Trade Unions president Ged Kearney has been named by Labor sources as a possible replacement candidate. Kearney has already been preselected to run in the state seat of Brunswick at the Victorian state election in November.
But there are great fears within Labor that it could lose the lower house seat, which it holds on a margin of 1% after its decisive loss in a Victorian state by-election last year.
The Greens unseated Labor in Northcote in November, a seat the ALP has held for almost a century. Lidia Thorpe became the first Aboriginal woman in Victoria's parliament, and the third lower house Green.
Batman in Melbourne's north takes in Northcote, Coburg North, Reservoir, Preston, Thornbury and Clifton Hill.
The Greens plan to run third-time candidate, social worker Alex Bhathal. A win would give the party two federal lower house seats and increase its power on the crossbench.