A report commissioned by the Rudd Labor government in 2013 said drug testing people on Centrelink, a policy recently proposed by the Turnbull Coalition government, should not be considered.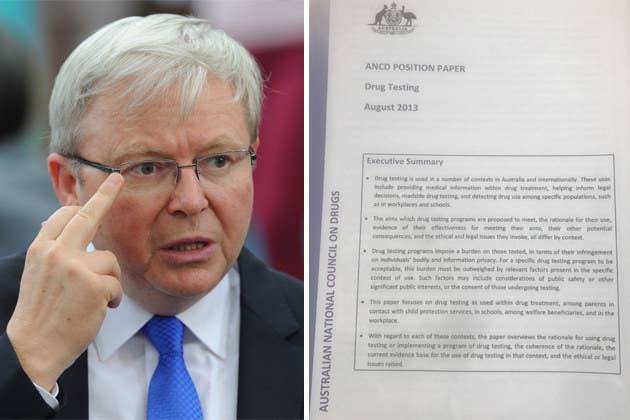 The Coalition announced in the May Budget its controversial plan to drug test 5,000 Newstart and Youth Allowance recipients from next year.

However, a report published in August 2013 warned the Rudd government against pursuing welfare drug testing due to its high cost, unintended outcomes and ethical and legal issues.
The Drug Testing position paper was written by the Australian National Council on Drugs (ANCD), which at the time was a government funded advisory group.
It said drug testing Centrelink recipients was not an effective deterrent to drug use, nor did it increase employment participation or reduce welfare spending.
"There is no evidence that drug testing welfare beneficiaries will have any positive effects for those individuals or for society, and some evidence indicating such a practice could have high social and economic costs," the report said.

"In addition there would be some serious ethical and legal problems in implementing such a program in Australia."
Britain and Canada abandoned plans almost identical to Australia's as they were found to be discriminatory and unfair.
The ANCD also noted that drug testing people was expensive.
The report said in 2011 a four-month drug trial of people on welfare in Florida, US, had cost $118,140 and found 2.6% of the 4,000 people tested positive. However, the testing was later ruled unconstitutional.
In the last year 13 US states spent more than $1.3 million drug testing low income Americans applying for welfare assistance. Four states had zero positive test results.

"Drug testing programs are unlikely to have any economic benefits in most contexts," the report commissioned by Labor said. "Drug testing of welfare beneficiaries ought not be considered."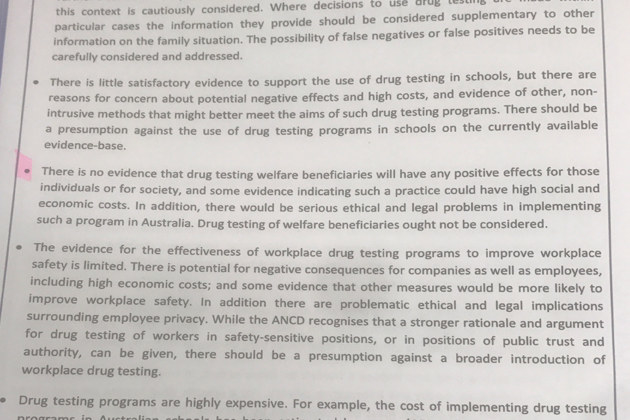 UPDATE: The Department of Social Services admitted they did take the recommendations of the ANCD report into account when writing the Turnbull government's drug testing policy, during a late night Senate Estimates session on Thursday.
When asked by Greens senator Rachel Siewart if they had read the 2013 report, an official said: "We did take into account and consider the report in part of the research we undertook."
The department said it didn't seek advice from any legal, human rights, medical or drug experts while drafting the Turnbull government's policy over the last 12 months.
"Government is obviously willing to bypass ethical and legal concerns to once again attack the most vulnerable people in our communities," Siewart told BuzzFeed News.
"Once again the Government has put politics before people."