17 businesses have pocketed more than $10,000 from the federal government for taking on free labor as part of the PaTH internship program.
Under the $750 million youth employment scheme Youth Jobs PaTH, businesses receive an upfront $1,000 payment from the government for taking on an intern, who works for a minimum of 30 hours and maximum of 50 hours per fortnight.

Young people earn $200 a fortnight, or $4 an hour, on top of their current welfare payments for the length of their 4-12 week internship. Businesses do not pay the interns.
A total of 410 businesses have hosted two or more interns in their workplace.

Figures provided to BuzzFeed News from the Department of Employment show 17 businesses have hosted 10+ interns, earning them more than $10,000.
Of the 410, 52 businesses have hosted between 5 and 9 interns, and 341 businesses have hosted between two and four interns.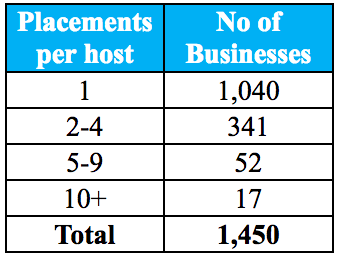 The Department of Employment refused to provide BuzzFeed News with the names of the businesses but noted that workplaces that have hosted ten or more interns include for-profit, not-for-profit organisations and local councils.

"Businesses that have taken on the most interns operate across multiple sites either nationally or in regional locations," a spokesperson from the Department told BuzzFeed News. "These businesses are primarily in Retail Trade, Accommodation and Food Services, and Arts and Recreation industries."
As of 22 October the Department of Employment estimated there had been 2,545 internship placements in 1,450 host organisations.

Before a business can join the PaTH program it must show there is a "reasonable prospect" of employment for each intern they host.
But figures show half of the youth people who completed internships were not given jobs.
Of the 1,541 internships completed in the first six months of PaTH only 609 or 40% of concluded internships resulted in a job.
Another 795, or 51%, of interns did not get a job after their internship ended.
That included 270 people who successfully completed the internship program but failed to secure employment, and 525 people whose internship ended early without a job. The remaining137 internships ended for reasons unknown.
The Department of Employment says it closely monitors internship arrangements through data analytics, tip-offs, and participant and business feedback to "ensure all program requirements are met and businesses are trialling interns appropriately".
BuzzFeed News revealed in September that Espresso Lane coffee chain in Wollert on Melbourne's northern fringe has been suspended from PaTH program for making an intern work hours "well beyond the maximum 50 hours per fortnight", rostering on another young job seeker "before the internship had even begun" and offering Visa gift cards as payments.

Greg Manning, assistant secretary in the Department of Employment, told Senate Estimates last month that Espresso Lane had not been asked to pay back the $1,000 upfront payment from the government, despite breaching the PaTH contract.
"The businesses get a whole lot of free labor and a big chunk of government subsidy," Labor's shadow minister for employment services Ed Husic told BuzzFeed News.

"The government gets to spruik a shiny new program, but that program doesn't work very well.
"Everyone wins but the young unemployed person."