Muslims In Richmond Say Zac Goldsmith Showed No Remorse Over Divisive Mayoral Campaign
"There is anger towards Zac Goldsmith because the entire community felt betrayed. He could have reached out."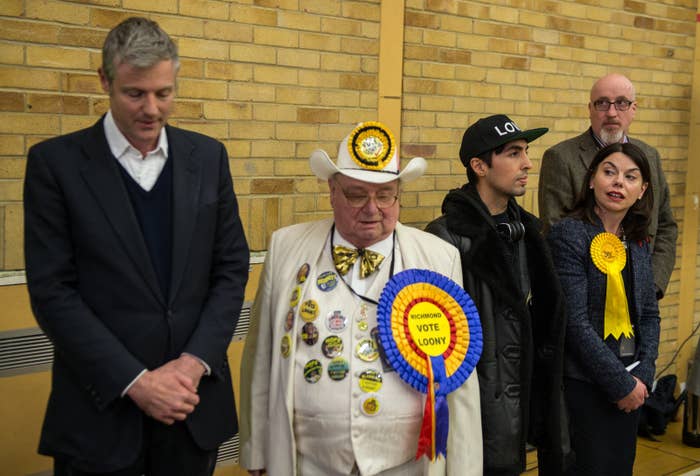 Local Muslims have said ousted MP Zac Goldsmith "showed no remorse" after his negative mayoral campaign in May and that he failed to respond to invitations to the mosque on multiple occasions.

The former Tory MP lost his seat last night in the Richmond Park by-election with Liberal Democrat Sarah Olney winning the London constituency, dramatically overturning Goldsmith's 23,000 majority.
Olney fought the campaign on the issue of Brexit and appealed to an electorate that had overwhelmingly voted to remain in the European Union, while Goldsmith had campaigned to leave.

However, local Muslims cited what they perceived as the racism that underpinned Goldsmith's mayoral campaign against Sadiq Khan earlier this year as a key reason in mobilising people to vote and leaflet for the Lib Dem candidate. They said many who voted for him in 2010 and in 2015 had initially campaigned for him to be London mayor.
Faisal Hanjra, a trustee at Kingston Mosque, told BuzzFeed News: "I think the Muslim community locally got out and voted because of concerns around lots of different things such as the EU referendum, but also the way in which Zac ran his mayoral campaign – that had a significant impact – and the fact he failed to recognise the undercurrent of racism that underpinned his campaign.
"There's about 5,000 Muslims in the area and he lost by 1,800 – not that I'm saying there is a correlation, but that vote was very important."

He added: "We've enjoyed a very good working relationship with Zac but things seemed to have turned sour around the election.

"This is very confusing – Zac seems to think in his position what he says during the mayoral campaign was acceptable and reasonable. He's expressed no remorse at all."
He said the mosque had invited the former MP multiple times after the mayoral election and in the weeks running up to the by-election, to meet members of the Muslim community in the leafy suburban constituency, but had received no response.
The mosque trustee said Goldsmith previously held weekly surgeries for locals at the mosque near Kingston train station.
He said: "It's important – the mosque is a charity and yes, we are governed by a charity commission, so we made clear we were not pushing to vote for one candidate over another.
"In essence we invited both the leading candidates down to the mosque, and Zac didn't respond to the invitation. Not at all."
In contrast, "Sarah [Olney] came down and in fact visited the mosque twice," Hamja said. "And one of those days was a Friday. I think it makes a difference when a senior politician is keen to engage.
"Again, we extended the invitation to Zac concerning people in the community, and he didn't take it up."
Despite Goldsmith losing the election, the community was "still keen to meet with Zac and understand why he felt the rhetoric he used around the mayoral campaign was reasonable, and why he felt that was a position that was justifiable".
A Muslim local who declined to give BuzzFeed News his name said: "We got a lot of leaflets saying how Zac is a man of principle, but after the mayoral elections we saw he's not.
"There is anger towards Zac Goldsmith because the entire community felt betrayed. He could have reached out." The man said he voted for Goldsmith in the general election and that the former MP had been a "liked figure" in the community.
After the European referendum result, the man said, his neighbours had been feeling down, but with the by-election they were feeling optimistic: "The community came out. We're not politically charged, and are quite docile and idle. But this has changed."