Home secretary Amber Rudd spoke at an event in parliament that was attended by an anti-Muslim Hindu extremist who advocates forced birth control and conversion for Muslims, and who has boasted of his relationship with the English far-right leader Tommy Robinson.
Rudd addressed guests celebrating the start of Diwali at an event on 18 October organised by the Hindu Forum of Britain. It was attended by Tapan Ghosh, the founder of Hindu Samhati, a far-right nationalist group in West Bengal, who claimed in a tweet to have addressed the event.
Other cabinet members in attendance on the House of Commons Terrace Pavilion included Theresa May's deputy Damian Green, international development secretary Priti Patel, and communities secretary Sajid Javid, as well as former Tory cabinet minister Theresa Villiers.

Ghosh, who has also vocally endorsed the ethnic cleansing of Rohingya Muslims in Myanmar, was at Westminster as a guest of Tory MP Bob Blackman, who had invited him to be the keynote speaker for a separate event on the same day titled "Tolerating the Intolerant".

In his speech at that event, organised by the British Board of Hindu Scholars and the National Council of Hindu Temples in the UK, Ghosh claimed Hindu "daughters and girls are being snatched away", and that democracy was "making it more dangerous" for Hindus.
Ghosh told the audience: "Our very existence is threatened," and went on to claim the population had changed in West Bengal since partition due to an influx of Muslims, citing political correctness and "Islamic terrorism".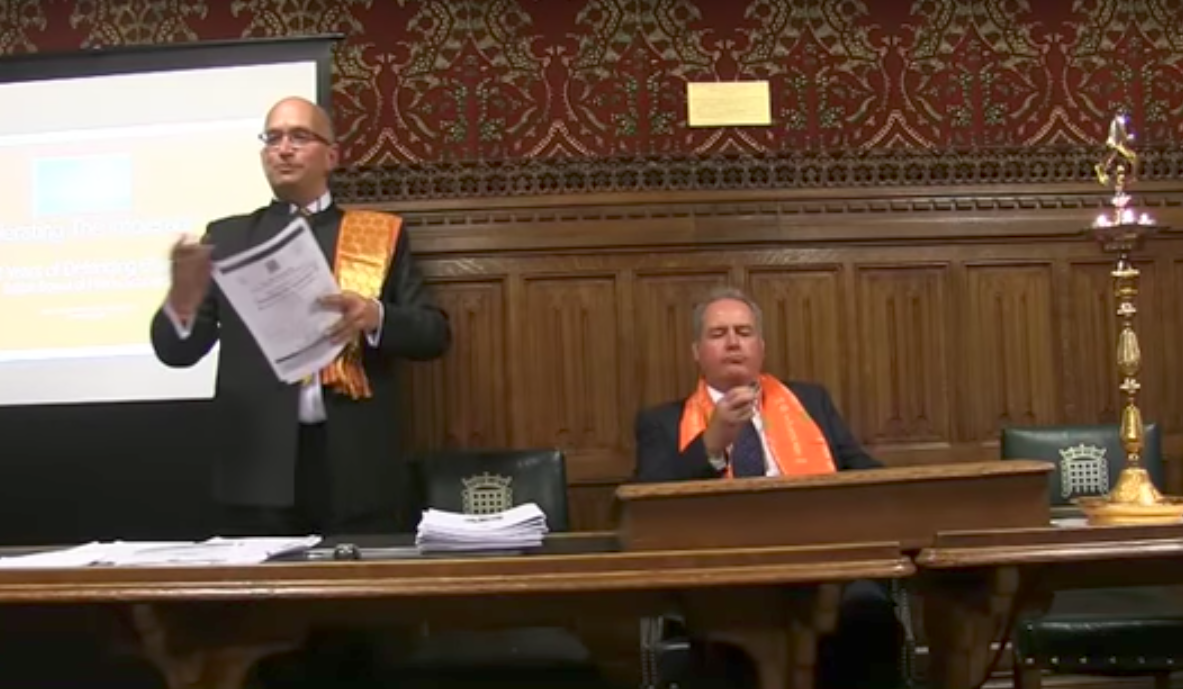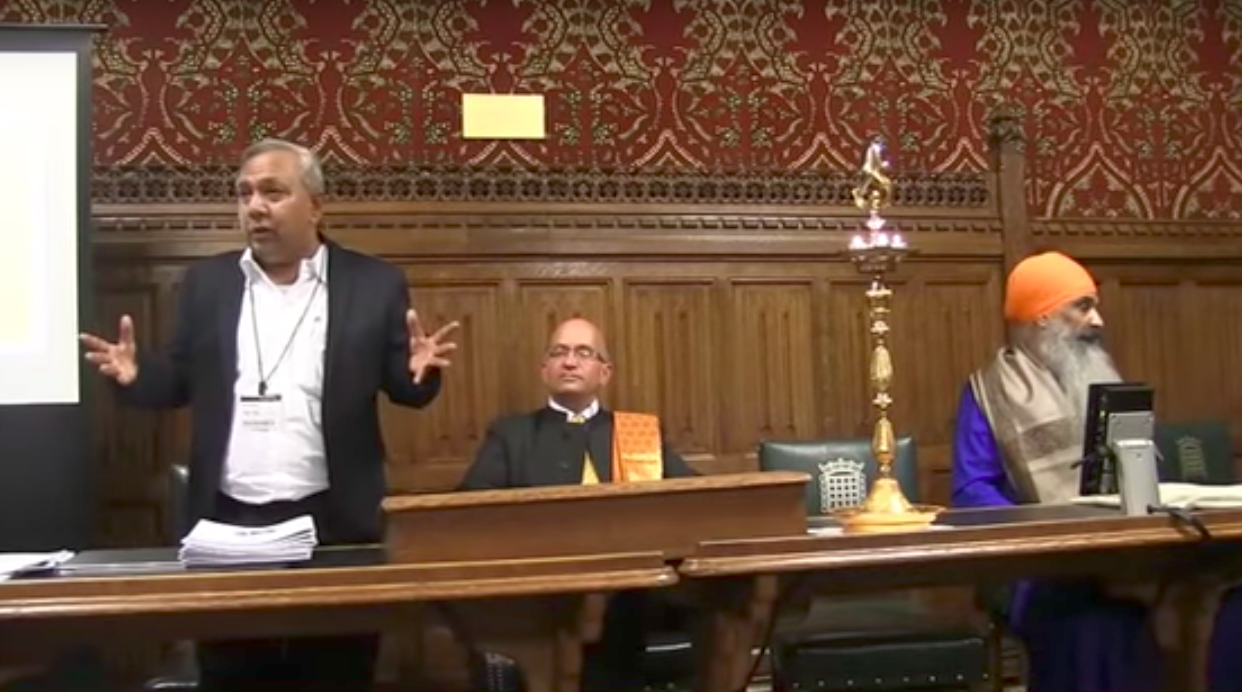 He spoke of setting up a "Hindu Defence Force" in his state, and appeared to brush aside concerns of human rights violations, which included Muslim men being killed over suspicions that they had killed or stolen cows for beef, and churches being attacked by Hindu vigilante groups. "We have to protect our land," Ghosh said.

On Monday, just five days after the Westminster events, Ghosh tweeted pictures of himself clasping hands with Tommy Robinson, the former leader of the far-right English Defence League.
"Had a good discussion on demography and global resistance against Islamic violence and aggression," Ghosh wrote.

Ghosh has been vocal in blaming Rohingya Muslims for provoking the violence in Myanmar.

He has also called for the UN to control the birth rate of Muslims, as well as frequently sharing anti-Muslim tropes.
He also openly writes about Ghar Wapsi, which in Hindi means "homecoming", and in this reading appears to include mass conversions to Hinduism.

In a statement to BuzzFeed News, Blackman said that he hosted a number of events as chair of the all-party parliamentary group on Hindusm to "discuss issues pertaining to Hindus in the UK and the world".

He added: "One of the most worrying trends in recent years has been grooming and forced conversions of Hindu minorities in UK and countries like Bangladesh and Pakistan. In our commitment as a nation to fight extremism and radicalisation it is important to hear the voices of suppressed minorities.
"As for the event in question, the choice of speakers and the views expressed are entirely the NCHT's [National Council of Hindu Temples], who are the organisers and may respond to queries regarding the event."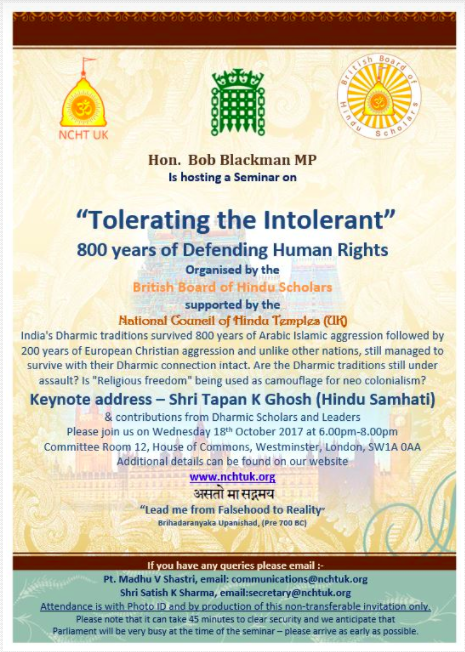 Satish Sharma, the general secretary of the National Council of Hindu Temples, claimed the organisation was "unaware" of Ghosh's extremist beliefs. "If there is truth in them, we reject them without reservation," he said.
Nevertheless, Sharma defended the decision to invite Ghosh. "The subject of the event was Tolerating the Intolerant – the abuse of Hindu human rights in Europe and in India. A core subject was the sustained targeting and abuse of Hindu and Sikh girls, their selection on the basis of their religion and their subsequent physical and emotional abuse for the purposes of forced conversion to Islam.
"This phenomenon has been reported here in the UK but has also been a major problem in India and most especially in West Bengal, Bangladesh, and Pakistan. Mr Ghosh has a great deal of support from the Bengali Muslim community in India who too find the targeting of vulnerable girls abhorrent and completely un-Islamic."
But the Muslim Council of Britain (MCB), an umbrella organisation of 500 mosques and Islamic organisations, strongly criticised Ghosh's invitation to speak at Westminster.
A spokesperson said: "It is astounding that a Conservative MP seems to have welcomed to parliament with open arms a man who trades in propagating hatred against Muslims in India.
"Mr Ghosh is a founder of a far-right party in that country and in this year we have heard of shocking murders against Muslims... If we are to tackle extremism as the government has stated it wants to, then we should not see it emanating on its own doorstep and apparently condoned by its own MPs."
In a series of tweets, Miqdaad Versi, the MCB's assistant secretary general, highlighted the many anti-Muslim sentiments expressed by Ghosh.
He said Ghosh's appearance had not helped improve the Tory party record on tackling Islamophobia.

Wes Streeting, co-chair of the all-party parliamentary group on British Muslims, said: "Tapan Ghosh has form when it comes to making vile and unacceptable comments about Muslims. He does not deserve a prestigious platform like the Houses of Parliament.
"Muslims in my constituency and across the country experience abuse on a daily basis as a result of the views espoused by [extremists]. As MPs we can't always be certain about the background of people we meet or speak alongside, but I hope my colleagues will take this opportunity to condemn his remarks and reassure Muslims that they will never be bystanders to Islamophobia."

A Home Office spokesperson said: "The Home Secretary fundamentally disagrees with Mr Ghosh's views on Islam. The Home Secretary accepted an invitation from the Hindu Forum of Britain to attend an event in Parliament last week to celebrate Diwali. She did not speak to Mr Ghosh and was not present when he spoke."