BuzzFeed & Instagram Present: VerticalU
Are you a content creator with a story to tell? BuzzFeed and Instagram are partnering up to find the next wave of video talent with big ideas for the inaugural VerticalU, a three-part vertical film school tailored to IGTV, in Los Angeles and New York City.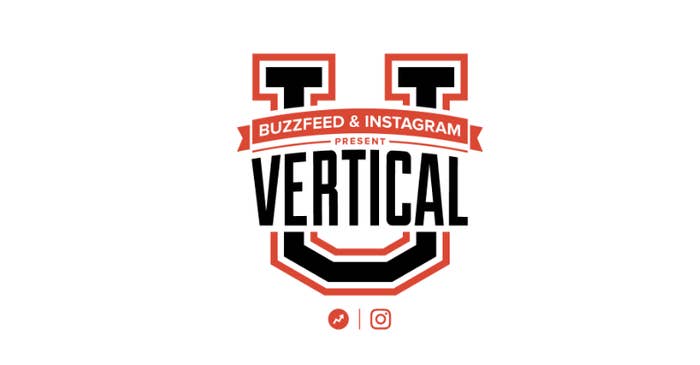 WHAT
BuzzFeed and Instagram's verticalU will give video creators the support and resources to pursue their passion project and bring it to life on IGTV. Students will attend a five-day training in Los Angeles, get paired with a BuzzFeed mentor to help form and develop their idea, and receive a one-time grant to cover filming expenses for their vertical venture. The program will conclude with a formal screening and the opportunity for videos to debut on BuzzFeed's IGTV channel.
WHEN

KICKOFF COURSE


Los Angeles, California -- December 3-7, 2018

Students will attend a five-day mobile video storytelling training taught by producers, directors and leaders of BuzzFeed and Instagram

CONTENT CREATION

For six weeks, students will bring to life their projects with ongoing support from Instagram and their BuzzFeed mentor.

SCREENING

New York, New York -- Date TBD, early 2019

VerticalU students will debut their videos to a panel of BuzzFeed and Instagram leaders, industry insiders and press at a celebratory screening event in 2019.
REQUIREMENTS
Applicants should have a basic understanding of how to shoot and edit video and an eagerness to learn the key to craft compelling vertical content. You do not need professional video experience (although if you have it, that's great too!). The most important thing is to have a story you are passionate about and the commitment to producing it during the 7+ weeks of verticalU.
Eligibility requirements:
Age 18+

Based in United States

Ability to travel to Los Angeles, California for the program

An active, public Instagram account
CURRICULUM
BuzzFeed and Instagram's five-day comprehensive training will cover everything from technical how-to's, broad industry discussions and creative brainstorming sessions.
The course will include topics such as:
Viral Video 101: What Makes Videos Go Viral?

What Makes Vertical Different? Nail the Secrets of a New Format

Video Basics: Cameras, Lighting, Sound, Set Design, Casting and Legal Matters

Data, Data, Data: How to Measure The Success of Your Video
...plus one-on-one mentorship, industry sessions, happy hours, and lots of fun surprises from your friends at BuzzFeed and Instagram.


HOW TO APPLY
Complete the application by November 7th. The most important part is your IGTV pitch, so wow us with an idea you're truly passionate about!


SELECTION PROCESS
Our experts at BuzzFeed and Instagram are looking for thoughtful, creative pitches that represent diverse points of view and underrepresented topics, which will shine in IGTV's vertical mobile format. We aim to reach young audiences — a key demo for BuzzFeed and Instagram. Ideas that clearly violate brand guidelines will be disqualified. Finalists will be contacted for a phone interview.


COST
All travel, lodging and program expenses to and in Los Angeles, California will be covered for admitted students. Students will also receive a small grant for additional project filming expenses. There is no fee to apply.


COMMITMENT
Students will be expected to attend BuzzFeed and Instagram's verticalU in full and complete their IGTV video by the conclusion of the program, as well as attend the screening celebrations in early 2019.

Frequently Asked Questions
How long is the program?
The full program includes a five-day training in Los Angeles, California (December 3-7, 2019) followed by a six-week period where students will work remotely on their own time to complete their verticalU project. The program will conclude with a special screening celebration in early 2019. (Date TBD)
How do I apply?
Pitch a compelling IGTV video idea that you've been pining to develop with a little help from our program. Complete the application here by November 7.
What is the application deadline?
All applications must be completed and received by November 7th at 11:59 p.m. PST, no exceptions.
How many students will you select?
Fifteen students.
How much does the program cost?
The program is free.
Who teaches the course?
Classes will be taught by a variety of industry professionals, including BuzzFeed video editors, producers and leaders, Instagram staff, on-screen personalities and special guests!
I can only attend part of the program. Can I still apply?
Students must commit to the five-day training (December 3-7 in Los Angeles, CA) in full as well as the six-week project completion timeline, with no exceptions.
I'm currently a student. Am I eligible for this program?
We encourage students to apply, so long as you can attend the five-day training in full (December 3-7 in Los Angeles, CA).
Is this an accredited university program? Will I receive academic credit?
No.
I have a job; can I do this at the same time?
You must attend the five-day training in full (December 3-7 in Los Angeles) but will develop and complete your project remotely on your own schedule. In other words: if your boss is cool with it, yes.
I'm a professional video editor but I'd love to learn more about vertical video. Can I apply?
Yes. You should plan to pitch and develop an idea in vertical video, that can live on IGTV during this program.
I want to make videos, but I've never done it before. Can I apply?
This program is intended for students familiar with video shooting and editing (whether self-taught or otherwise), but a specific level of experience is not required.
I'm interested in Vertical Film School, but I don't have a specific pitch in mind. Can I still apply?
No. Students will be selected based on the content and quality of their pitch and will be expected to execute the project by the conclusion of the program.
When will I know if I've been accepted?
Finalists will be contacted for a phone interview by November 19.
Who owns my video and where will it be distributed?
Students own their videos. BuzzFeed will license the content for distribution. Content must be reviewed by BuzzFeed and Instagram prior to release in any format on any platform.
I'm a member of the press. How can I find out more about this program?Email pr@buzzfeed.com or press@fb.com
Where can I learn more about IGTV?
IGTV is a newly launched Instagram format designed for permanent long-form vertical video. Read more here and visit the help section here.