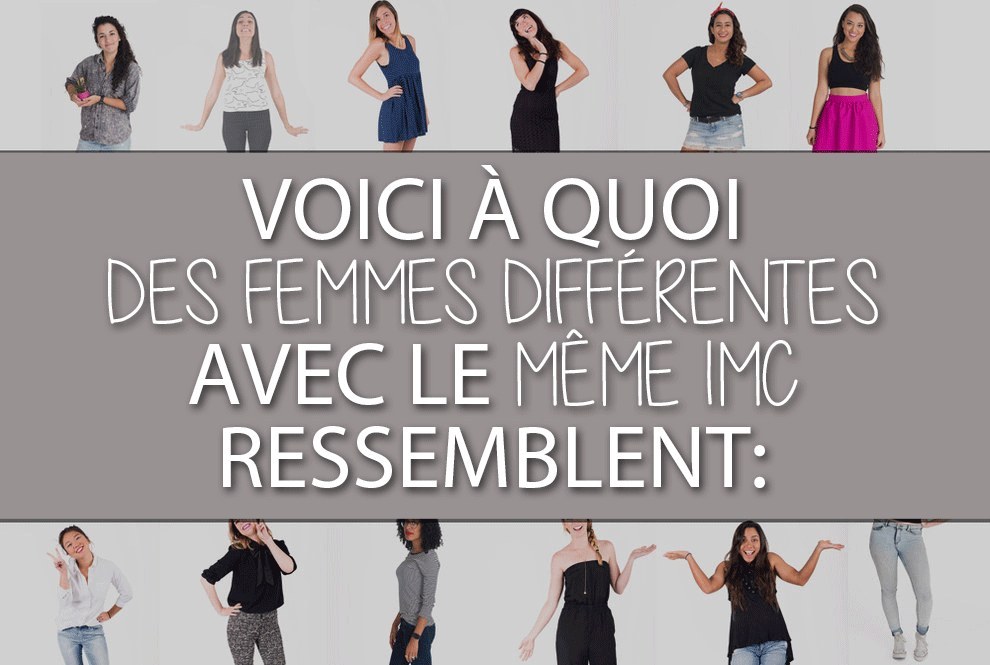 L'IMC, ou indice de masse corporelle, est un nombre utilisé pour déterminer la masse de votre corps par rapport à votre taille.
Le nombre se calcule en divisant votre poids par votre taille au carré. L'IMC est souvent utilisé comme un outil de dépistage de l'obésité —à l'échelle de la population— mais c'est aussi un moyen relativement bon marché et rapide pour les médecins d'évaluer votre poids et vos risques de développer certaines affections métaboliques.
Le problème est que ce chiffre ne tient pas compte de facteurs tels que l'alimentation, l'exercice physique, la masse musculaire, la densité osseuse et le style de vie en général.
De plus, il ne mesure pas directement la masse grasse. Alors il y a beaucoup de controverses sur l'utilité de réduire le bien-être d'une personne à un simple chiffre.
Et des représentations graphiques telles que celle-là montrent que des personnes ayant le même IMC peuvent avoir des silhouettes complètement différentes. C'est pourquoi nous avons voulu faire poser côte à côte des femmes ayant le même IMC: pour montrer que des femmes de morphologies et de tailles différentes ne peuvent pas être définies par un nombre.

1.
Kelsey (1m73) et Michelle (1m58):

2.
Kirsten (1m70) et Susan (1m55):

3.
Jess (1m70) et Alex (1m75):

4.
Lara (1m75) et Allison (1m60):

5.
Sarah (1m75) et Conz (1m70):

6.
Alex (1m62,5) et Alexis (1m67,5): 7.
Daysha (1m62,5), Rachel (1m55) et Summer (1m65):

8.
Candace (1m68) et Mallory (1m63):

9.
Sarah (1m60) et Safiya (1m75):
Looks like there are no comments yet.
Be the first to comment!