Après le Brexit au Royaume-Uni et l'élection de Donald Trump aux États-Unis, nombreux craignaient que la France ne suive le même chemin nationaliste, en élisant Marine Le Pen.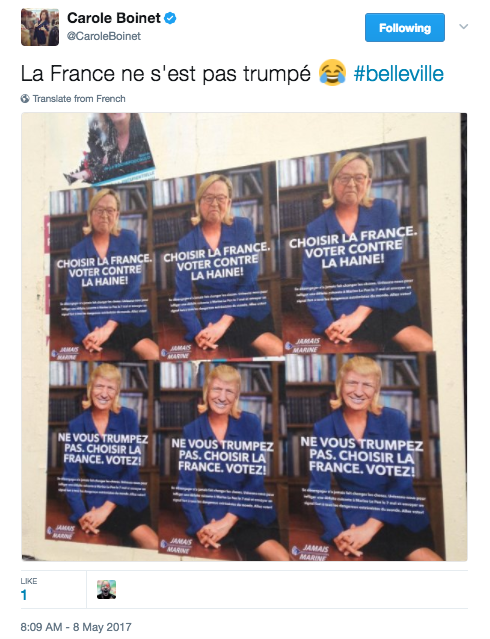 Et les Américains étaient tout particulièrement stressés.
Alors quand Emmanuel Macron a battu Marine Le Pen, les Américains ont été nombreux à exprimer leur soulagement.
La France a enfin retrouvé grâce à leurs yeux.
Ils nous traitent en héros.
Ils ne peuvent même plus se moquer de nous.
Enfin, nous aurons une bonne raison de nous sentir supérieurs aux Américains (lol comme si on avait besoin d'une raison).
En même temps, on fait vraiment tout mieux qu'eux.
Sérieux, jamais les Français n'ont été aussi populaires à l'étranger.
Et selon eux, la victoire de Trump aura au moins servi à quelque chose: nous prévenir.
C'est peut-être la première fois qu'une élection en France intéresse autant les Américains. De nombreuses stars ont tweeté leur joie concernant l'élection de Macron, notamment Madonna...
Captain America lui-même (l'acteur Chris Evans)!
Ou encore Alyssa Milano!
Mais malgré leur soulagement, de nombreux Américains restent maussades. Certains ont encore plus honte de leur pays.
Et espèrent que cette fois-ci, ce sont les Français qui iront libérer l'Amérique.
Et puis il y a ceux qui sont dégoûtés de ne pas avoir un président (ou un Premier ministre) sexy...
Certain-e-s sont vraiment à fond.
En même temps, on voit l'idée.
Looks like there are no comments yet.
Be the first to comment!