En la temporada 6, episodio 7 de Game of Thrones, se reveló que Yara Greyjoy se sentía atraída por las mujeres.
Su homóloga en el libro, Asha, tiene un amante masculino. Si bien es posible que Asha esté con una mujer en un momento posterior en los libros, por ahora parece que esto es algo que los creadores han añadido al programa para Yara.
Cuando se le preguntó si sabía si Yara no era hetero, Gemma Whelan, la actriz que la interpreta, le dijo a HBO: "No, ¡no tenía ni idea! Me parece que puede ser cualquiera. No creo que se limite con uno u otro. Todo sirve. Todo le viene bien mientras sea divertido e interesante".
Muchos fans están muy, muy contentos con este desarrollo.
Aunque algunos expresaron su preocupación por la frecuencia con la que los personajes mueren en Game of Thrones, y el riesgo de que Yara caiga en el tropo "Bury Your Gays".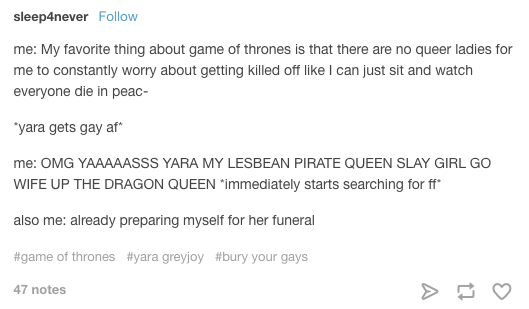 Pero muchos simplemente esperan que se junte con Dany en más de un sentido en algún momento.

Looks like there are no comments yet.
Be the first to comment!