«Vous savez ce qui manque à l'humanité? Un endroit pour apprécier le caca et la bouffe en même temps». C'est probablement ce que s'est dit Lien Nguyen, la propriétaire du nouveau Poop Café Dessert Bar à Toronto. Oui. Vous avez bien entendu: il s'agit bien d'un café à thème, et ce thème, c'est le caca. Pour aller avec le thème, les clients auront le plaisir de s'asseoir sur des toilettes. Pendant qu'ils dégustent des crottes... de chocolat. Si ça vous paraît bizarre, en réalité, les restaurants à thème «toilettes» ont la crotte, ahem, côte, dans certaines parties de l'Asie de l'Est et du Sud.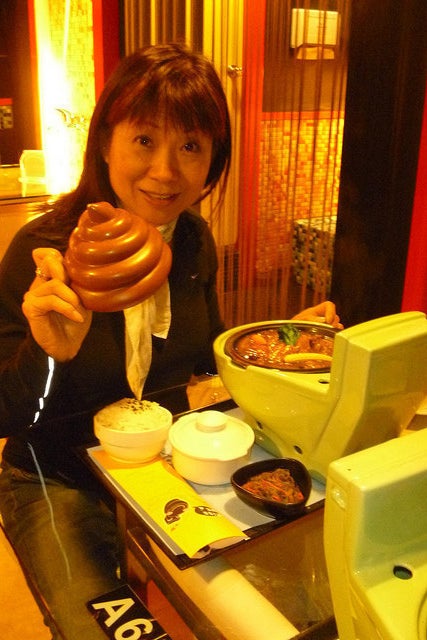 (Les entrées et les desserts sont servis dans des mini-toilettes, comme celui-ci à Taipei, Taiwan.)
Lien Nguyen a voulu importer ce concept au Canada après un voyage à Taiwan, a-t-elle expliqué au Toronto Star. Lien Nguyen, qui a beaucoup réfléchi à la déco de son café, dit qu'elle «essaie de rendre le caca mignon».
Elle ajoute même avec optimisme: «Les gens changeront d'avis sur le caca.» Looks like there are no comments yet.
Be the first to comment!