1.
On est d'accord pour dire que 2016 était une bonne grosse année de merde non?
2.
Début 2016 on était tous innocents, les cheveux propres et une étincelle dans les yeux! Fin 2016...
3.
... On a pris un sacré coup de vieux.
4.
Quand on n'a pas carrément eu envie de se désintégrer.
5.
L'histoire de l'art vous comprend.
6.
Carlos le calamar est avec vous.
7.
Les Gremlins savent.
8.
Will Smith est dans la même galère.
9.
Début 2016, on était un peu comme Leo dans Titanic. Mais avant la planche.
10.
Alors ok, peut-être qu'on était UN PEU méfiants en attendant de voir ce que 2016 allait nous réserver.
11.
Carrie = nous devant les infos.
12.
Daniel Radcliffe = nous quand on a appris qu'il nous restait encore trois semaines à tirer.
13.
La statue de la liberté = nous face au tas de caca qu'était toute cette année.
14.
Dites vous que quoi qu'il en soit, vous n'avez pas un début et une fin de 2016 aussi pourris que Barack Obama: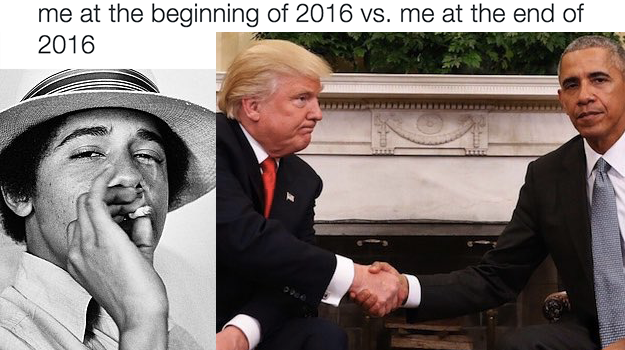 Looks like there are no comments yet.
Be the first to comment!