1.
L'attente interminable pour connaître les résultats de Floride:
2.
Et le revirement permanent entre Clinton et Trump:
3.
Sérieusement, pourquoi ça a mis autant de temps?
4.
Poutine devant sa télé:
5.
Cette blague tellement pourrie qu'elle en devient drôle:
6.
Le Canada en cas de victoire de Trump:
7.
Cette remarque tout à fait pertinente:
8.
Le désespoir des internautes devant la victoire de plus en plus probable de Donald Trump:

10.
La dimension surréaliste de cette élection: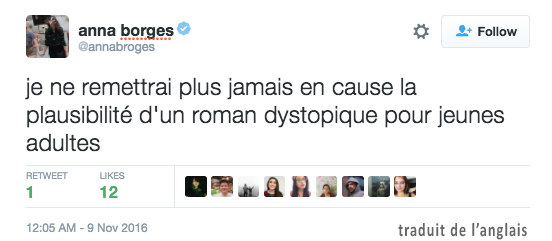 11.
Ceux qui pensent déjà à faire leurs valises:

12.
Ceux qui préfèrent penser aux jours meilleurs:
13.
Ces rebondissements dignes d'une grande série télé:

14.
Au début de la soirée / deux heures après:
15.
Cette pensée à tous ceux partis trop tôt...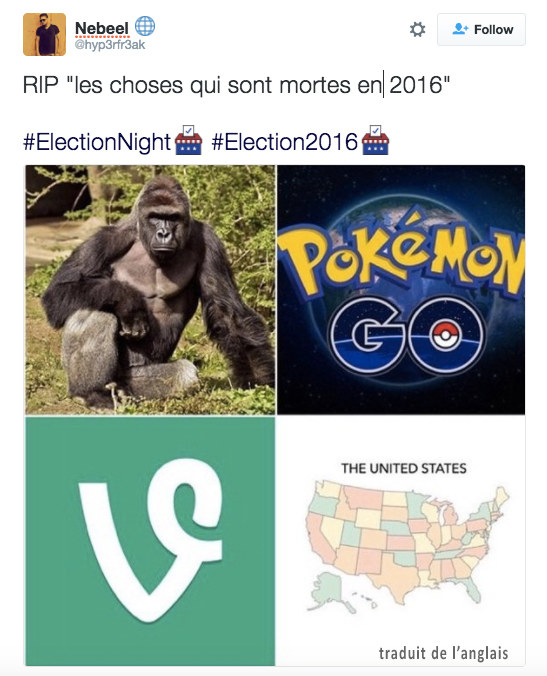 16.
Et ce résumé assez réaliste:
Looks like there are no comments yet.
Be the first to comment!