Um dossiê com alegações explosivas – mas não verificadas – indica que o governo russo "cultivou, apoiou e ajudou" o presidente eleito dos Estados Unidos, Donald Trump, durante ao menos 5 anos.
Os papéis afirmam que a Rússia obteve e documentou informações comprometedoras sobre Trump.

Um dos memorandos, que integra o conjunto de 35 páginas ao qual o BuzzFeed News teve acesso, descreve a existência de um vídeo de sexo com prostitutas durante uma visita de Trump à Rússia em 2013. Os vídeos foram produzidos com o suposto objetivo de chantagear Trump no futuro.
Os documentos têm circulado entre oficiais do governo americano, agentes de inteligência e jornalistas nas últimas semanas. A CNN relatou terça-feira que uma sinopse de duas páginas do relatório foi dada ao presidente Barack Obama e a Trump.
O dossiê é atribuído a um ex-espião do MI-6 (agência de inteligência britânica) com trânsito em Moscou e Washington.
Os papéis foram enviados a uma empresa de pesquisa política na capital americano e oferecidos tanto a rivais de Trump nas primárias do Partido Republicano quanto à campanha da democrata Hillary Clinton.

Citando fontes da inteligência americana, o jornal The New York Times afirmou que o ex-agente britânico é considerado competente, confiável e com uma forte experiência na Rússia.
Além de ter informações potencialmente não verificáveis, os documentos contêm erros claros. Os memorandos erram a grafia de uma companhia, Alfa Group aparece grafado incorretamente como "Alpha Group".

O dossiê também afirma incorretamente que o distrito de Barvikha, nas cercanias de Moscou, é "reservado para residências de líderes proeminentes [na política russa] e seus associados". Não é reservado para ninguém, ele é habitado por pessoas muito ricas.

Nos Estados Unidos, o BuzzFeed News publicou a íntegra dos papéis. Leia a íntegra aqui, em inglês.
Abaixo alguns trechos traduzidos:
A Rússia "cultivou, apoiou e ajudou" Trump.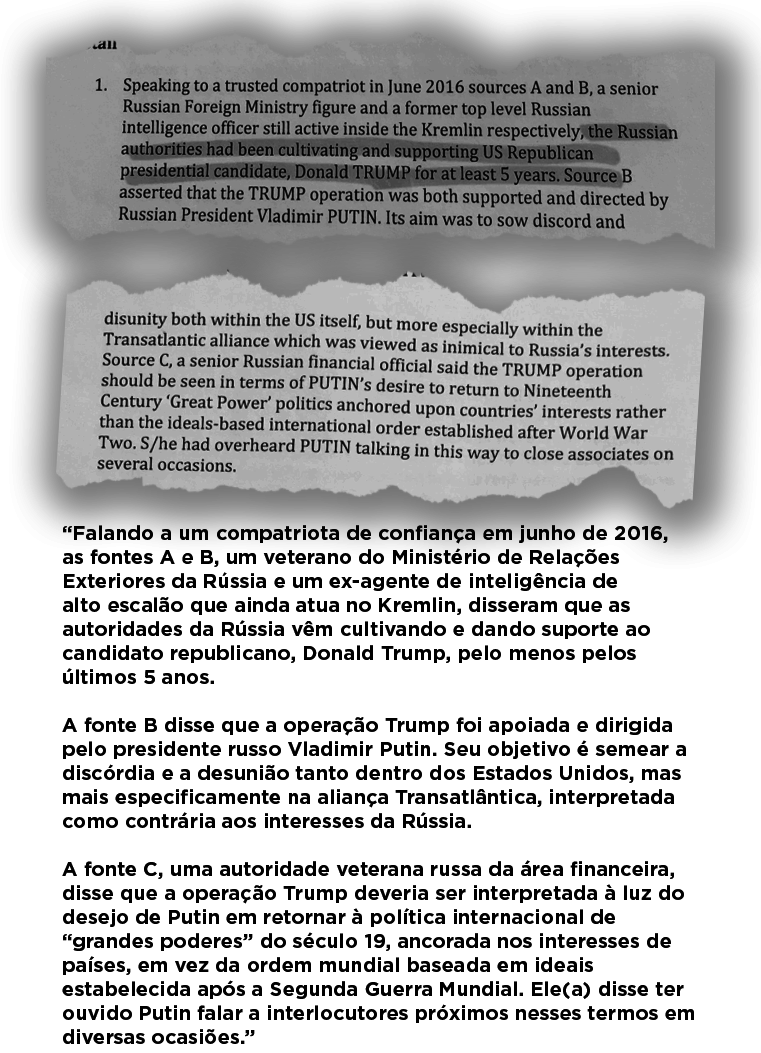 Suposta orgia em hotel de Moscou.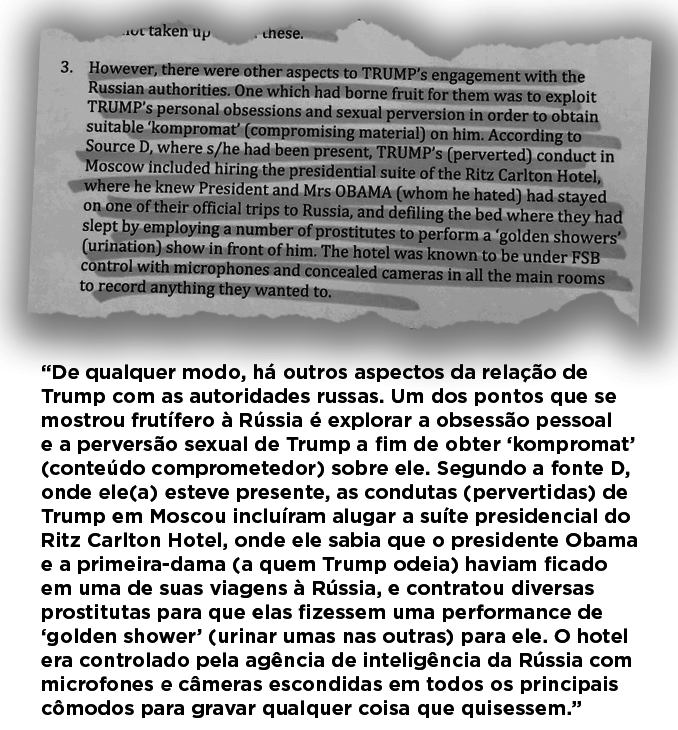 Alegações de propina para fechar negócios no exterior.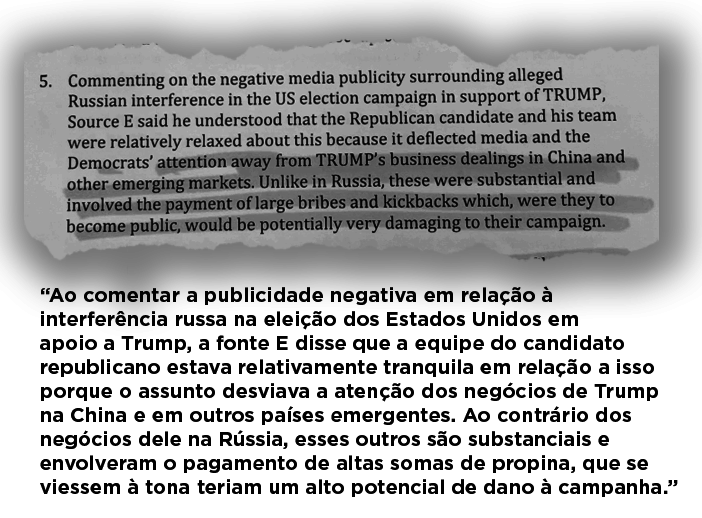 Este post foi traduzido do inglês.

Ken Bensinger is an investigative reporter for BuzzFeed News and is based in Los Angeles. He is the author of "Red Card," on the FIFA scandal. His secure PGP fingerprint is 97CC 6E32 10A2 23FE 4E84 98B4 9CFF 4214 9D26 8AA7
Contact Ken Bensinger at ken.bensinger@buzzfeed.com.
Miriam Elder is the world editor for BuzzFeed News and is based in New York. Her secure PGP fingerprint is 5B5F EC17 C20B C11F 226D 3EBE 6205 F92F AC14 DCB1
Contact Miriam Elder at miriam.elder@buzzfeed.com.
Mark Schoofs is the investigations and projects editor for BuzzFeed News and is based in New York. While working at The Village Voice, he won the 2000 Pulitzer Prize for International Reporting for his series on AIDS in Africa.
Contact Mark Schoofs at mark.schoofs@buzzfeed.com.
Got a confidential tip? Submit it here.