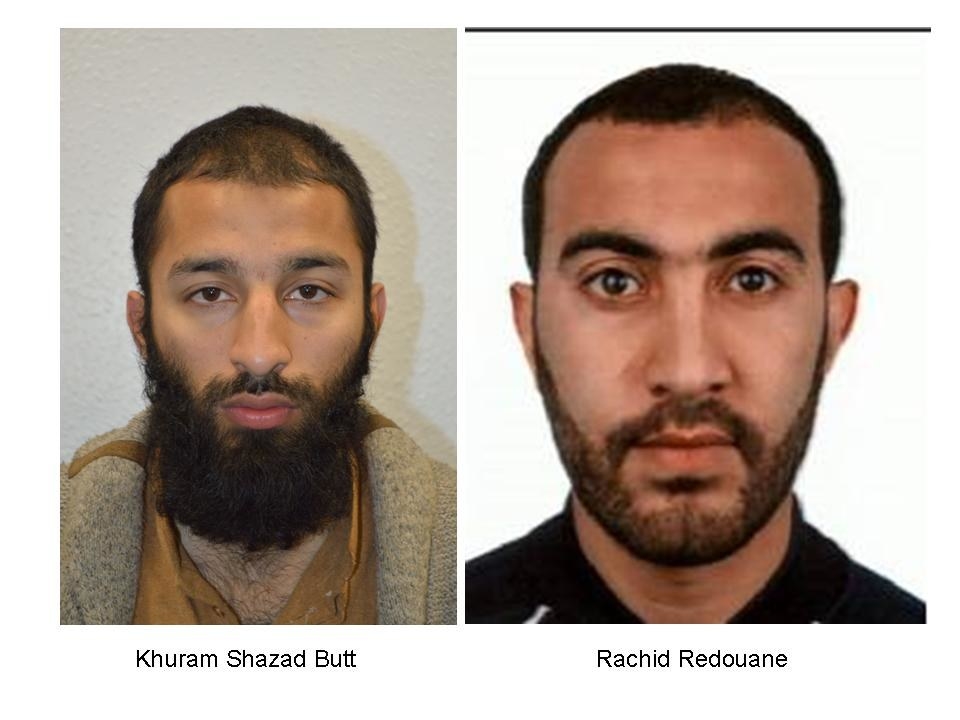 A polícia britânica identificou nesta segunda dois dos três suspeitos do ataque terrorista na Ponte de Londres.

Khuram Shazad Butt e Rachid Redouane, ambos residentes em Barking, no leste da capital, foram mortos a tiros oito minutos depois que a polícia recebeu o chamado de emergência.
Na noite de sábado, os terroristas atropelaram pedestres com uma van na ponte de Londres e depois esfaquearam clientes no mercado de Borough, próximo dali.

Ao menos 7 pessoas foram mortas e outras 36 ficaram feridas – 18 das quais em estado crítico. O atentado foi reivindicado pelo Estado Islâmico.
A polícia informou que a identificação formal ainda está em curso.

Butt, 27, nasceu no Paquistão. Redouane, 30, "afirma ser marroquino e líbio. Ele também usou o nome Rachid Elkhdar, com uma data de nascimento diferente", que mostrava que ele tinha 25 anos, segundo a polícia.
Butt já era conhecido dos serviços de informação, mas, segundo a polícia afirmou, não havia informação de inteligência indicando que um ataque estava sendo planejado. Redouane não estava no radar das autoridades.

A polícia tenta agora determinar se eles estavam associados a mais alguém ou se receberam algum tipo de assistência. Outras 12 pessoas – sete homens e cinco mulheres – foram presas no curso da investigação.

Este post foi traduzido do inglês.

Veja também:


Tom Namako is the head of breaking news for BuzzFeed News and is based in New York. Contact this editor at tom.namako@buzzfeed.com.
Contact Tom Namako at tom.namako@buzzfeed.com.
Got a confidential tip? Submit it here.