Um tabloide de oito páginas, recheado de falsas notícias, foi distribuído nesta sexta (31) no centro de São Paulo. A publicação copia o jornal "O Globo" em sua logomarca, tipologia e até no expediente.
A manchete do falso "Globo", datado de 1.º de abril, "noticia" a renúncia de Michel Temer e a convocação de eleições. Nas oito páginas, há propagandas com conteúdo igualmente falso.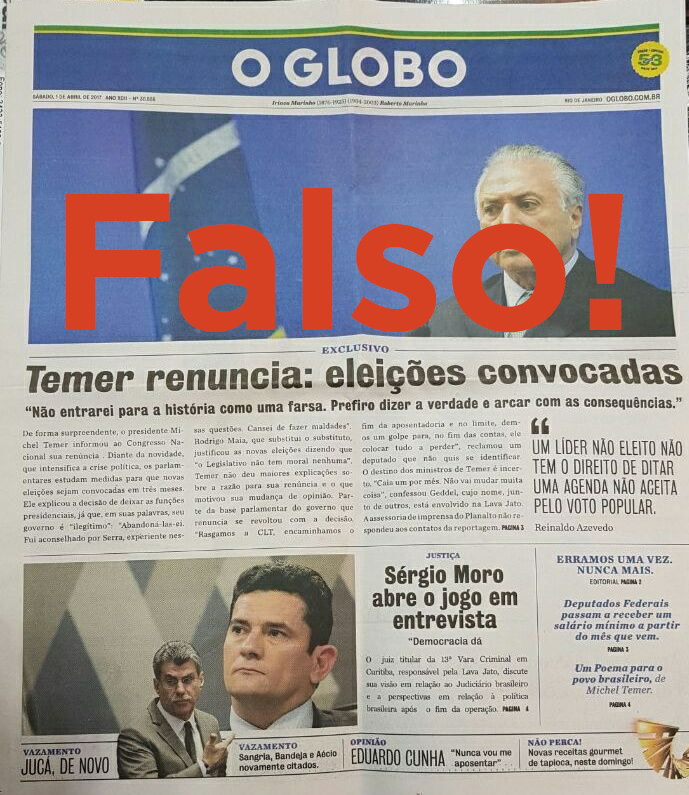 Em uma das páginas, o alvo é o governador de São Paulo, Geraldo Alckmin (PSDB). Ao tucano é atribuída a seguinte declaração: "Me arrependo de ter batido em crianças. O Moraes (Alexandre) também concorda".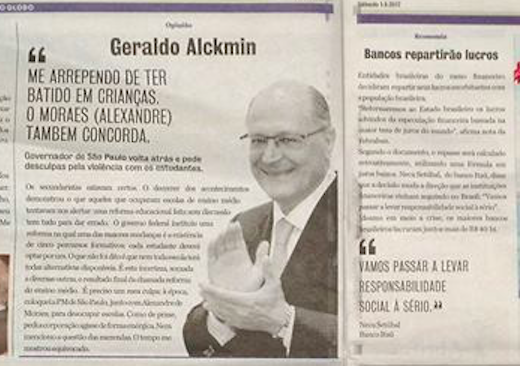 A autoria da publicação é ainda desconhecida. Na sexta-feira, o grupo Jornalistas Livres, que é de esquerda, afirmou que ter recebido um e-mail de ativistas, que não foram identificados, chamando a distribuição dos textos mentirosos de "guerrilha midiática."
O grupo "Jornalistas Livres" distribuiu na internet links onde era possível fazer o download dos PDFs da publicação falsa.
O jornal se manifestou em uma nota publicada nesta tarde em seu portal: "O Globo vê no episódio uma atitude criminosa e vai tratar o assunto através de seu Departamento Jurídico."
Tatiana Farah é Repórter do BuzzFeed e trabalha em São Paulo. Entre em contato com ela pelo email tatiana.farah@buzzfeed.com.
Contact Tatiana Farah at Tatiana.Farah@buzzfeed.com.
Got a confidential tip? Submit it here.
Looks like there are no comments yet.
Be the first to comment!