Tacos al pastor caseros
2.5 kg Carne de cerdo, sin hueso
3 cucharadas de pasta de achiote
2 cucharadas de chile guajillo en polvo
1 cucharada de ajo en polvo
1 cucharada de orégano seco
1 cucharada de comino
1 cucharada de sal
1 cucharada de pimienta
¾ taza de vinagre blanco
1 taza de jugo de piña
1 piña, pelada y cortada en rodajas de 2.5 cm
1 palito grueso de madera (cortado a la medida del horno)
Tortillas de maíz
1 cebolla blanca finamente picada
1 taza de cilantro finamente picado Salsa de tu preferencia
Preparación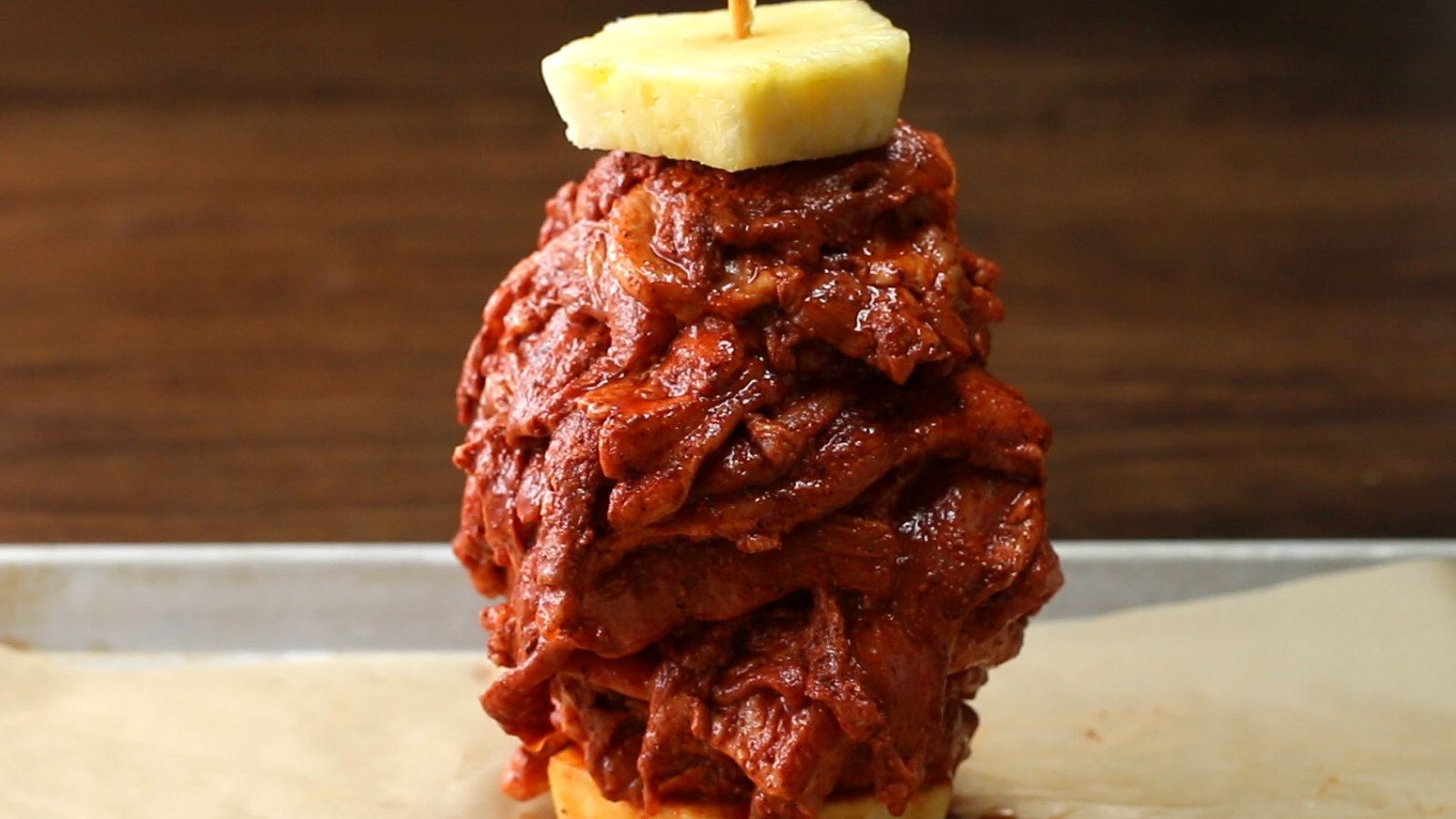 1. Precalentar el horno a 350°F/180°C.

2. Cortar el trozo de carne de puerco en filetes de 1 cm de espesor. Luego coloca la carne en un recipiente grande.

3. En un tazón, combina el achiote, chile en polvo, ajo en polvo, orégano, comino, sal, pimienta, vinagre y jugo de piña. Revuelve bien asegurándote de que la mezcla esté homogénea y libre de grumos.

4. Vierta la mezcla anterior sobre los filetes de puerco y revuelva hasta que estén cubiertos completamente. Cubrir con plástico adherente y marinar por 2 horas en el refrigerador. (Puede estar marinándose, si tú quieres, hasta 3-5 días).

5. Ahora, coloca 2 rebanadas de piña, introduce un palito de madera en esta y colócala en una charola para hornear forrada de papel aluminio.Saca la carne marinada del refrigerador e introduce los filetes en en el palito de madera en capas hasta que quede un espacio de 3 centímetros en la superficie.

6. Poner 2 rebanadas más de piña en la superficie de la torre de carne.Hornea alrededor de una hora, hora y media hasta que la carne por fuera esté dorada y tome un color rojizo intenso.

7. Deja reposar la carne por 10 minutos, luego corta en finas rebanadas (¡Felicidades! Acabas de hacer carne al pastor).

8. Ahora para formar un taco, coloca algo de la carne en las tortillas, y luego agrega unas rebanadas de piña, seguidas por cilantro, cebolla y salsa al gusto.

¡Disfrute!
Looks like there are no comments yet.
Be the first to comment!