Get Down And Dirty With This "Worms And Dirt" Poke Cake
Seriously, SO BOMB.
"Worms And Dirt" Poke Cake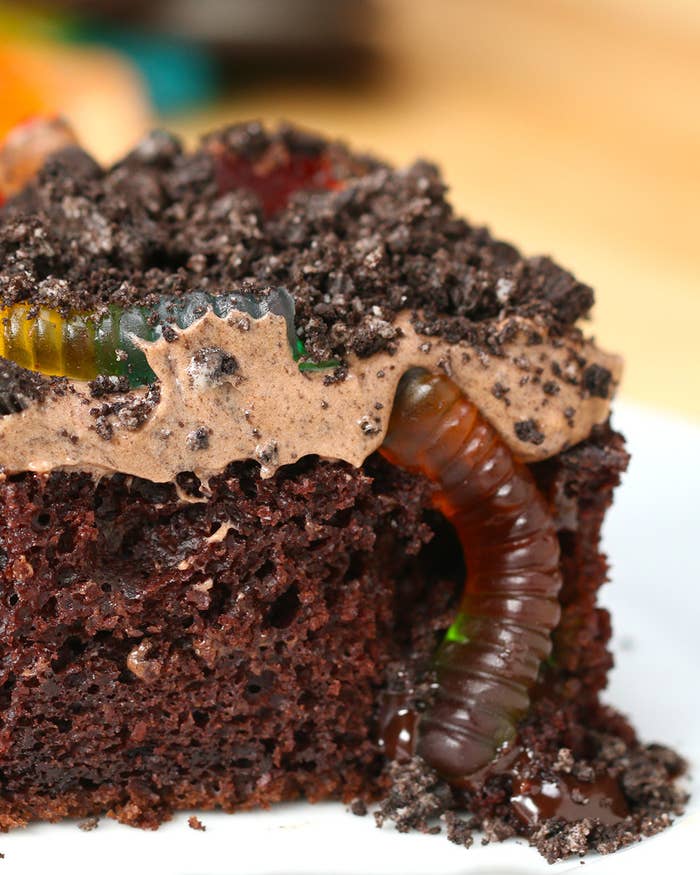 INGREDIENTS
Cake
1 box chocolate cake mix
1½ cup of water
⅓ cup vegetable oil
3 eggs
Dirt Topping/Filling
4 ounces pudding mix
2 cups milk
2 cups whipped cream
2 cups crushed cookies
2 cups gummy worms
Chocolate fudge sauce
PREPARATION
1. Preheat the oven to 350˚F/175˚C.
2. In a large bowl, add the chocolate cake mix, water, vegetable oil, and eggs and whisk until well combined.
3. Add the batter to a 9 x 13 inch oven proof baking dish, and bake for 25 minutes, or until a toothpick comes out clean.
4. Add the pudding mix and milk to a bowl, and whisk until well combined. Fold in the whipped cream and 1 cup of crushed cookies until evenly incorporated.
5. Let the cake rest for 20 minutes. Using the base of a wooden spoon, poke holes in the cake and fill with 1 cup of gummy worms.
6. Drizzle the cake with chocolate fudge sauce.
7. Use a spatula to spread the whipped cream and cookie mixture over the cake. 8. Transfer to the fridge to chill for 1 hour.
9. Top the cake with remaining cup of gummy worms and crushed cookies.
1O. Enjoy!