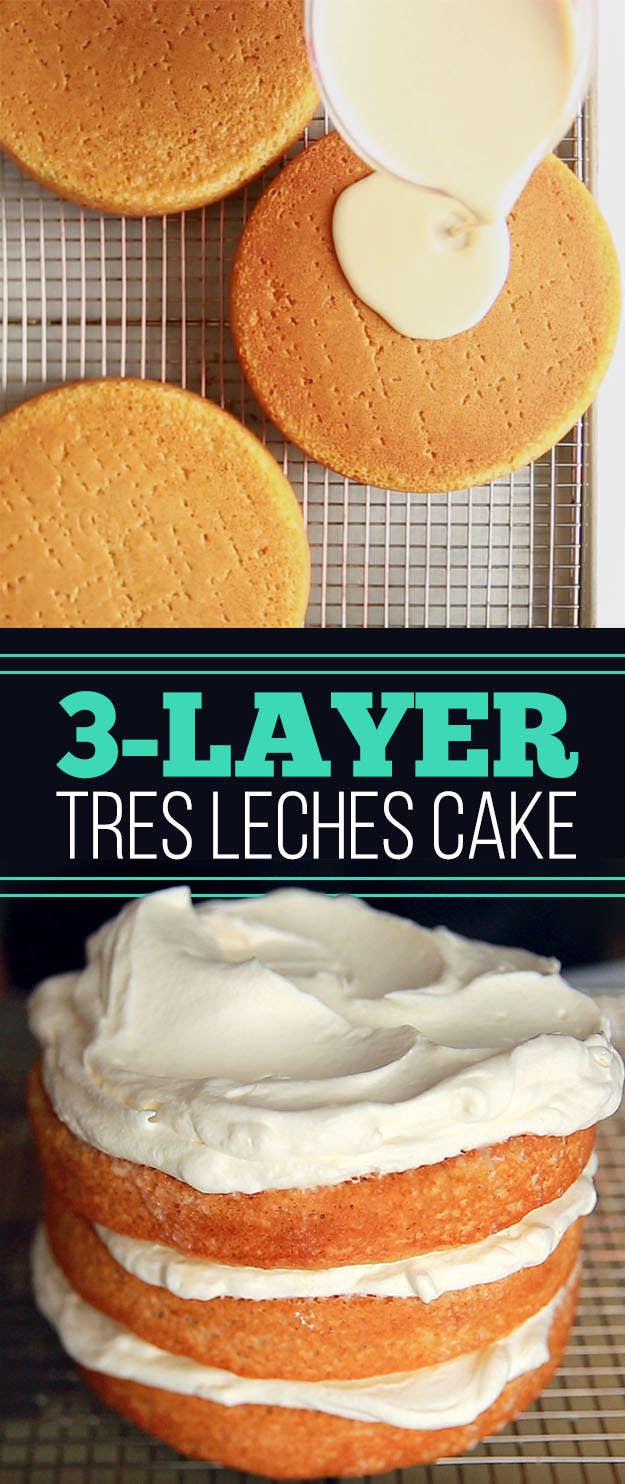 If a cinnamon cake soaked in three (THREE) different kinds of milk and layered with pillowy whipped cream sounds like the worlds greatest thing, then you're in luck.
Because it exists! And it's basically the mother of all poke cakes: Soaked in a blend of coconut milk, sweetened condensed milk and evaporated milk. (AKA the most delicious mixture known to humans.)
It's called a tres-leches cake. Three layers, three milks, could there be anything more delightful? For the full recipe (and video), jump to the bottom of the post.
1.
Start by beating 6 large eggs and 1 1/4 cups sugar together in a medium bowl until light and fluffy.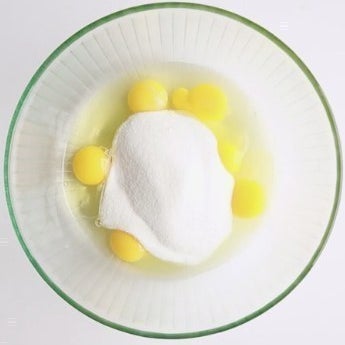 This will take about 6-8 minutes. The mixture should look super pale and fluffy.
2.
Next, whisk 1 3/4 cups flour, 1 Tbsp. baking powder, 3/4 tsp. ground cinnamon and 1/2 tsp. kosher salt together in a medium bowl.
3.
Start by folding half the flour mixture into the egg mixture with a spatula, then add the other half of the flour and fold just until the flour is combined.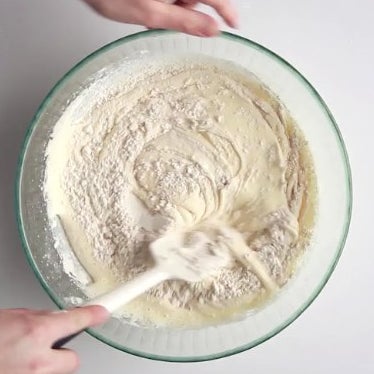 If you over-mix, the cake will be tough (a.k.a. not delicious).
4.
In a measuring cup, combine 1/4 cup milk and 1/2 tsp. vanilla extract and fold that into the batter.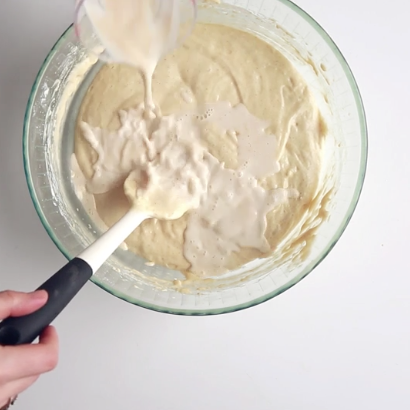 MMMMMM SOAKING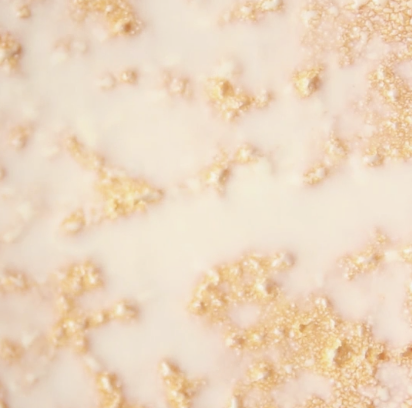 5.
Spray three 8-inch cake pans with nonstick spray and divide the cake batter among them. Bake in a 325° oven until they're golden brown and the cakes are just pulling away from the sides of the pans, 18-20 minutes.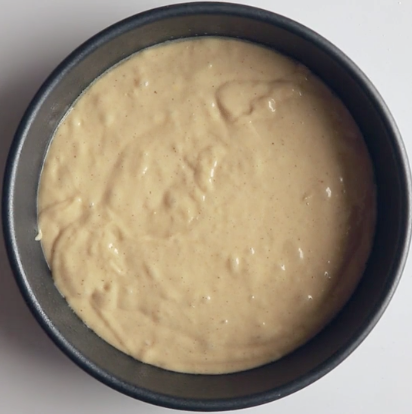 6.
Meanwhile, make the SOAK! This is where the three milks come in. Combine 1/2 cup evaporated milk, 1/2 cup coconut milk and a whole can of sweetened condensed milk in a measuring cup and mix 'em up real good.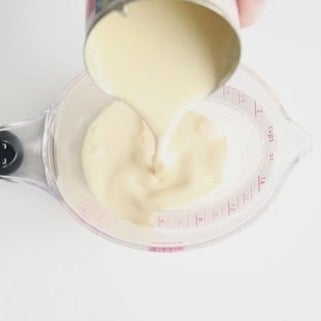 You can also substitute heavy cream or regular milk for the coconut milk.
7.
Once the cakes are out of the oven, transfer them to a wire rack fitted inside a rimmed baking sheet (to catch the mess you're about to make). Then, poke all over with a fork.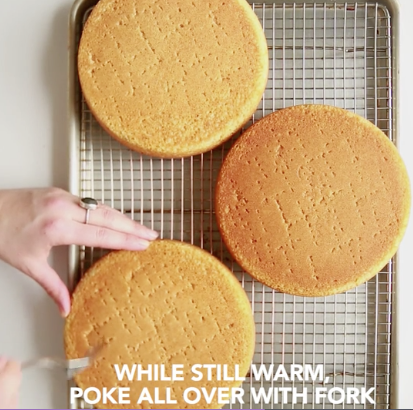 8.
Then pour the milk mixture all over the cakes.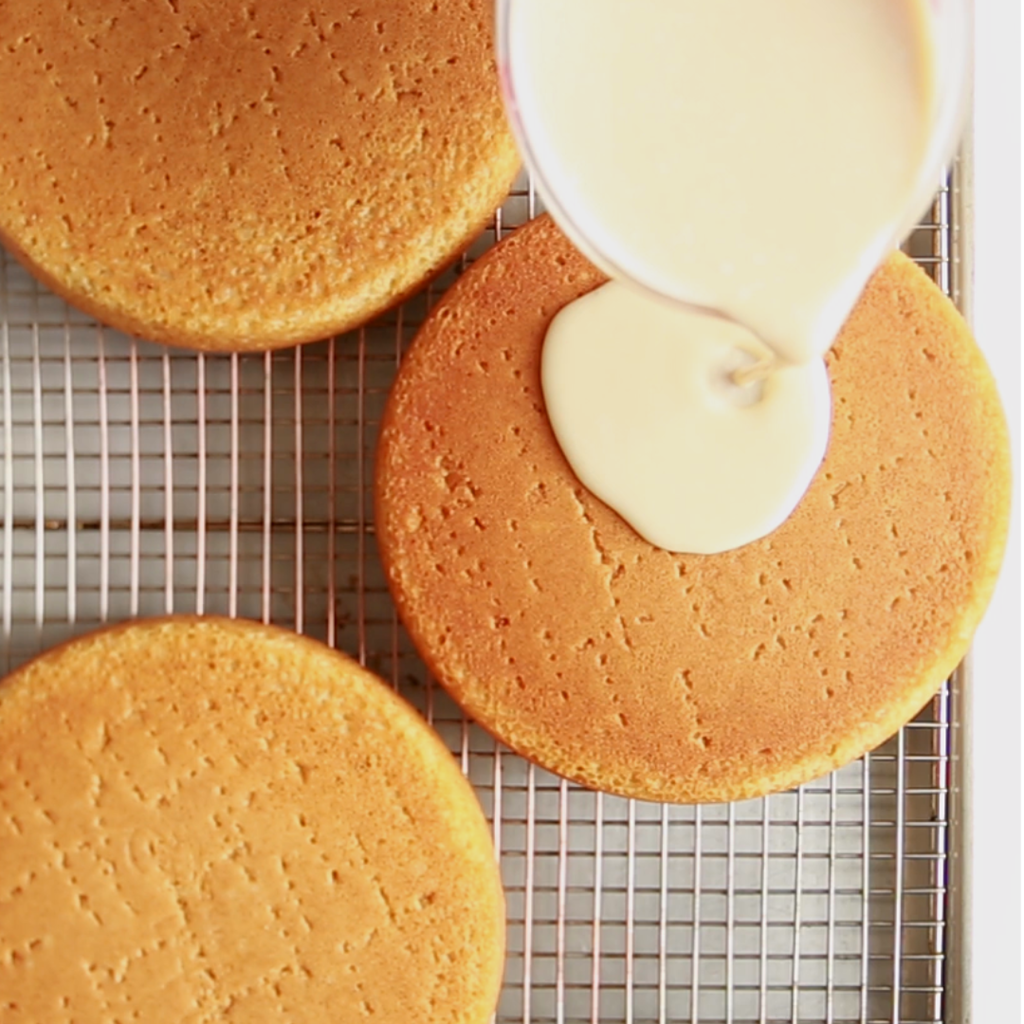 9.
Once cakes are completely cooled, spread some lightly sweetened whipped cream* onto each layer.
10.
Then stack all the layers on top of each other and give it one more drizzle of sweetened condensed milk (totally optional, definitely recommended) before slicing yourself an enormous piece of cake.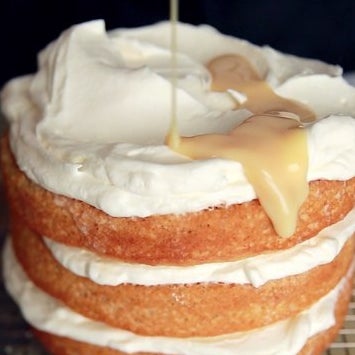 Three Layer Tres-Leches Cake
By Alison Roman
Serves 8–10
FOR THE CAKE:
1 ¾ cups all-purpose flour
1 tablespoon baking powder
¾ tsp. kosher salt
¼ teaspoon ground cinnamon
6 large eggs
1 ¼ cups sugar
¼ cup whole milk
½ tsp.vanilla extract
FOR THE SOAK AND ASSEMBLY:
½ cup evaporated milk
½ cup coconut milk
1 can condensed milk
1 pint heavy whipping cream (or a tub of whipped topping)
¼ cup powdered sugar
More condensed milk, optional
Preheat the oven to 325°.
Whisk the flour, baking powder, salt and cinnamon together in a medium bowl; set aside.
Using an electric mixer, beat the eggs and sugar together until they're light, fluffy and nearly doubled in size, 6-8 minutes.
Using a spatula, gently fold in flour mixture until just blended (some streaks of flour are okay). Combine the milk and vanilla extract and gently fold that into the batter, mixing just to blend.
Spray three 8-inch cake pans with nonstick cooking spray and divide the batter among them.
Bake until the cakes are golden brown around the edges and spring back slightly when pressed in the center, 18-20 minutes.
While the cakes are baking, make the soak:
Combine the evaporated milk, coconut milk and condensed milk in a measuring cup and stir to blend; set aside.
Once the cakes are done, immediately remove the cakes from cake pans and invert them onto a wire rack (if you have one—if not, separate plates will do just fine). Put a baking sheet under the wire rack to catch the mess you are about to make. Poke the cakes all over with a fork. Drizzle the condensed milk mixture over all the cakes, letting it soak in. Let cakes cool completely.
Using an electric mixer, whip heavy cream and powdered sugar together in a medium bowl until they're at a pretty stiff peak. Spread a thin-ish layer of whipped cream onto one cake. Place another cake on top and repeat, going a little nuts with the last layer of whipped cream. If you're feeling flush, go ahead and drizzle another can of condensed milk all over the top.