Business
13 Ways Black Friday 2013 Was A Different Beast From Years Past
From Apple jumping in the fray to Abercrombie renaming it "Hot Friday," you might be surprised.
1.

As many know, more sales than ever began on Thanksgiving this year, in a new phenomenon known as "Gray Friday."

Jonathan Alcorn / Reuters

And customers were on board with the 5, 6, and 8 p.m. sale start times…which means this practice is probably here to stay.
2.

It was the coldest Black Friday in 11 years, which was good for sales of jackets, boots, and other cold-weather gear, according to J.P.Morgan analysts.

Lucas Jackson / Reuters

The entire four-day period was forecast to be the coldest since 1993 earlier this week, and the driest in more than 25 years, Citigroup analysts said, citing Weather Trends International data.
3.

More retailers are running campaigns on Twitter. From September 2012 to this past September, the number of retailers using Twitter's ad products nearly doubled.

And, holiday shopping conversations rose 22% during the 85 days before Thanksgiving this year vs. the same period in 2012, according to Twitter.

REI has been using the platform to give gift ideas to customers, and will begin tweeting customized video content to users looking for gift suggestions in early December.

"We're not trying to sell quite as much in this medium, as much as respond to our customers and make sure that we are creating an experience and an engagement around things they really care about," Craig Rowley, REI's director of integrated marketing, told BuzzFeed. The appeal is in the real-time interaction with shoppers, he said.

Lululemon has been doing something different too — they started a #NoHumbug campaign on Nov. 24, tweeting a new challenge to their followers to do something nice every day for 30 days, in line with the yoga retailer's community-based ethos. Examples: call your best friend, give your neighbor a hug, and so on.
Your mission, should you choose to accept it, starts tomorrow. Here are the first 8 days of the #NoHumbug Challenge:

— lululemon athletica (@lululemon)

lululemon athletica
@lululemon
Your mission, should you choose to accept it, starts tomorrow. Here are the first 8 days of the #NoHumbug Challenge: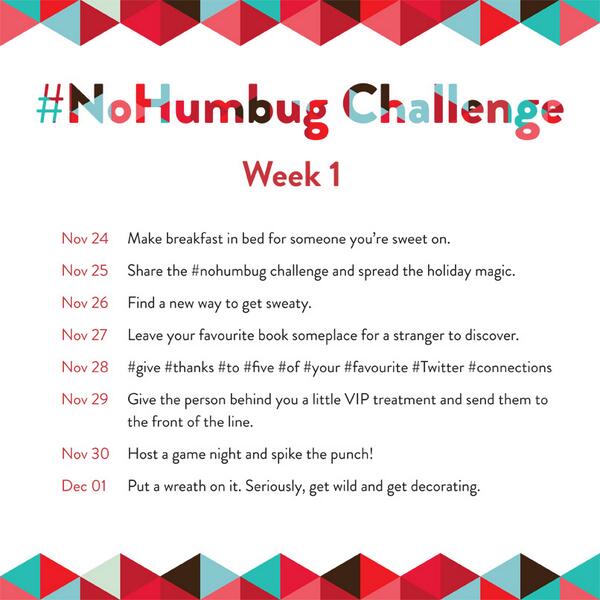 / Via
4.

Abercrombie & Fitch renamed Black Friday "Hot Friday," with numerous shirtless, male models posing at its stores.

It peppered its social media platforms with stats like the one above. Another "Hot Friday" statistic from its Facebook page: "Number of times the hot guys pick up a fan to pose for a photo: approximately a lot."
5.

And Hot Topic renamed Black Friday as "Burgundy Friday" in honor of Anchorman 2.

The specialty retailer is among the country's biggest seller of licensed apparel, including Anchorman merchandise.
6.

While Patagonia went with #AntiBlackFriday, urging customers to repair their worn Patagonia gear instead of buying new merchandise.
7.

Malls stepped up their game. Simon Malls, for example, provided shuttles for customers and piloted coat- and bag-check services, concierge help via text messaging, and ran giveaways of gift cards and snacks.

Jonathan Alcorn / Reuters

Simon Property Group's Chief Marketing Officer Mikael Thygesen said the company is "elevating the customer experience in our properties as much as we can."

It's no surprise, considering the competition from big-box retailers like Wal-Mart, Target, and Best Buy, as well as the internet. He also said the amount of soft seating for non-shoppers has increased.
8.

And on that note, online sales hit records. Thanksgiving Day sales passed $1 billion for the first time while Black Friday sales rose nearly 40% to $1.93 billion, according to Adobe.

Phil Noble / Reuters

Nearly a quarter of sales were driven by smartphones and tablets, which is a tremendous surge from last year, Adobe Digital Index said. And it's not even Cyber Monday yet!
9.

iOS devices drove more than $543 million in online sales, predominantly from the iPad, dwarfing the $148 million from Android devices.

Also according to Adobe Digital Index.
10.

Speaking of iOS devices, NPD Group noted that this is the first year Apple has seemingly approved discounts of its core products (iPads, especially) at partners like Wal-Mart, Target, and Best Buy.

Jonathan Alcorn / Reuters

Many of the discounts are in the form of gift cards, "and with every retailer promoting these for Black Friday it seems likely that Apple is at least partially supporting these price moves," Stephen Baker of the NPD Group wrote in a blog post.

"Discounting like this is almost always done with a market share purpose in mind," he wrote. "And with Apple's products and its dominant U.S. shares under attack this was the right day, with the right products (the Air, the Mini and the iPad 2) to counter the growing push from other brands and products into Apple's space."
11.

Santa Claus got arrested…

At least, a Wal-Mart protester dressed as Santa Claus. Wal-Mart was hit with a public relations disaster this year with numerous protests outside of its stores demanding better treatment of employees and higher wages. It also saw a #WalmartFights hashtag trend on Thanksgiving evening after several incidents of bad behavior at stores across the country.

Still, the retailer said more than 22 million customers visited its stores during the Thanksgiving and the early hours of Black Friday.
12.

J.C. Penney brought back its free Black Friday snow globes after a hard-fought battle by a group of customers for most of the year.

Their absence was felt deeply by some fans in 2012.
13.

According to Citigroup analysts, 50% was the new 40% at specialty retailers across the mall.

Retailers were nervous about consumer confidence following October's government shutdown as well as the six fewer shopping days between Thanksgiving and Christmas this year vs. in 2012.

They're likely feeling slightly better after sales this weekend. The results from the so-called "Retail Superbowl" will be trickling in Sunday afternoon from the National Retail Federation and from other sources throughout the week.