Russia opened a "protest zone" 7 miles from the Sochi Olympics where people could peacefully protest without disrupting the competition. International and Russian activists criticized the move, saying Russia was seeking to sideline criticism about its human rights record, its anti-LGBT campaign, and its crackdown on the press.
The criticism at the protest zone has indeed been strident. First there was a Communist protest featuring seven people, and now this.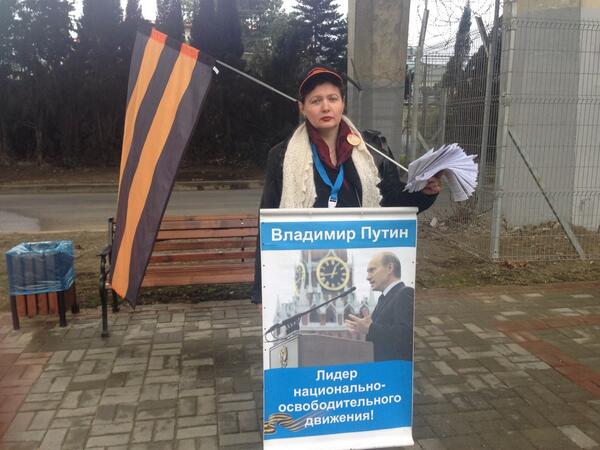 The sign says: "Vladimir Putin — Leader of the national-liberation movement." The black-and-orange flag is a patriotic symbol used to mark the Soviet Union's efforts during World War II.
The protests, in support of Putin, are expected to continue.
Miriam Elder is the world editor for BuzzFeed News and is based in New York. Her secure PGP fingerprint is 5B5F EC17 C20B C11F 226D 3EBE 6205 F92F AC14 DCB1
Contact Miriam Elder at miriam.elder@buzzfeed.com.
Got a confidential tip? Submit it here.