Pulled Pork Nachos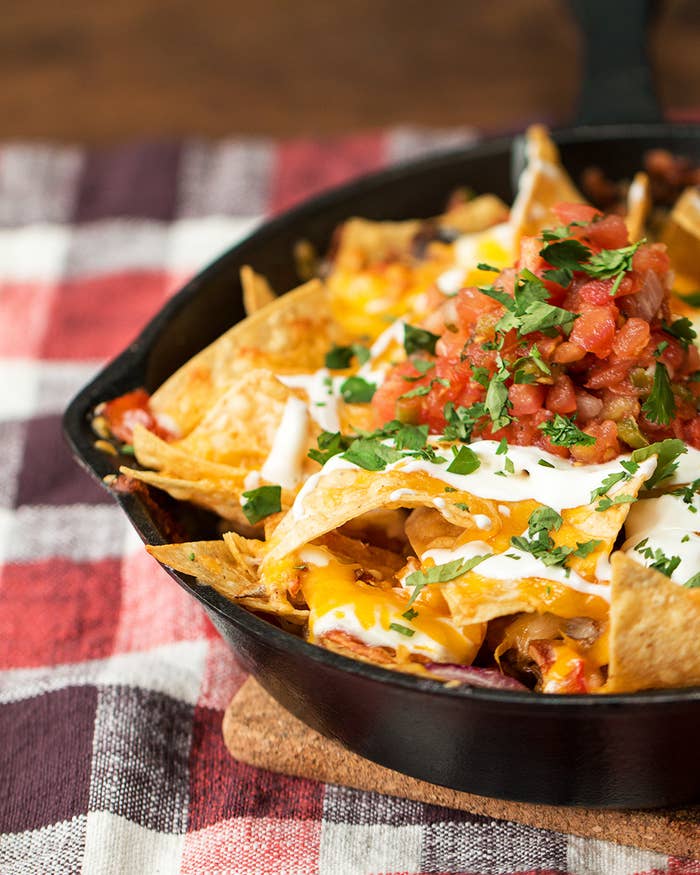 INGREDIENTS
Servings: 10-12
Pulled Pork
2-3 pound pork shoulder
¼ cup brown sugar
1 tablespoon chili powder
1 teaspoon onion powder
1 teaspoon garlic powder
1 teaspoon cayenne pepper
1 teaspoon kosher salt
1 teaspoon black pepper
1 medium red onion, quartered
¼ cup ketchup
¼ cup mustard
Toppings
Tortilla chips
Red onion
BBQ sauce
1 cup cheddar cheese, shredded
1 cup Monterey Jack cheese, shredded
Diced tomatoes
Sour cream
Salsa
Cilantro
PREPARATION
1. Place pork, onion, and seasonings into a 6-quart slow cooker. Mix to coat meat in seasonings. Add ketchup and mustard, spreading evenly over the outside of the meat.
2. Set slow cooker to High and cook for 4 hours, until the meat pulls apart easily. Alternatively, the meat can be cooked on the Low setting for 8 hours.
3. Remove meat from slow cooker and transfer it to a bowl or cutting board. Using two forks, shred the meat into bite-sized pieces.
4. Preheat oven to 400˚F/200˚C.
5. Using a cast-iron pan or other oven-safe dish, assemble the nachos layer by layer. Chips, then pork, onion, BBQ sauce, and cheese. Repeat as desired for additional layers.
6. Bake for 8-10 minutes until cheese is melted and bubbling.
7. Top with sour cream, salsa, and cilantro.
8. Enjoy!