Cheeseburger Hand Pies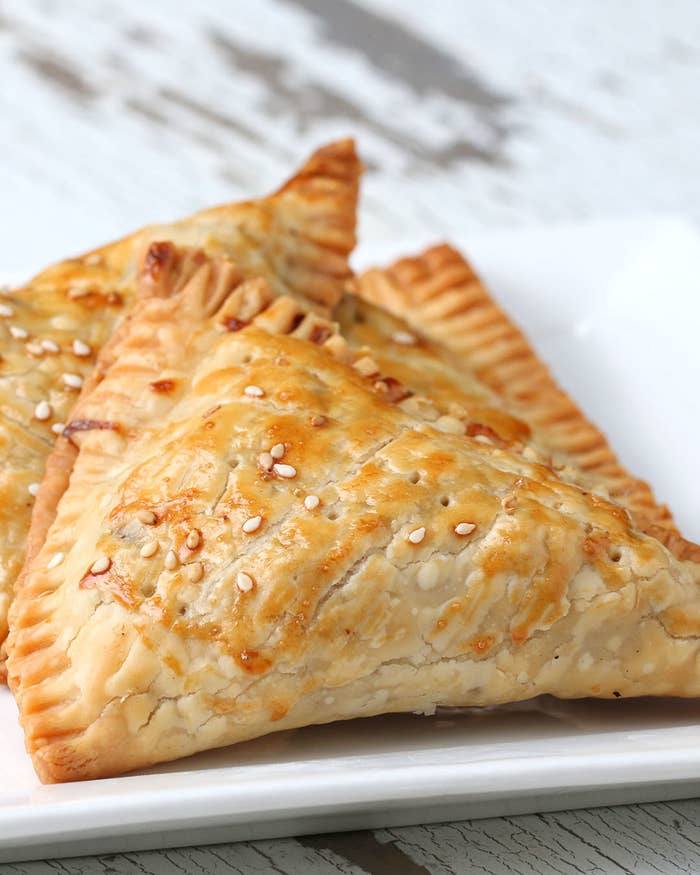 INGREDIENTS
Servings: 8
1 tablespoon olive oil
1 cup onion, diced
1 pound (500 grams) ground beef
2 teaspoon salt
½ teaspoon pepper
⅓ cup cheddar cheese, shredded
2 tablespoon ketchup
1 tablespoon yellow mustard
½ teaspoon Worcestershire sauce
2 pie dough sheets
Topping
Egg
Sesame seeds
PREPARATION
1. Preheat oven to 400°F/200°C.
2. Heat oil in a large skillet.
3. Cook down onions until translucent.
4. Add meat, 1 teaspoon salt, and ½ teaspoon pepper, and cook until meat is fully cooked. Transfer into a large bowl.
5. Combine ketchup, mustard, Worcestershire sauce, and 1 teaspoon of salt, and mix thoroughly.
6. Roll out the pie crust and cut into 4 pieces.
7. Place a spoonful of the stuffing on one side of the dough, leaving ¼ inch from the edge and fold over, creating a triangle.
8. With a fork, crimp down the 2 sides so the stuffing stays in.
9. Transfer onto baking sheet. Brush on egg and sprinkle on sesame seeds.
10. Bake for 20 minutes or until golden brown and pie crust is thoroughly cooked.
11. Let it cool for a few minutes
12. Enjoy!