Just look at that parmesan lay down exactly where it's supposed to...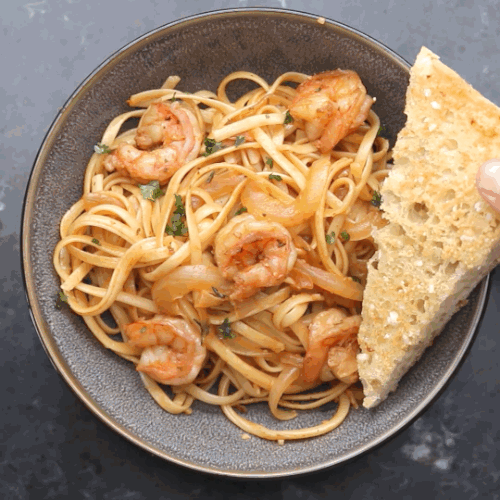 Lemon Paprika Shrimp Pasta

INGREDIENTS
Servings: 4
8 ounces linguine
1 tablespoon olive oil
1 large sweet onion
2 cloves garlic, minced
1 tablespoon rosemary
1 tablespoon thyme
1 teaspoon smoked paprika
Salt, to taste
Pepper, to taste
1 pound large shrimp
1 cup white wine
1 tablespoon lemon juice
Parmesan cheese, for garnish
PREPARATION
1.Bring a large pot of water to a boil. Generously salt the water.

2.Cook pasta for 8-9 minutes, or until al dente, and drain.

3.In a skillet over medium heat, add olive oil. Add the onion and cook until lightly browned and softened, about 3-4 minutes.

4.Add garlic, rosemary, thyme, smoked paprika, salt and pepper. Stir and cook an additional 2 minutes.

5.Add the shrimp and let them cook for 3 minutes. Flip and cook for another 3 minutes.

6.Add the white wine and lemon juice. Cook until the wine has reduced.

7.Add the cooked pasta to the skillet. 

8.Toss, serve & enjoy!