Sriracha Chicken Quesadillas
Serves 8
INGREDIENTS
2 cups shredded rotisserie chicken
1/3 cup Sriracha
2 tablespoons sour cream, plus more for dipping
2 cups shredded cheddar (use yellow, white or a mix of both)
4 teaspoons canola oil
4 10-inch flour tortillas
¼ cup chopped cilantro leaves
PREPARATION
1. In a large mixing bowl, combine chicken, Sriracha, sour cream, and cheese
2. Heat 1 teaspoon canola oil in a large skillet over medium heat, then lay a flour tortilla down in the skillet. Spoon ¼ of the chicken/cheese mixture on just half of the tortilla in the skillet. Sprinkle a tablespoon of chopped cilantro leaves on top, then fold the tortilla in half. Cook until the underside is lightly browned, about 2 minutes. Carefully flip the quesadilla and cook until both sides are lightly browned and the cheese is melted, about 2 minutes more.
3. Repeat with the remaining 3 tortillas. To serve, cut each quesadilla into 4 wedges. Serve with sour cream, for dipping, and garnish with more cilantro leaves and Sriracha, if you want.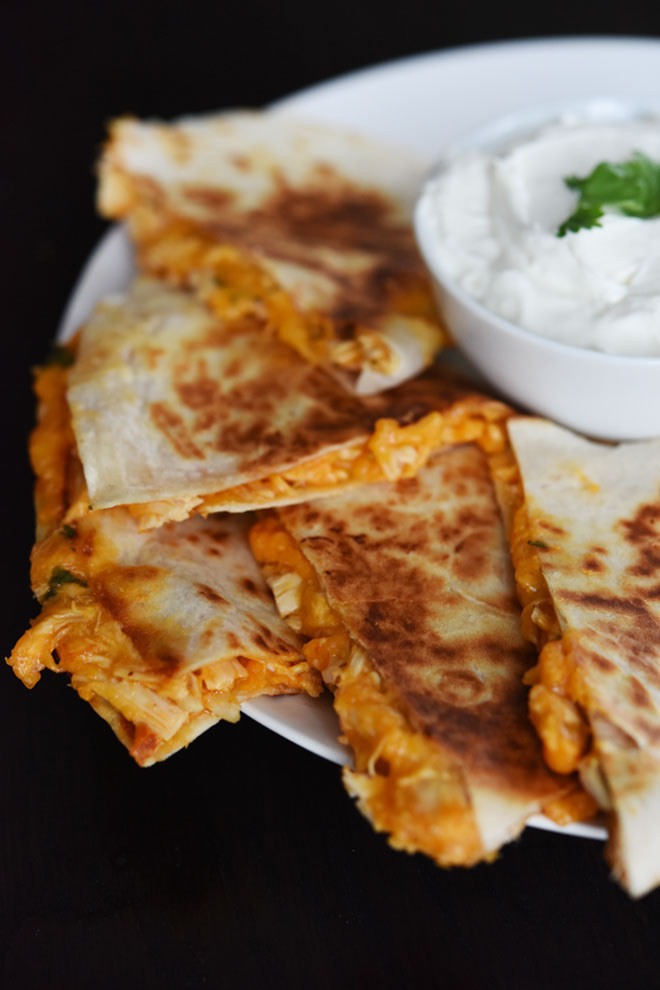 Looks like there are no comments yet.
Be the first to comment!