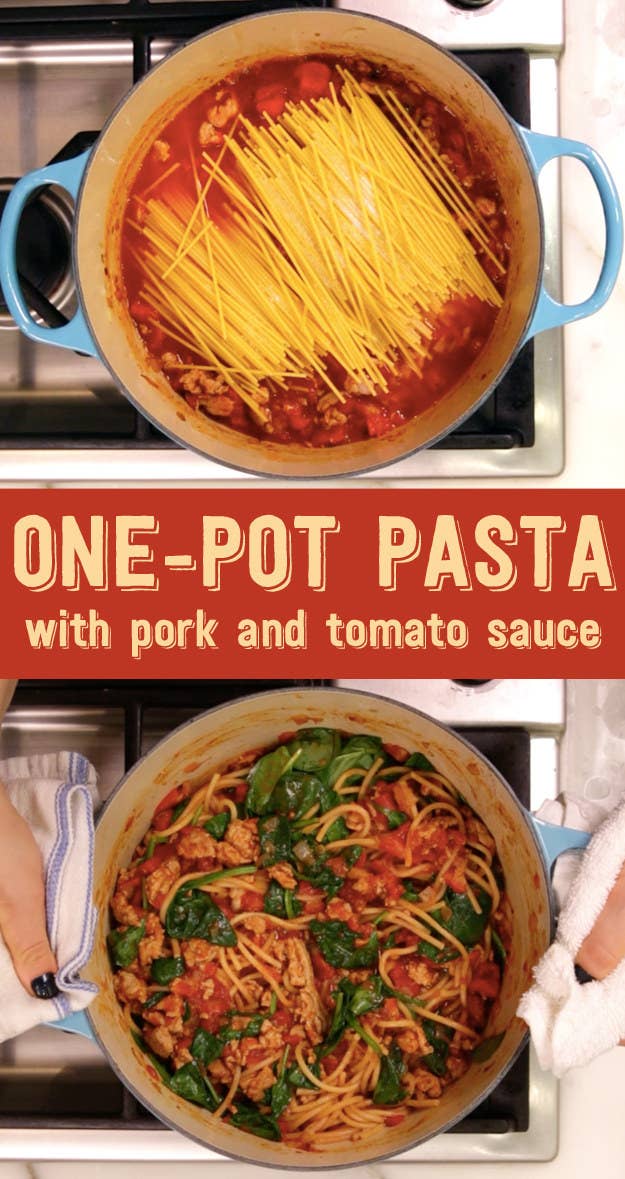 One-Pot Pasta with Pork and Tomato Sauce
Makes 4 servings
Estimated active time: 10 minutes
Estimated total time: 30 minutes
INGREDIENTS
1 tablespoon canola oil
1 pound ground pork
Kosher salt and freshly ground pepper
1 medium onion, chopped
4 cloves garlic, chopped
2 tablespoons tomato paste
1 tablespoon dried oregano
1 14-ounce can crushed tomatoes
1 14-ounce can chopped tomatoes
2 cups low-sodium chicken stock
8 ounces dry bucatini pasta
1 5-ounce bag baby spinach
4 ounces Parmesan cheese, grated, plus more for serving
PREPARATION
Heat the oil in a large Dutch oven over medium-high heat. Add the ground pork and use a wooden spoon to break it up and spread it over the bottom of the pan, then season with salt and pepper. Cook, stirring occasionally, until the pork is lightly browned on all sides. Add the onion and garlic and cook, stirring often, just until the garlic is fragrant, about a minute. Add the tomato paste and oregano and stir to coat the pork and vegetables with the paste. Add the crushed tomatoes, chopped tomatoes, chicken stock, and ½ cup water. Season with more salt and pepper and stir everything together.
Add the bucatini and make sure it's submerged in the liquid. Bring the mixture to a boil, then reduce it to a simmer. Cover the pot and cook for 10 minutes. Uncover the pot and stir the bucatini, then cover and cook for an additional 5 to 8 minutes, until the pasta is cooked al dente. When the pasta is cooked, add the spinach and Parmesan cheese and cook, stirring constantly, just until the spinach is wilted and the cheese is melted.
Serve immediately, with more Parmesan cheese.
Recipe by Christine Byrne