Você vai precisar de:
2 colheres de sopa de azeite
1 cebola média fatiada
3 dentes de alho espremidos
2 xícaras de jaca, fresca ou enlatada
2 colheres de chá de sal
1 colher de chá de pimenta
1 colher de sopa de cominho
1 colher de chá de pimenta chili em pó
1 colher de chá de páprica
½ colher de chá de pimenta caiena
1 colher de chá de molho inglês vegano
1 colher de chá de fumaça líquida
2 xícaras de caldo de legumes
½ xícara de molho barbecue vegano
Para servir:
6 pães de hambúrguer vegano
Modo de preparo:
1. Preaqueça o forno a 180ºC.
2. Se você for utilizar a jaca fresca, forre a superfície de trabalho com plástico.
3. Lubrifique uma faca grande e corte a jaca na metade, e depois corte-as ao meio.
4. Remova a polpa da jaca com cuidado cortando-a fazendo um ângulo.
5. Retire cada um dos frutos e remova suas sementes e a pele.
6. Lave bem a fruta.
7. Aqueça o azeite em fogo médio em uma frigideira ou panela de ferro.
8. Acrescente as cebolas e cozinhe até ficarem transparentes.
9. Adicione a jaca, temperos, molho inglês e a fumaça líquida. Mexa bem até que tudo esteja coberto.
10. Adicione o caldo de legumes e deixe ferver. Diminua o fogo, cubra e deixe fervendo por 45 minutos, até que o líquido esteja em sua maior parte absorvido e a fruta tenha se desmanchado.
11. Espalhe a jaca sobre uma assadeira forrada e leve ao forno a 180ºC por 45 minutos, até que o líquido tenha evaporado e a jaca fique com uma cor bem dourada.
12. Coloque o molho barbecue sobre a jaca, misture e retorne ao forno por mais 15 minutos.
13. Sirva quente em pães veganos com coleslaw vegano.
#SextaVegan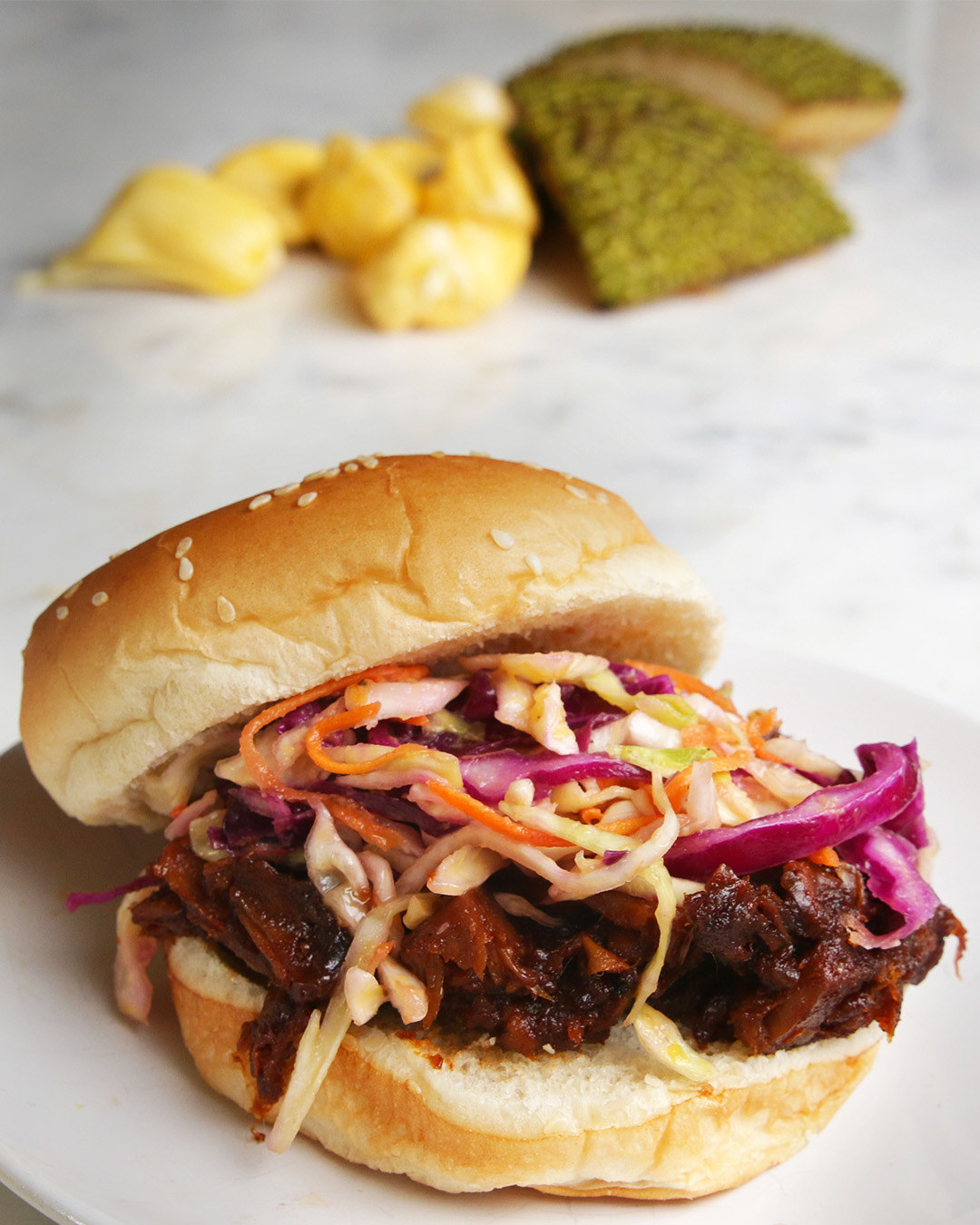 Looks like there are no comments yet.
Be the first to comment!