Você vai precisar de:
1 kg de carne moída
2 ovos
1 xícara de farinha de rosca
2 c. de chá de sal
1 c. de chá de pimenta
1 c. de sopa de alho em pó
Papel alumínio
4-6 fatias de presunto
6-8 fatias de queijo
2 xícaras de espinafre
10-12 tiras de bacon
Modo de preparo:
1. Preaqueça o forno a 180°C.
2. Em uma tigela grande, misture a carne moída, os ovos, a farinha de rosca, o sal, a pimenta e o alho em pó. Mexa até ficar homogêneo.
3. Despeje a mistura em uma forma com uma folha de papel alumínio.
Pressione a carne por igual até formar um retângulo. Cubra com presunto, queijo e espinafre.
4. Usando o papel alumínio, levante uma das extremidades e enrole como um rocambole, pressionando bem. Aperte e feche as duas pontas. Reserve.
Em outra forma coberta com papel alumínio, coloque as tiras de bacon uma do lado da outra, com uma distância de um centímetro.
5. Coloque o rocambole de carne desenrolado em uma das extremidades das tiras de bacon. Usando o papel alumínio, levante cuidadosamente o bacon para enrolá-lo em volta da carne. Envolva o rocambole no alumínio e asse por 25 minutos.
6. Aumente a temperatura para 260°C. Remova o papel alumínio e asse por mais 20 minutos até que o bacon esteja crocante e dourado.
7. Deixe esfriar, fatie e sirva!
Serve 6 porções.
Maravilhoso!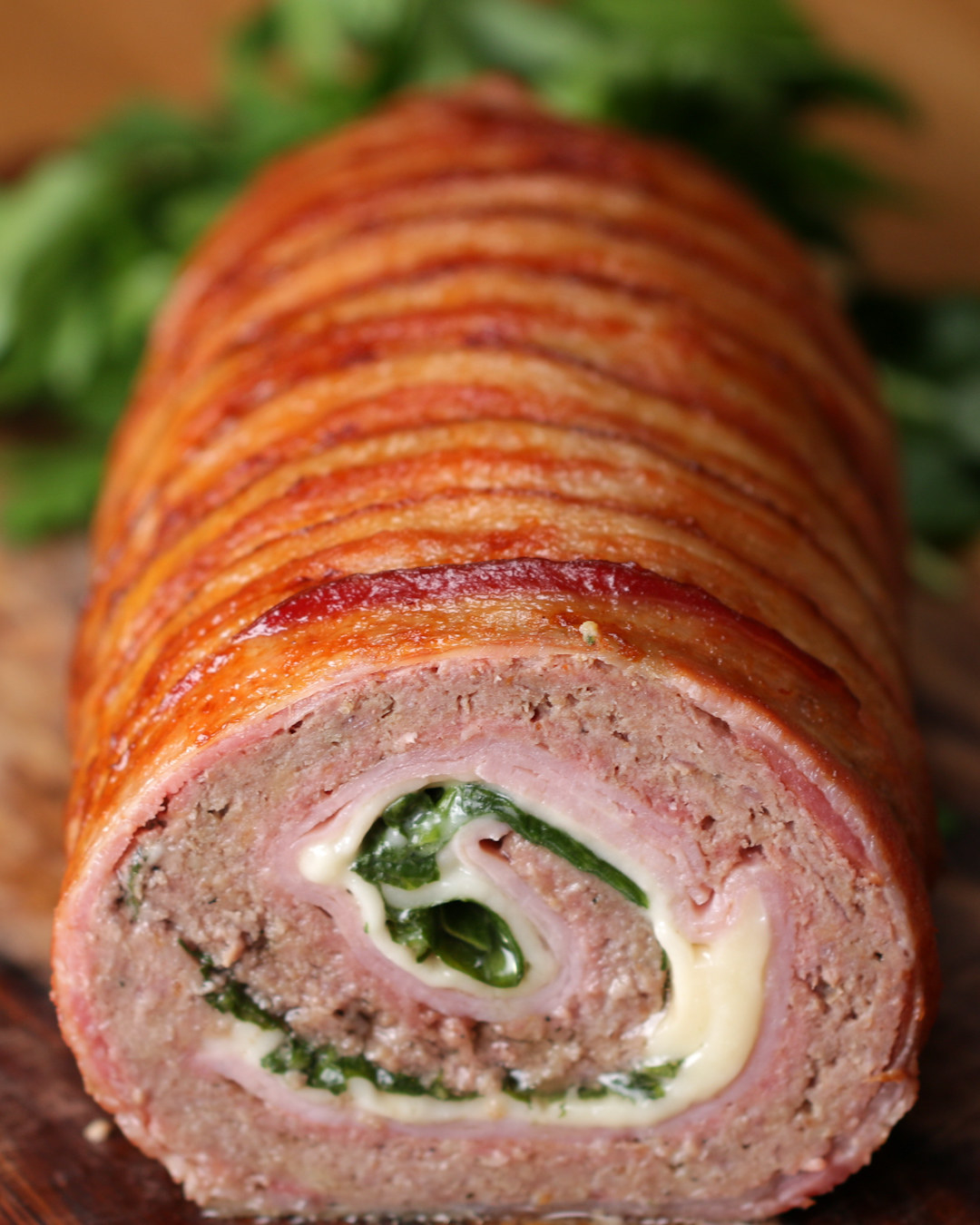 Looks like there are no comments yet.
Be the first to comment!