Esta é Taylor, uma estudante universitária de 19 anos que vive em Massachusetts, nos EUA.
Taylor contou ao BuzzFeed que é bem próxima de sua família, incluindo seu pai.
"Meu pai é muito engraçado", disse. "Nossa família sempre se diverte, não importa o que esteja acontecendo ou onde a gente esteja".
Recentemente, Taylor encomendou uma capa de pelúcia rosa na Amazon para o seu iPhone. Ela gostou tanto que encomendou três cores diferentes.
Mas, após ter feito a encomenda, ela percebeu que tinha pedido a capa para o modelo errado de celular — o iPhone 6 Plus.
Ela conseguiu cancelar dois dos pedidos, mas a versão rosa foi enviada rápido demais para ser cancelada.
Felizmente, o pai dela tinha um iPhone 6 Plus. Então Taylor decidiu dar a capinha para ele, de brincadeira. E não é que ele adorou?
Veja esta selfie, que beleza: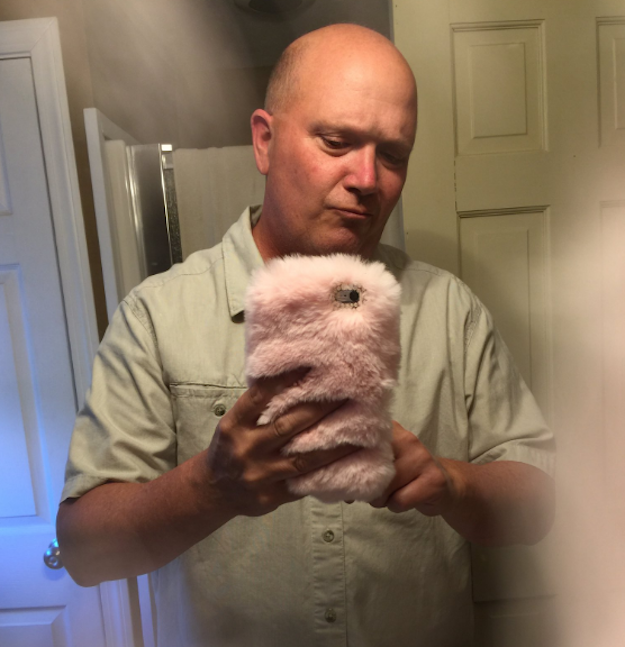 O único problema é que a pelúcia pode atrapalhar um pouco na hora de tirar fotos.
"Acho que a capinha vai virar uma peça básica do estilo do meu pai", disse Taylor.
Taylor decidiu tuitar fotos de seu pai com o celular, e, desde então, as imagens foram retuitadas milhares de vezes.
As pessoas amaram a reação do pai de Taylor.

Algumas também quiseram ter um pai como o dela.
Segundo Taylor, o pai dela adorou a reação das pessoas às suas fotos.
Ela também não vê a hora de comprar uma capa de pelúcia que ela possa usar. "Assim que eu tiver uma, faremos uma selfie juntos no espelho. Vai ser lindo", planeja.
Looks like there are no comments yet.
Be the first to comment!