Você vai precisar de:
2 colheres de sopa de azeite
1 pimentão verde pequeno fatiado
1 pimentão vermelho pequeno fatiado
1 cebola pequena fatiada
200g de carne desfiada
1 + 1/2 xícara de extrato de tomate
1/2 colher de sopa de pimenta
1/2 colher de sopa de sal
1/2 colher de sopa de orégano
200g de macarrão cozido
1 xícara de queijo parmesão ralado
Modo de preparo:
1. Comece aquecendo o azeite em uma panela em fogo alto.
2. Refogue o pimentão verde, o pimentão vermelho e a cebola até dourarem.
3. Adicione a carne desfiada e cozinhe por 3-5 minutos.
4. Adicione o extrato de tomate, a pimenta, o sal e o orégano, misture bem e espere ferver.
5. Adicione o macarrão cozido, misture um pouco e adicione o queijo parmesão, misturando até derreter.
6. Sirva com parmesão ralado para acompanhar e aproveite!
Corre para a cozinha que essa garfada pode ser sua: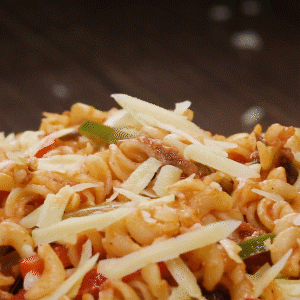 Looks like there are no comments yet.
Be the first to comment!