Aterrorizante!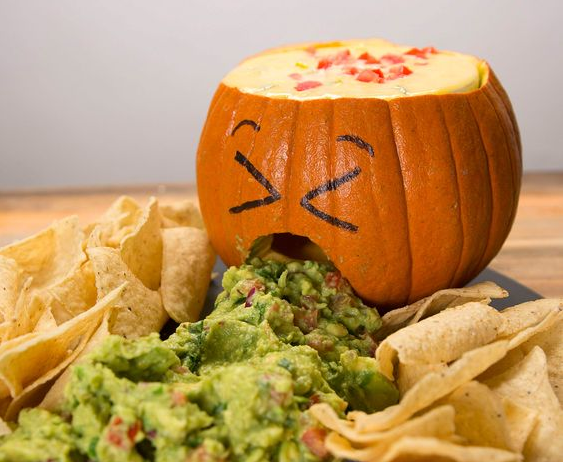 Você vai precisar de:
Guacamole:
3 abacates cortados ao meio e sem caroço.
Suco de um limão
2 tomates italianos em cubos
1/4 de xícara de cebola roxa picada
1/4 de xícara de coentro picado
1 dente de alho espremido
1 c. de chá de sal
1/4 de c. de chá de pó de chili
Queijo:
1 c. de sopa de manteiga
1 cebolinha picada
2 xícaras de queijo cheddar
2 xícaras de queijo Monterrey Jack
1/2 xícara de leite
1 c. de sopa de amido de milho
110 gramas de pimenta verde mexicana, com suco
Modo de preparo:
1. Em uma panela em fogo médio, derreta a manteiga e refogue a cebola.
Adicione o queijo, leite e amido de milho. Mexa até ficar bem homogêneo. Adicione as pimentas verdes e misture bem.
2. Desenhe os olhos e corte uma boca triste em uma abóbora pequena. Remova a parte de dentro e coloque uma tigela.
3. Despeje o molho de queijo na tigela e cubra com os tomates.
4. Posicione a guacamole como se estivesse saindo da boca da abóbora.
5. Sirva com salgadinhos!
6. Bom apetite!
Looks like there are no comments yet.
Be the first to comment!