Você vai precisar de:
1 cebola fatiada
1 colher de sopa de alho
½ xícara de pimentão verde
½ xícara de pimentão vermelho
½ xícara de pimentão amarelo
Sal a gosto
Temperos
½ colher de sopa de chili em pó
½ colher de chá de páprica
1 pitada de pimenta caiena
½ colher de chá de cominho
½ de chá de alho em pó
½ colher de chá de orégano desidratado
½ colher de chá de sal
½ colher de chá de pimenta
700g de fraldinha
½ xícara de queijo muçarela
Palitos de dente compridos ou palitos de churrasquinho.
Modo de preparo:
1. Preaqueça o forno a 180˚C.
2. Com um pouco de óleo, salteie a cebola, o alho e os pimentões, até amolecerem.
3. Misture o chili, a páprica, a pimenta caiena, o cominho, o alho em pó, o sal e a pimenta em um prato e use a mistura para temperar os dois lados do bife.
4. Estenda o bife na tábua de corte com as fibras na vertical.
5. Coloque as cebolas e o pimentão no centro do bife, deixando um espaço vazio de um dedo em cada extremidade.
6. Cubra as cebolas e os pimentões com o queijo muçarela
7. Enrole a carne da esquerda para a direita, bem apertado, para que você faça os cortes contra as fibras da carne.
8. Atravesse o rolo com os palitos para que ele mantenha a forma e corte entre os palitos usando uma faca afiada.
9. Em uma frigideira que possa ir ao forno, frite-os em fogo alto até criarem uma boa crosta, e então vire. Repita do outro lado.
10. Leve ao forno por 10 minutos, ou até ficar no ponto que você deseja.
11. Bom apetite!
Porções: 3-4
Detalhes deliciosos.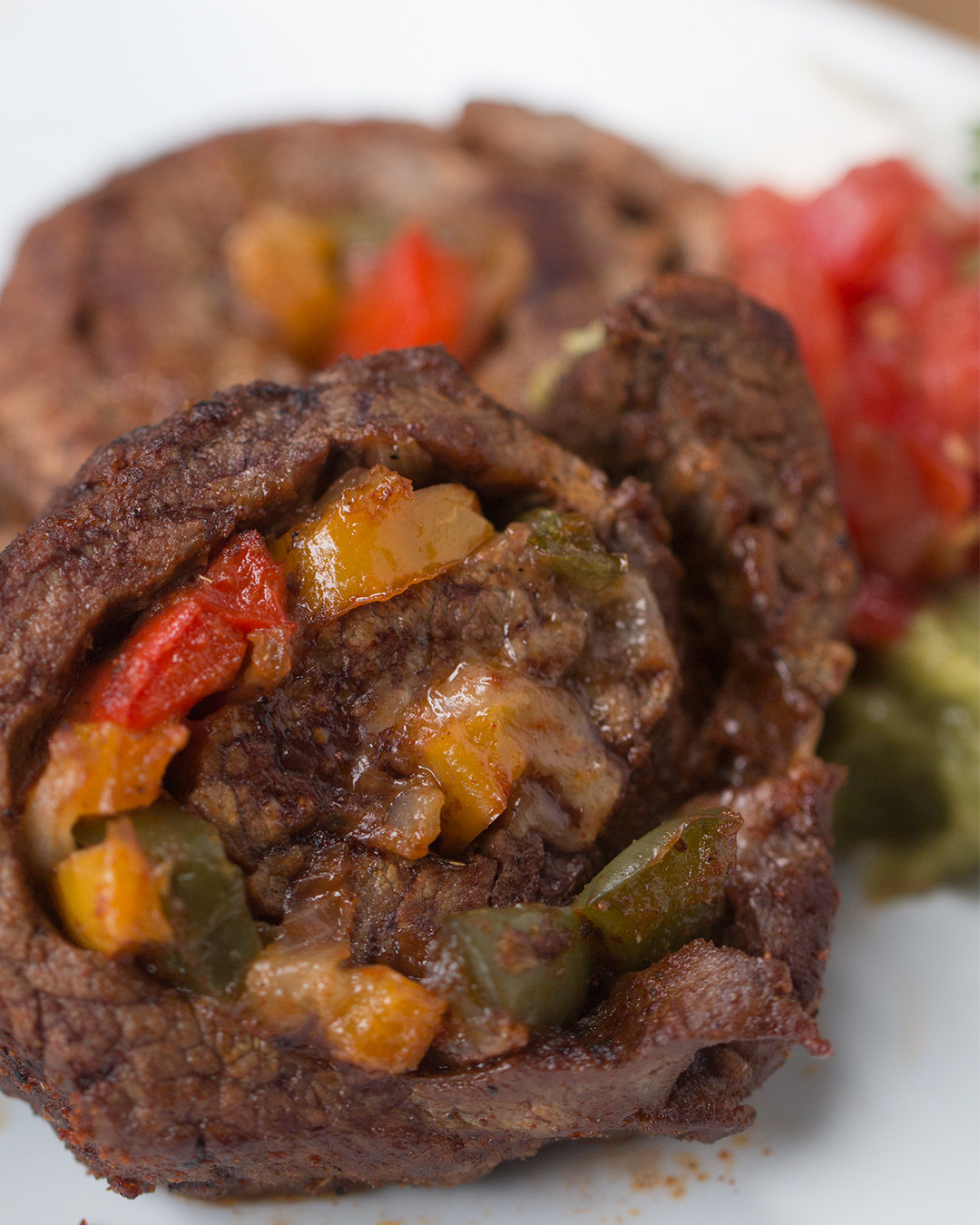 Looks like there are no comments yet.
Be the first to comment!