Você vai precisar de:
Costeleta de Porco:
4 costeletas de porco desossadas
Sal a gosto
Pimenta a gosto
4 folhas de shiso
4 fatias de mussarela
½ xícara de farinha de trigo
3 ovos
3 xícaras de farinha Panko
Óleo, para fritar
Curry Japonês:
1 colher de sopa de óleo
½ cebola fatiada
2 batatas médias em cubos
1 cenoura média fatiada
3 xícaras de água
⅓ xícara de pasta de curry japonês
4 xícaras de arroz cozido
Modo de preparo:
1. Tempere as costeletas de porco dos dois lados com sal e pimenta.
2. Corte um grande fenda na lateral das costeletas de porco.
3. Coloque uma fatia de mussarela sobre uma folha de shiso, depois dobre ao meio.
4. Coloque o queijo no bolso da costeleta de porco.
5. Repita com as costeletas restantes.
6. Mergulhe a costeleta na farinha, retirando o excesso.
7. Molhe o porco no ovo, depois passe de maneira homogênea na farinha de pão, depois de volta no ovo e mais uma vez na farinha de pão.
8. Repita com as outras costeletas.
9. Aqueça óleo em fogo médio-alto até alcançar a temperatura média de 180˚C.
10. Frite as costeletas uma por vez até ficarem douradas depois retire o excesso de óleo em papel toalha.
11. Salteie as cebolas até ficarem transparentes, e adicione as batatas e cenouras. Cozinhe por cerca de um minuto, depois adicione água até ferver.
12. Diminua o fogo e mexa por cerca de 10 minutos.
13. Adicione a pasta de curry, depois mexa até dissolver.
14. Cozinhe por mais 10 minutos em fogo baixo, depois reserve.
15. Fatie as costeletas de porco em fatias de pouco mais de 1 cm.
16. Para servir, coloque as costeletas sobre o arroz, depois sirva com uma porção generosa de curry sobre o porco.
17. Bom apetite!
Serve 4 pessoas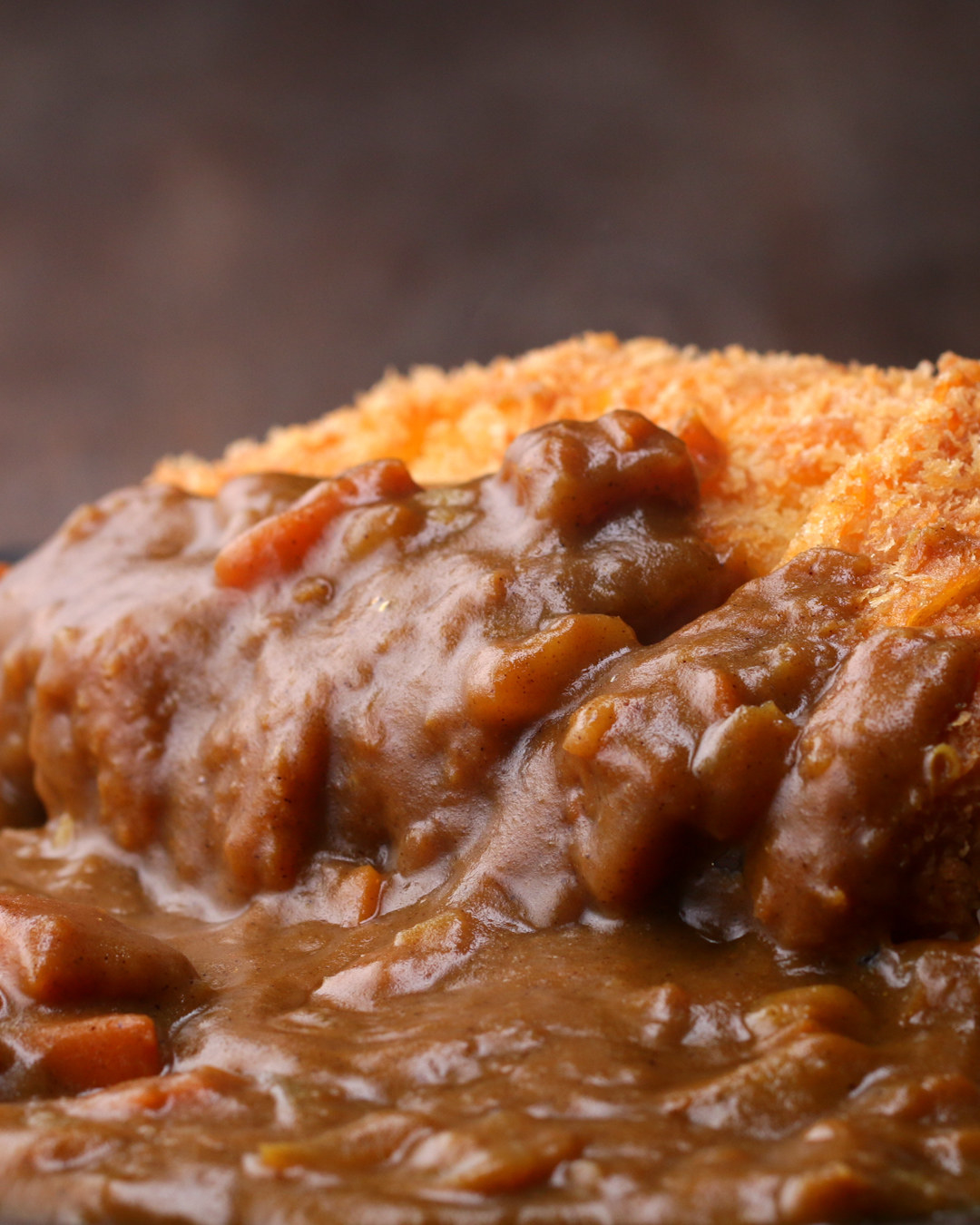 Looks like there are no comments yet.
Be the first to comment!