Você vai precisar de:
1 xícara de manteiga em temperatura ambiente
7 dentes de alho picados
2 colheres de sopa de alecrim fresco picadinho
2 colheres de sopa de tomilho fresco picadinho
2 colheres de sopa de sal
1 colher de sopa de pimenta do reino
2 a 3 quilos de Prime Rib desossado e aparado
2 colheres de farinha
2 xícaras de caldo de carne
Purê de batatas para acompanhar
Vagem refogada para acompanhar
Modo de fazer:
1. Preaqueça o forno a 260°C.
2. Misture a manteiga, o alho, as ervas, o sal e a pimenta em uma tigela até obter uma mistura homogênea.
3. Esfregue a mistura de manteiga e ervas na carne e coloque-a em uma assadeira de grade com bandeja coletora embaixo.
4. Asse durante 12 minutos por quilo de carne, de modo que uma porção de dois quilos levaria cerca de 25 minutos para assar, e uma porção de três quilos assaria por cerca de 35 minutos.
5. Desligue o forno e não tire a carne de dentro. Deixe a carne no forno descansando por duas horas sem abri-lo para que o calor residual não escape.
6. Após as duas horas, retire a carne da assadeira, despeje o líquido da bandeja coletora em uma panela e leve para cozinhar em fogo médio.
7. Adicione a farinha, batendo até que o molho fique bem lisinho, em seguida, adicione o caldo de carne, mexa bem e deixe esse molho no fogo até ferver.
8. Retire do fogo e coe o molho.
9. Corte a carne em fatias de dois centímetros e sirva com o purê de batatas, vagem refogada e molho!
10. Bom apetite!
Porções: 7-9
Bom apetite!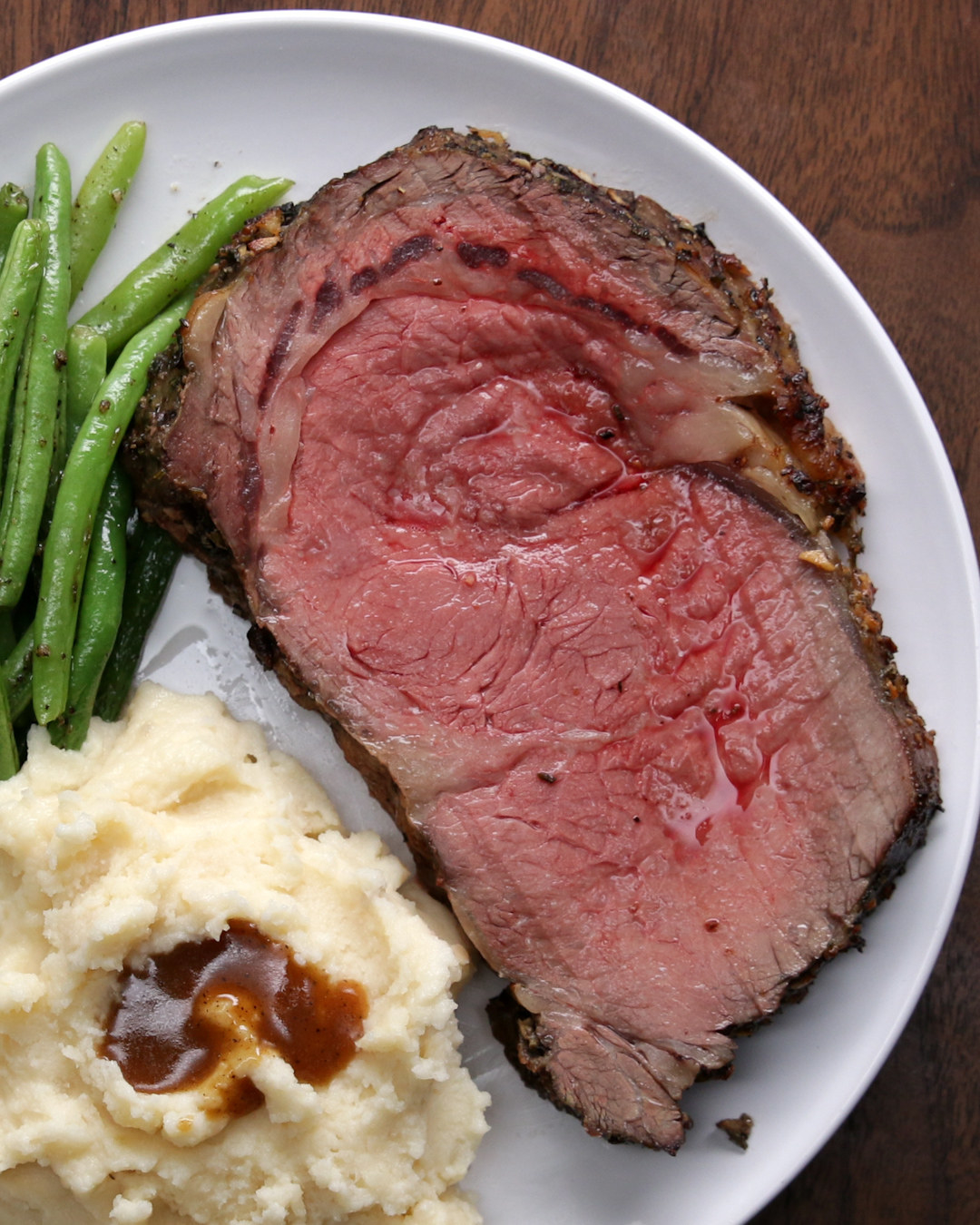 Looks like there are no comments yet.
Be the first to comment!