Aprenda a fazer o bolo recheado de cookies & cream com cobertura de chocolate:
Você vai precisar de:
450g de cream cheese amolecido
½ xícara de açúcar de confeiteiro
1 colher de chá de extrato de baunilha
1 caixa de mistura para bolo de chocolate, preparada de acordo com as instruções da caixa
10 biscoitos de recheados de chocolate
225g de cobertura de chocolate picado (60% de cacau ou mais)
2 xícaras de creme de leite fresco
Modo de preparo:
1. Preaqueça o forno a 180° C.
2. Em uma tigela média, misture o cream cheese, o açúcar e a essência de baunilha, até ficar consistente.
3. Despeje metade da massa do bolo de caixinha em uma forma de de pudim untada, alisando com uma espátula.
4. Usando uma concha de sorvete, coloque a mistura de cream cheese sobre a massa de bolo, por igual, sem deixar ela encostar nos lados da forma.
5. Coloque um biscoito recheado sobre cada bola de cream cheese, formando um círculo seguindo a forma.
6. Despeje o resto da massa sobre os biscoitos, e alise com a espátula.
7. Leve ao forno por 45 minutos, e depois deixe esfriar completamente.
8. Vire o bolo sobre uma grelha colocada em cima de uma assadeira.
9. Para fazer a cobertura, coloque o chocolate e o creme de leite em uma tigela e leve ao micro-ondas. Deixe esquentar por 30 segundos, retire e misture, ponha de volta por mais 30 segundos. Repita até que a cobertura esteja homogênea e brilhosa.
10. Despeje a cobertura sobre o bolo, deixando o excesso escorrer através da grelha, sobre a assadeira.
11. Quando a cobertura esfriar, corte e sirva. Bom apetite!
Esse recheio é de tirar o fôlego!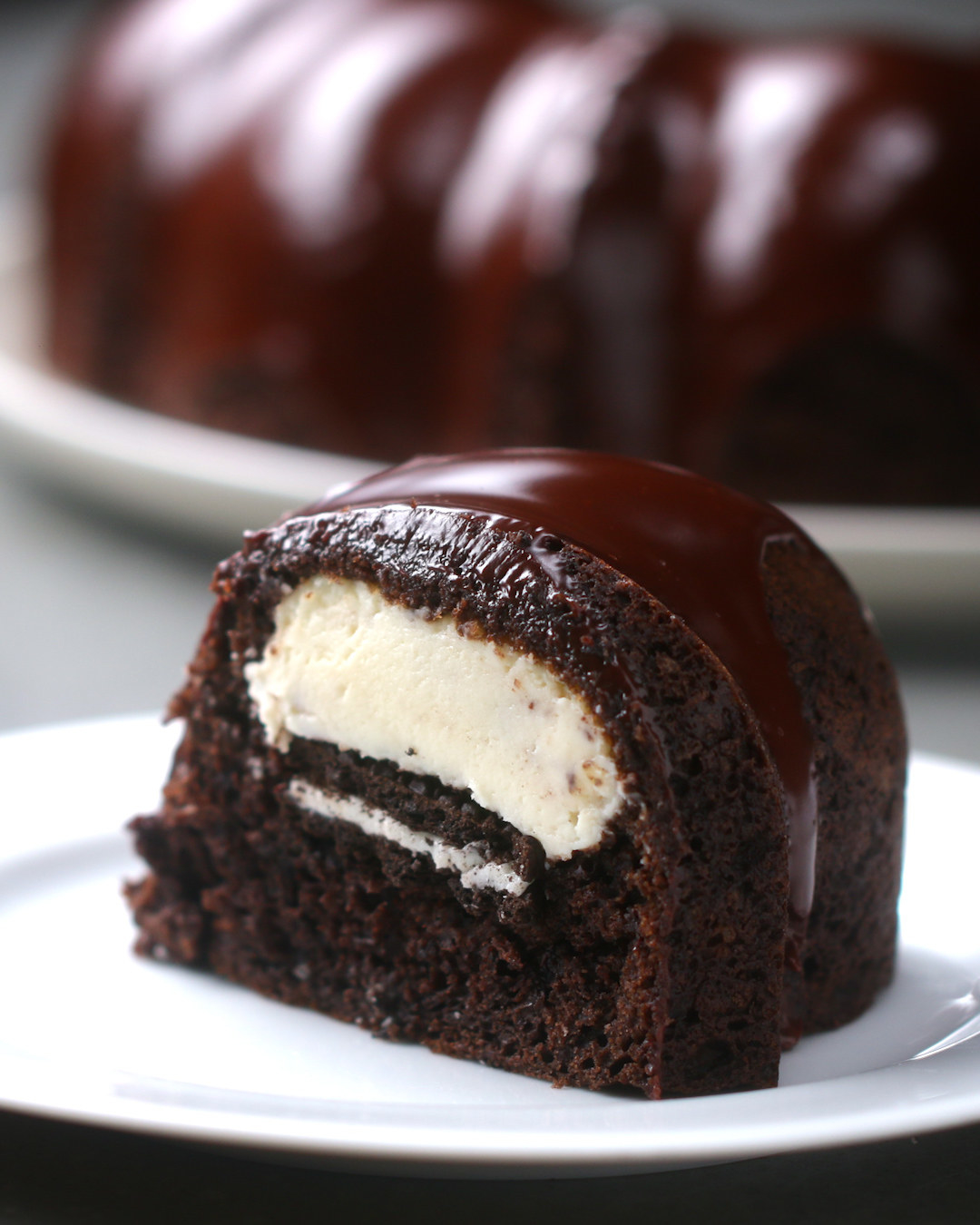 Inspirada nessa receita aqui.
Looks like there are no comments yet.
Be the first to comment!