Você vai precisar de:
6 colheres de sopa de manteiga, derretida
3 xícaras de leite
6 ovos
2¼ de xícaras de farinha
7 colheres de sopa de açúcar
Corante alimentar vermelho
Corante alimentar laranja
Corante alimentar amarelo
Corante alimentar verde
Corante alimentar azul
Corante alimentar roxo
6 xícaras de chantilly
Modo de preparo:
1. Em uma tigela, bata a farinha e o açúcar. Misture os ovos e, em seguida, misture gradualmente manteiga e leite quente, alternando entre os dois.
2. Divida a massa em 6 tigelas com 1 xícara de massa em cada uma. Adicione algumas gotas de corante alimentar a cada tigela e bata até que esteja totalmente incorporado e a massa esteja colorida.
3. Em uma frigideira antiaderente a fogo médio, despeje ⅓ de xícara de massa de crepe vermelha e incline a panela para cobrir toda a superfície inferior. Cozinhe o crepe até começar a borbulhar suavemente e cozinhar totalmente, depois vire. Repita até que todas as diferentes cores da massa de crepe sejam utilizadas.
4. Empilhe crepes em cima uns dos outros, começando com roxo, depois azul, verde, amarelo, laranja e vermelho, com creme com chantilly entre cada camada.
5. Cubra o bolo de crepe em creme de chantilly, de modo que fique totalmente branco no exterior.
6. Fatie, e aproveite!
Deliciosas camadas coloridas!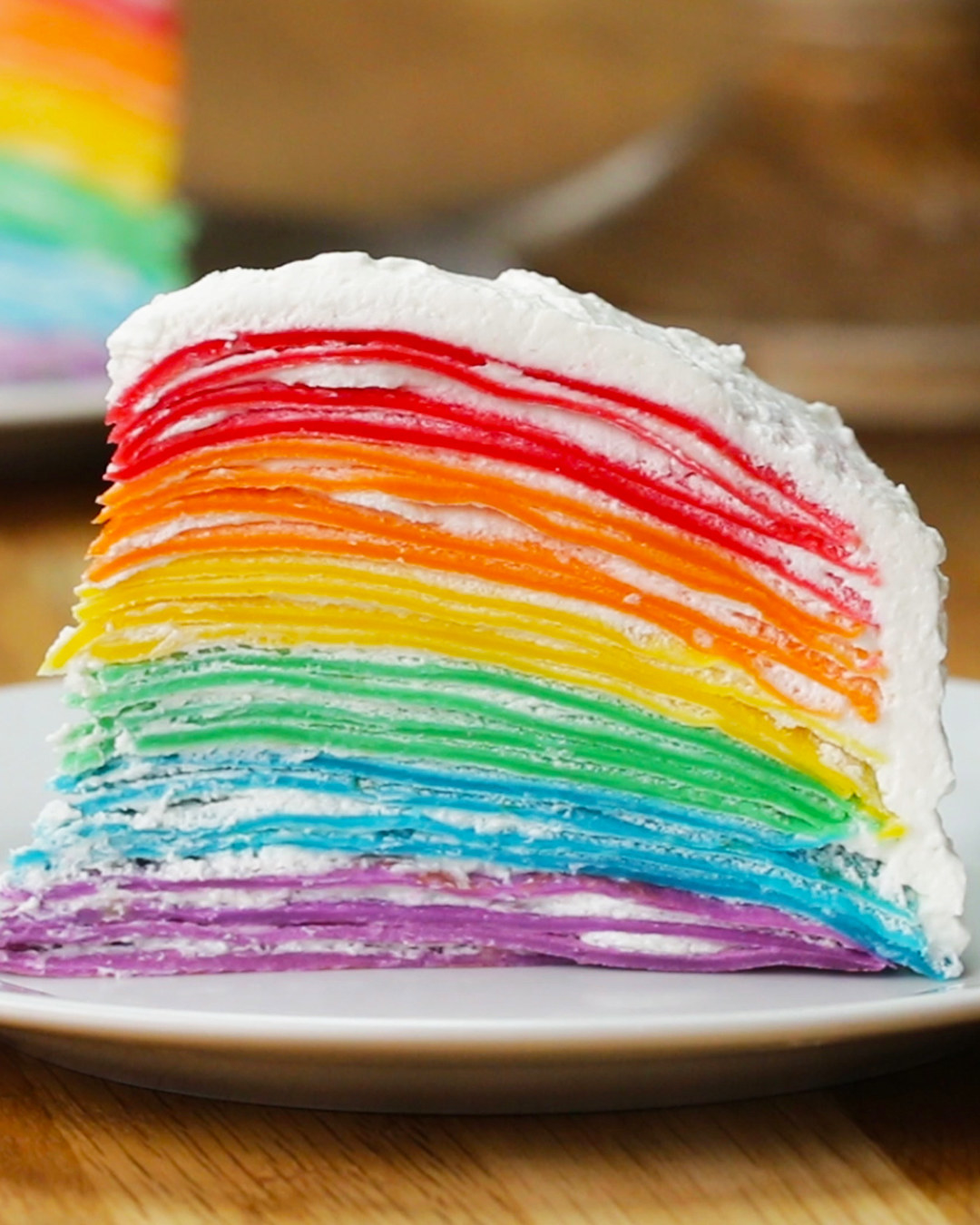 Inspirada nesta receita aqui
Looks like there are no comments yet.
Be the first to comment!